Any description of this house must, by necessity, start with a description of the majestic, unique nature of the country in which it sits, and to which it responds: vast, ancient, big-sky territory four hours west of Sydney on the dry side of the Blue Mountains. Uninterrupted bush, golden escarpments, wild skies and not a sign of human habitation as far as the eye can see. It's an inescapably dominant, mesmerizing landscape.
Carved out of this, on a sinuous ridge sliding south and looking east over the Megalong Valley, is a seventy-five-hectare site formerly worked as sheep country. Savaged by fierce winds from the south and west, dry, exposed, rocky and suffering from extreme temperatures from below zero to forty-plus, it's a piece of country that's as inhospitable as it is spectacular. It's a site that brokers no hiding from the elements.
Into this landscape, architect Peter Stutchbury has designed an appropriately wild, daring temple of a house – as unexpected and inspiring as its location – for a Sydney filmmaker and artist wanting a retreat and place for visitors to enjoy the Australian bush.
The house has been carefully sited on what feels intuitively to be the perfect spot. It's the sort of place you'd expect to find a mob of kangaroos camping in the shade, or in years gone by a shepherd's croft. Featuring a grove of trees and a natural contour-cum-platform, it's tucked under the ridge line, comfortably protected from devastating westerlies and harsh summer sun and light, while offering unobstructed views to the horizon. Pragmatic and logical, the siting is also poetic and generous, allowing the house to remain virtually invisible upon approach and for the sheer breathtaking nature of country to lead.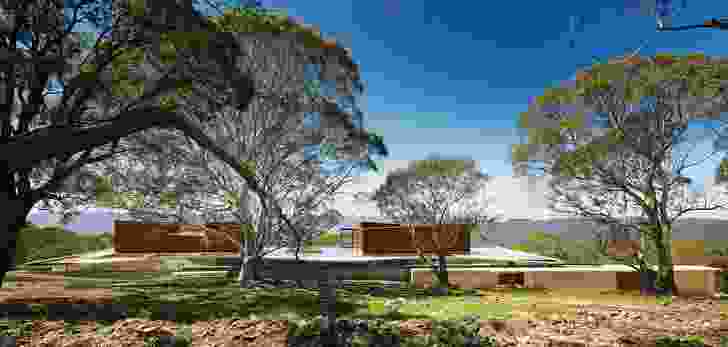 First and lasting impressions are of a building that is neither dwarfed by, nor in competition with, the setting. Rather, it simply belongs. Stretched along the contour, it feels of the mountain, a rock platform offering uncomplicated shelter. It appears initially as an extension of the ridge, pushing out to the horizon and hosting a couple of rusty tanks. In reality, this is the most extraordinary roof, cantilevering almost four metres west in a series of undulations, shielding the house from the worst weather while drawing filtered light in. Balancing this, a four-metre tapered cantilever reaches out to the east. The overall effect is not unlike a highly refined stockman's hat.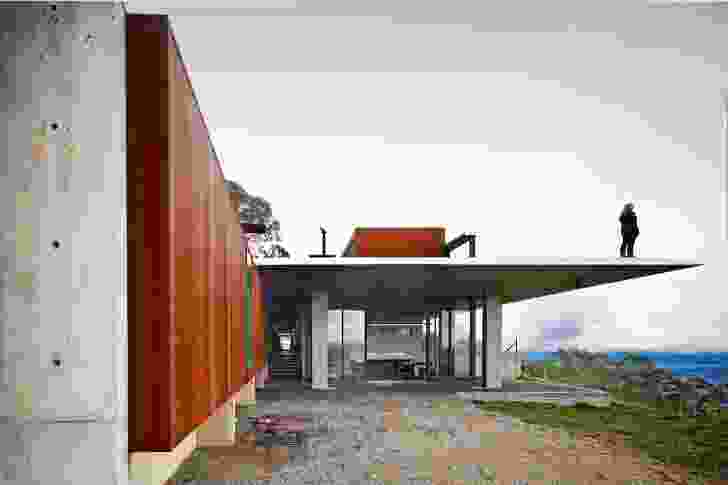 Both deeply romantic and highly functional, the roof acts as a dam and thermal device while contributing to the house's "invisibility." The roof is punctuated only by a series of mild steel boxes inescapably reminiscent of Sidney Nolan and Ned Kelly. The boxes draw light and air into the predominantly single-storey home, and one of them also accommodates additional bedrooms and bathrooms.
Entry to the house is from the ridge top, down a long set of concrete stairs running obliquely across the site much as animal tracks do across slopes and hillsides. Once inside, this sensation of moving naturally through and across country continues – this is a house in which you're innately aware of the strong connection between internal and external landscapes. Arrival is into a cool, wide gallery stretched protectively along the house's western edge.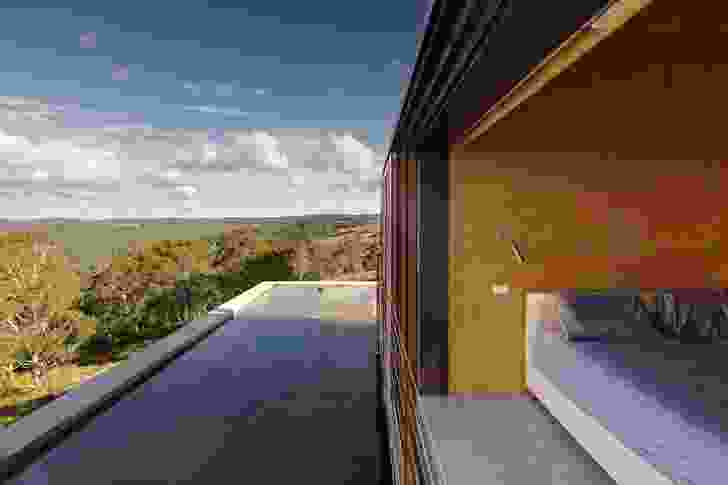 This is a space of almost religious tranquillity, bordered by a pearlescent stack stone internal wall and a rich, raw off-form concrete outer wall, evoking a sense of shelter, of a house braced against the west and weather. It's also deeply evocative of the nearby Jenolan Caves. Designed to showcase an impressive art collection, this cave-like space balances the house's openness, "bigness" and exposure to the elements on three sides, and acts as a main "track" through the home's internal landscape.
From here, openings and smaller tracks lead off to reveal layered views, undiscovered rooms, unexpected stairs, various camps (sleeping, living, working) and, always, a clear connection back to the landscape and the heart of the house – the central courtyard and fire pit, a protected campsite. The elements of surprise and delight are constant. Upstairs, bedrooms become eyries in which you can touch the sky; bathrooms open where you might think they would remain closed.
Materials have been carefully chosen to enhance the sense of place and belonging. Externally, raw off-form concrete, glass and mild steel speak simply of refined, yet robust hardiness. The same principle applies internally: concrete floors, walls and ceilings; Mudgee tiger skin stack stone for the main internal wall; star pickets and fencing wire for balustrades; hoop pine plywood for ceilings; formply for joinery; and raw brass for fittings. All work was completed over three years by a local builder, whose dedication is obvious in everything from the raw brass tapware to the in situ concrete.
The result is a house that feels of the land, with respect, authenticity, ease and rawness in keeping with rural Australia. In an extraordinary landscape, this is a brave house to match. Bold, yet gentle, strong but nurturing. It embraces the Australian landscape with joy.
Products and materials
Roofing

Off-form concrete; flat-plate mild steel sheet.
External walls

Off-form concrete; Mudgee tiger stone.
Internal walls

Hoop pine ply.
Windows and doors

Bakers Joinery hardwood and glass windows and doors.
Flooring

Concrete slab.
Lighting

Tovo Lighting lights; custom lights by builder.
Kitchen

Vola raw brass tapware; Enware raw brass tapware; formply joinery; custom galvanized sink; off-form concrete bench.
Bathroom

Custom galvanized sinks.
Heating and cooling

Progressive Energy Systems hydronic floor heating and geothermal heating.
External elements

Concrete pavers
Credits
Architect

Peter Stutchbury Architecture
Sydney, NSW, Australia
Project Team

Peter Stutchbury, John Bohane, Emma Neville, Richard Smith, Sacha Zehnder, Piero Chiefa
Consultants

Builder Dimark Constructions
Electrical consultant Electrical Projects Australia
Energy consultant Progressive Energy Systems
Engineer Professor Max Irvine
Hydraulics JCL Hydraulics

Site Details

Location Blue Mountains, NSW, Australia
Site type Rural
Site area 66000 m2
Building area 425 m2
Budget $1,624,000

Project Details

Status Built
Design, documentation 12 months
Construction 12 months
Category Residential
Type New houses

Source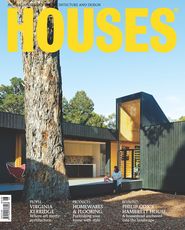 Issue
Houses, December 2013
Related topics