Bradley Eastman's and Reko Rennie's light shows for the 2015 Vivid Sydney light festival were projected onto the Irving Street Brewery, located in the the heart of Sydney's Central Park neighbourhood. Tzannes' adaptive re-use of the former Kent Brewery site retains the buildings' brick facades and inserts part of a trigeneration plant that powers the neighbourhood.
Eastman's piece is entitled It's All Around You and runs from zero to nine seconds in the first video and zero to seven seconds in the second video. "It explores futuristic ideas of the progression of nature and visual growth patterns. The piece is an abstract and stylized statement about what nature could become," Eastman says about his work.
CULTURE IS NOT A LIFESTYLE CHOICE by Reko Rennie serves as political commentary on government initiatives to close Aboriginal communities and relocate the communities' residents. It's shown nine seconds into the first video and seven seconds into the second video.
"This work is a direct response to the Prime Minister Tony Abbott, who backed a plan earlier this year in Western Australia to close more than 100 remote communities and move more than 1,000 Aboriginal people," Rennie says about his artwork for the Vivid festival.
"In response to his [Abbott's] decision he said, 'what we can't do is endlessly subsidize lifestyle choices.' This work is shot on various communities in Western Australia and in my own community of northwestern New South Wales. I have incorporated text and symbolism such as the Aboriginal flag and used it to remind the Prime Minister, and anyone else, that culture is not a lifestyle choice," Rennie says.
The Vivid Light festival is part of Vivid Sydney, an annual event bringing together art, music and creative ideas.
Source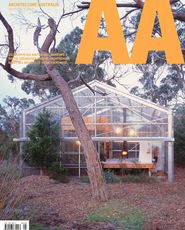 Issue
Architecture Australia, September 2015