Fashion is the theme of this, the latest issue of Urbis. We've got four homes, lovingly curated by their fashionista owners. New Zealand designer Kirsha Whitcher's Perth home is featured, as is the amazing renovation of a Ponsonby villa that is owned by a branding genius who works with shoe companies, fashion designers and accessories' label. We profile two overseas homes too: a striking Victorian home inhabited by a Melbourne costumier and a Paris apartment by an haute couture stylist.
We profile five people in the design world. Chris Lorimer and James Dobson (and their K' Road apartment), Ricki Dee and James Ridgen of Superette and Emma Hayes, who produces scarves and homewares with her fabric designs.
And we travel to Paris, fashion capital of the world, to meet designers, architects, restaurateurs and musicians making most of the city they live in.
Pick up a copy of Urbis issue 76 from any good retail store or supermarket, or get the digital version here. Click here for our latest subscription offer.
Source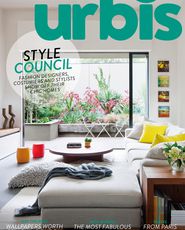 Issue
Urbis, October 2013
Related topics