The June/July issue of Urbis Magazine is on sale now and it's artastic! We've dedicated the entire issue to artists and collectors and the spaces they live and work in. We take a sneak peek at actor and teacher Miranda Harcourt's contemporary New Zealand art collection, meet architect and painter Michael Lowe and talk to Auckland's Chris Pearson about his fine art and homewares.
There are five art-filled houses for you to drool over. Our cover home is Max Patté's Island Bay, Wellington, house, where his sculptures adorn every room (for an interview with the artist, click here). We cross the ocean to visit collectors' homes in New South Wales and Melbourne, Australia. And we jet to Portugal and France to go inside two outstanding apartments.
Finally, we sent our correspondant Sharon Stephenson to Hong Kong, to meet the architects, makers and artists working in the city (plus we tell you where to eat, shop and what to see).
Pick up your copy of Urbis Issue 80 from any decent book store or supermarket, or get the digital version here.
Click here for our latest subscription offer.
Source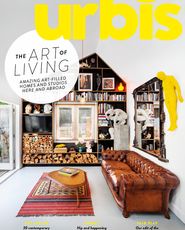 Related topics