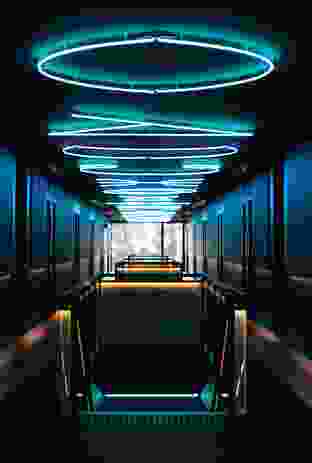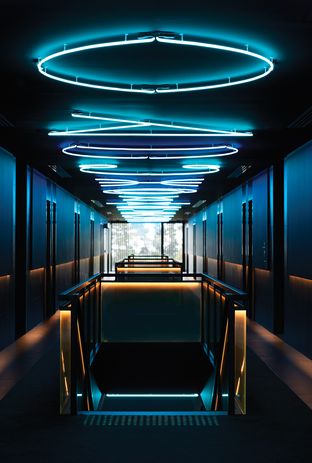 When we were little we all had a delicious fascination with the monster under the bed: the peculiar beasts that lurked at night, reminding us of how cosy and safe we really were. Often half cuddly, half fierce, hybrids of familiar animals made strange by recombination, monsters and mystical creatures have long been a way to negotiate conceptually between the known and the unknown, the secure and the unstable. The late great architectural writer Marco Frascari used the concept of "monsters of architecture" to encourage imaginative new typologies and creative design metamorphoses.1 The new Jackalope Hotel on Victoria's Mornington Peninsula, with its motif of a mythological jack-rabbit-cum-antelope, consciously draws upon this idea to thematize an experience that is part corporeal comfort and part experiential challenge. Designed by Carr and a collaborative team consisting of Fabio Ongarato Design [FOD], Pascale Gomes-McNabb and Taylor Cullity Lethlean, Jackalope is an ambitious complex of both other-worldly and highly regional experiences, and the wildly successful brainchild of entrepreneur Louis Li.
Hotels are, after all, peculiarly hybrid beasts themselves. A good hotel provides us simultaneously with the ease of home and the exotica of travel, all while operating as a commercial concern. While the grand hotels of the nineteenth and early twentieth centuries favoured the first, and the corporate hotel chains of the late twentieth century the last, contemporary hospitality design understands the appeal of the hotel as heterotopia. Themed hotels have become a solid phenomenon worldwide, propelled by the accessibility and visibility of the internet. From the art hotels of Tadao Ando's Benesse House, or locally the Art Series portfolio of properties, to eclectic, idiosyncratic establishments like the Campana Brothers' New Hotel in Athens and Canberra's urban and social catalyst Hotel Hotel, hotels now have personas of either individual or collective artists and designers.
Jackalope has not only distinctive design hands at play, but multiple themes and components working in concert. It includes a forty-six-room hotel with function rooms, a historic homestead converted into a dazzling bar, a bistro, a spa and an infinity pool. Though this is his first initiative, twenty-eight-year-old Li envisages a series of hotels, each designed by a different ensemble of designers and attuned to its specific context. The fabled North American jackalope is to be the constant. This "fearsome critter," with its friendly and ferocious associations, informs an overall attitude of dramatic contrasts as well as a lexicon of intriguing references. You don't have to hunt hard for them on the Mornington Peninsula – a massive antlered rabbit sculpture in the forecourt terminates the bucolic approach through vines. Black and sleek, Emily Floyd's monster is as affable as the "wild things" of Maurice Sendak's imaginings, with "droppings" of landscaped rocks adding whimsy. The wining and dining components of the estate are all named after obscure (and somewhat suspect) lapin terminology.2 Flaggerdoot bar signifies a collective of jackalopes, while restaurant Doot Doot Doot is the leader of the pack.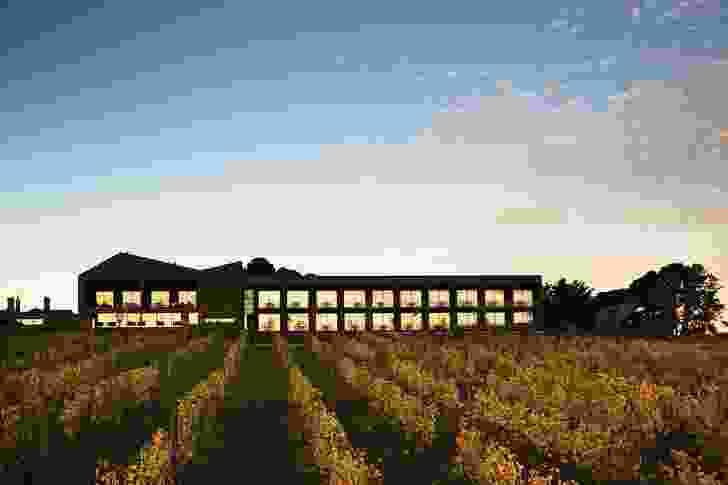 A secondary theme of alchemy also permeates the project, referencing the oenological nature of the place as a cellar door, function centre and accommodation for Willow Creek Vineyard and the Peninsula wine area generally. Driven primarily by FOD and embedded from the outset, this theme conceptualizes functions and spaces according to alchemic sequences – such as fermentation, distillation and rarefaction – and is reinforced by an evocative material palette and details. Some are literal, like the neon symbols scrawled across the ceiling of the main circulation corridor and the real and faux chemical apparatus in Flaggerdoot. Some are subtler, like the leaden ground of the tiled restaurant floor that transmutes to a bubbling golden ceiling of 10,000 Edison globes in Jan Flook's spectacular installation. In combination with the shapeshifting connotations of the jackalope, there is no doubt about an atmosphere of transformation and wizardry.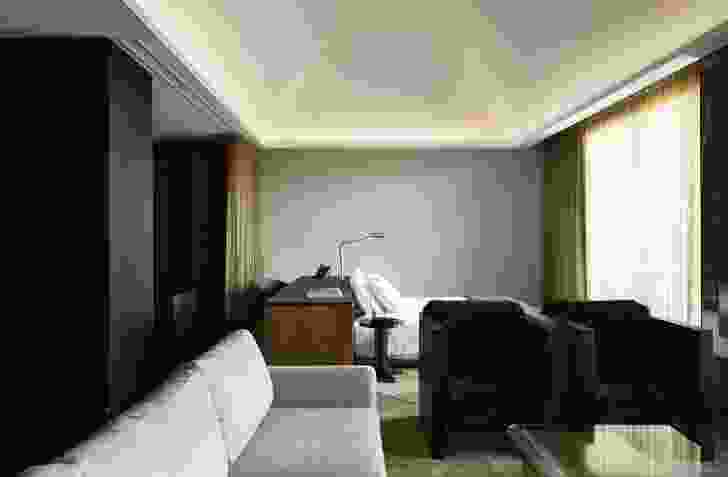 Behind the playful and indulgent expressions – and there are plenty in this unabashedly theatrical setting – is a core of gravitas, functionality and elemental obsession. Major forms and volumes are solid and opaque, as in the geologically faceted entry pavilion and the Geode spa. These are foiled by elements in flux: shimmering metallic curtains, figural lines of light and dancing reflections of glass orbs, chrome and water. This tactic operates at a range of scales, be it the bulk of the hotel, the simply grand proportions of the flexible Doot Doot Doot dining space or the intimate scale of the rooms, with their monolithic obsidian baths.
From where I'm sitting in the Flaggerdoot bar (trying my hardest to remain an impartial reviewer despite the local product sparkling in hand), I can count fire, water, timber, chrome, gold, granite, glass, marble, onyx, iron, plaster, leather and wool. And that's not counting the fur, diamonds and rubber on the patrons. For this is a sensational, sybaritic environment, attuned to revelry as well as retreat, and the place is full of folk with something to celebrate. Increasingly, we are spending our discretionary funds on experiences rather than consumer goods. Li recognized this through Instagram feeds that show a pronounced shift from collecting things to collecting memories and itineraries. Across one weekend I see two up-market hens' parties, one wedding consultation, three significant anniversary dinners, five visibly pregnant babymooners and who knows how many just pregnant couples. Almost all are diligently journalizing their stay with photographs and selfies in this supremely photogenic setting, adding verisimilitude to Jackalope's already convincing virtual branding.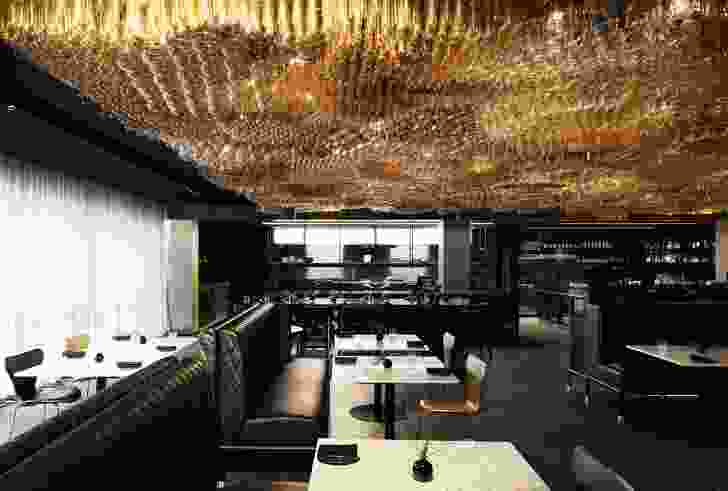 If the crowd during my stay happens to be a very Peninsula demographic, this is nevertheless an internationally calibrated endeavour. It aspires to, and achieves, sophistication of global proportions, paradoxically because it responds so specifically to regional qualities, elevating them through intelligent design moves. This, then, is the third theme, implicit rather than explicit, of Australian architectural typologies and mythologies. It emerges in the direct siting and form of the main building as an exalted agricultural shed, which deftly completes the existing winery infrastructures. It is evoked in the black infinity pool that sits like an exaggerated oily water trough at the top of a paddock. It is teased out in the almost ironic handling of the original homestead – preserved as a pristine entity externally yet about to be swallowed up by the black monster shed and, though gutted internally, still with respectful traces of the previous room layout, delineated in light and nuanced structural morphologies. And it is demonstrated in the extensive use of Australian designed and produced furniture: in an unusually patriotic stance for hotel fitouts, 100 percent of the selections are locally manufactured (in collaboration with Zuster) or authentic design pieces.
Rooms are the crucible for any hotel – or in alchemic terms perhaps the athanor – and the four versions at Jackalope are masterly in resolution. Each aligns variously with lead, silver and copper themes but in an understated way. Deliberately "art-free," they borrow and frame the landscape for contemplative focus and give respite from the visual exuberance of the front of house. Concealed wall lighting reinforces the precise and ergonomically attuned low datum of these serene rooms, and there is a satisfying mix of artisanal and advanced technology. A kind of hygge-luxe aesthetic. It is rare that I can test a project by sleeping or washing in it, and like a dutiful critic I try to fault it, but can't . Everything has been considered; there are no bruised shins or skinned knuckles (unlike the glorious but compromised and sadly modified Adelphi). And there may be strange creatures in the forecourt, but there are none under the bed.
In an etymological trace that the erudite Frascari would have loved, teratologia , the study of monsters, can also be "the telling of marvels." The design team for Jackalope has exploited the characteristics of the mythic – exaggeration, dislocation and unexpected combination – with elan, shifting familiar forms and functions into a strange and marvellous new mode. And though the next Jackalope will have a different region, theme and team, the project has raised a high bar. Watch this space for Li's next jack rabbit leap.
1. Marco Frascari, Monsters of Architecture: Anthropomorphism in Architectural Theory (Savage, Md.: Rowman and Littlefield Publishers, 1991).
2. According to the dubious website jackaloperesearchinstitute.org (accessed 9 June 2017).
Products and materials
Exclusive indoor furniture

Zuster
Hotel amenities

Hunter Lab
Jackalope sculpture

Emily Floyd
Credits
Architect

Carr Design Group
Melbourne, Vic, Australia
Project Team

Architecture: Chris McCue (director of architecture), Stephen McGarry (associate), Tim Kaye (graduate of architecture), Interiors: Sue Carr (principal), Dan Cox (director), Rosie Morley (associate), Daniela Goedecke (interior designer), Emily Zeigler (senior designer)
Consultants

Branding consultant Fabio Ongarato Design
Builder VCON Builders
Building surveyor Gardner Group
DDA Consultant Before Compliance
ESD consultant Sustainability House
Kitchen consultant FCA
Landscape consultant TCL
Lighting designer Jan Flook Lighting
Planning consultant Urbis
Project manager Medley Property Group
Restaurant and F & B Consultant Pascale Gomes-McNabb
Site surveyor Land Dimensions
Spa consultants Spa Sessions
Structure and services engineer Wood and Grieve Engineers
Swimming pool consultant Aloha Pools
Traffic consultant Cardno

Site Details

Site type Coastal

Project Details

Status Built
Completion date 2017
Category Hospitality
Type Hotels / accommodation, Wineries

Source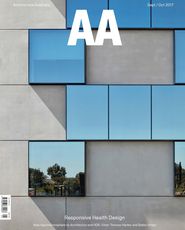 Issue
Architecture Australia, September 2017