First House: Kennedy Nolan Architects
The first project for Kennedy Nolan Architects came with a rush of energy and abundance of ideas. Thirteen years later, director Patrick Kennedy reflects on the first house by the practice.
Towards the end of 1998, my cousin and her husband asked me to design a renovation for their dilapidated Edwardian house in the Melbourne suburb of Northcote. The James Street House was all the impetus Rachel and I needed to start our own practice. With what now seems feckless and irresponsible abandon we resigned from our respective jobs and went to Officeworks to buy a fax machine. It was all very well thought out and high-tech.
On reflection, it was a great time to start a practice because we didn't have any significant financial commitments and, more importantly, our youth ensured that we had an abundance of enthusiasm and not enough experience to be deterred by a rational and considered appraisal of the risks and pitfalls ahead.
An architect's first project – would a client need to be brave or foolish? There is a tendency for young architects to want to include in a project every great architectural idea that flickers across their consciousness. This, in addition to a lack of experience and construction knowledge, a limited understanding of building costs and a susceptibility to manipulation by wily tradespeople, could result in a multifaceted disaster. Despite this, the first project is a wonderful thing. A first-project architect tends to apply an enthusiastic, devoted and passionate focus, undiminished by eroded confidence and the disappointments of conservative client responses. Their imagination is undimmed by the crushing determinations of unimaginative town planning departments and their attention unaffected by the competing demands of other projects. No-one should underestimate the problem-solving abilities of an architect working on their first project.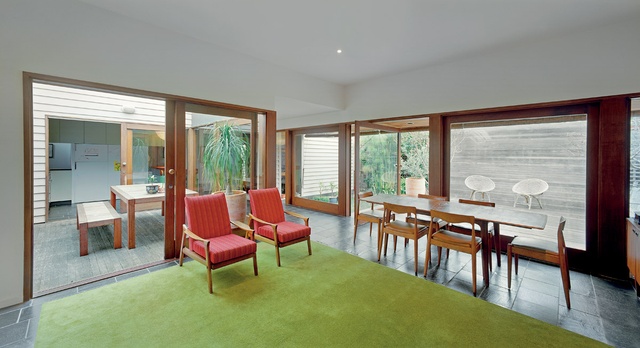 For us, James Street was a near-perfect first project. It combined a trusting client who shared our sensibilities, a scope of works extensive enough to give us an opportunity to explore some architectural ideas, and a corner site that allowed us to make a building with a street presence.
The project incorporated many of the characteristics that have come to define Kennedy Nolan Architects today. The design adapted an existing building and the scope encompassed the entire site. The project was our first exploration of the possibilities of a plan. There is evidence of our interest in defined zoning – the liturgy of habitation, of hierarchical planning – you can see our preoccupation with aspect, axis and the long view. The formal qualities of the building exhibit our ongoing interest in the suggestive power of abstract form. References are made to the history of the building and to the notion of hearth as home.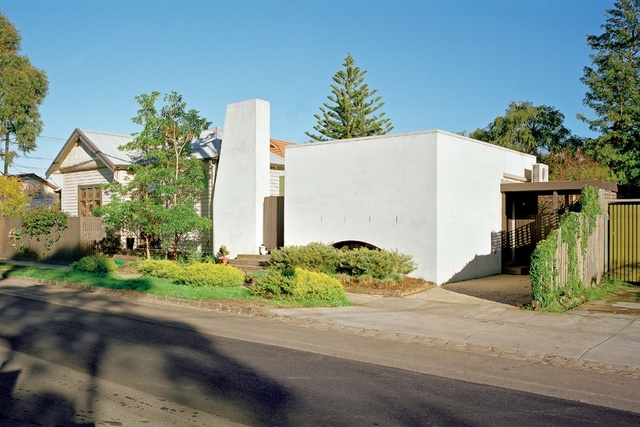 The detailed design of the house, including particular care given to colours and finishes, was developed through a revision of 1970s residential architecture, particularly the houses of Merchant Builders. This is an ongoing interest – both in the particularities of courtyard house plans and the highly textured surfaces, which we feel create a sense of domestic refinement.
The key architectural move was to readdress the house to the side street, bringing in a new entry to the middle of the house and separating public and private zones. This enabled us to reclaim the front garden as a private space, taking back a part of the site that previously was difficult to use, and giving privacy to the bedroom zone. The design provided two bedrooms and a study/nursery, as well as a dining room that could convert to a bedroom with the insertion of a bank of cabinets.The clients, who had no children when work commenced on the project, now have three – and they have converted the dining room to a bedroom as planned.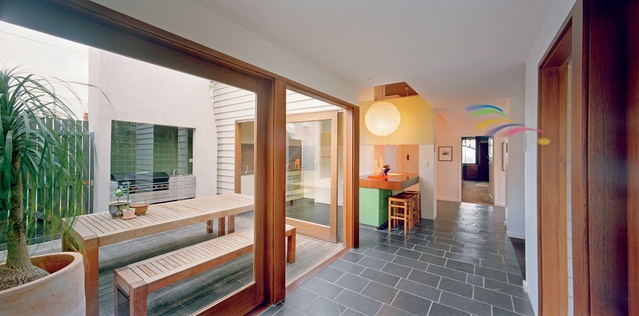 By approaching the site as a whole rather than considering the house and garden separately, we were able to create a series of indoor and outdoor areas that relate to one another and give an impressive sense of space. Despite this, the family has outgrown the accommodation. Against my advice, the owners have decided to embark on another renovation. It is flattering that they love their house so much they want to remain in it, but the new rooms (a small sewing room and an additional study/bedroom on the north boundary) arguably erode the rationality of the plan. On the other hand, these changes, also designed by our office, do address one of the problems in the original design – the lack of northern orientation.
It is interesting to reflect on what has changed in our practice since 1999 – most significantly, a serious engagement with environmentally sustainable design. When we developed the original plan, we felt that we were taking passive solar principles into account. However, it was also a time when we privileged the aesthetic qualities of western light and were not overly troubled by the lack of northern orientation in the principle living room. Happily, the recent changes address this.
Ultimately Rachel and I remain extremely proud of James Street, and we can reflect on it as an encapsulation of many of the ideas that have been developed and extended in our practice.
There are so many gratifying aspects to the project, not least that it won a Victorian chapter Royal Australian Institute of Architects award for alterations and additions in 2000, a welcome endorsement from our profession.
This project was first published in Houses 84 as part of the First House series where architects revisit their first built commission.