Architect and artist Lucy Humphrey reviews an exhibition of photographs of the mercurial Arctic island of Iceland, by "experience architect" Jay Montoni.

Jay Montoni's exhibition Iceland features a series of exquisitely crafted landscape photographs. Borne from a solo three-week expedition through the evocative Icelandic landscape in 2011, Montoni captures the dream-like effects of this isolated topography, defined by sculptural mountain forms and temperamental weather.
The atmosphere of the photographs is engrossing, as visitors are met with a series of wide-frame landscapes, some punctuated by fragments of man-made structures to give scale. In entering the gallery, detailed macro images are over-enlarged to completely immerse the viewer within abstract textures and colour.
An enormous geyser is frozen in a moment of explosion, a powerful monochrome in black and white. In progressing through the series, viewers encounter a purposeful shift in framing techniques, from vast landscapes bound by slender frames, to the epic large-scale frameless, and a selection of smaller images encased in a monolithic acrylic face, adding a sense of mass and depth. An abandoned boat is seen through a glass-soaked lens, the "Forgotten Bridge" stands alone, dissolving into its natural surroundings, and studies of delicately mossy volcanic rocks present incredibly tactile impressions with surprising bursts of colour.
Having a background in graphic design and photography, by day Montoni is a user experience architect, developing contemporary digital interface design with the aim to make technology more ergonomic and intuitive. This desire to enhance the interactivity of technology extends to a broader creative interest in tactile photography and storytelling. Just as Montoni is seeking to make technology more accessible and empowering for users, so too do his photographs present a moving and physical encounter with an alien landscape.
Montoni describes the photographs as "explorations in texture, colour, volume and desaturation". They provide moments of abstraction, with striking contrasts between the vastness of the isolated setting, and intense exposure to changing conditions of light, weather and atmosphere. The images can be ominous but are deeply emotive, a product no doubt of both the photographer's eye, and the intimacy in having witnessed these moments in complete isolation.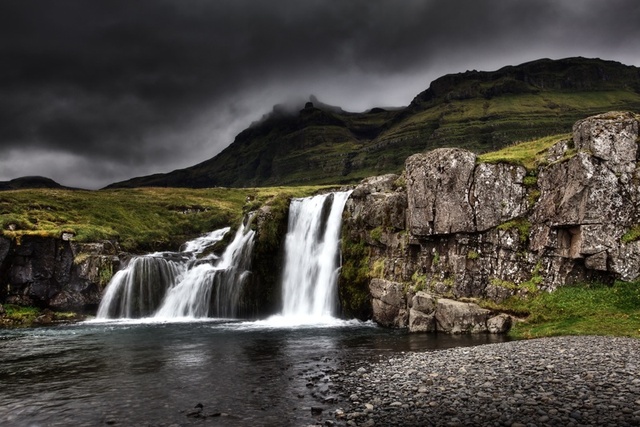 The exhibition takes full inspiration from the remote island of Iceland, a place Montoni describes as a bustling creative hub with an extraordinarily beautiful terrain. The sparsely populated Nordic island of only 320,000 people provides the allure of a place so far removed and untouched, offering solitary geographical conditions to explore. The images capture empty stretches of sand, hidden waterfalls, lava fields, active volcanic mountains and glacial rivers.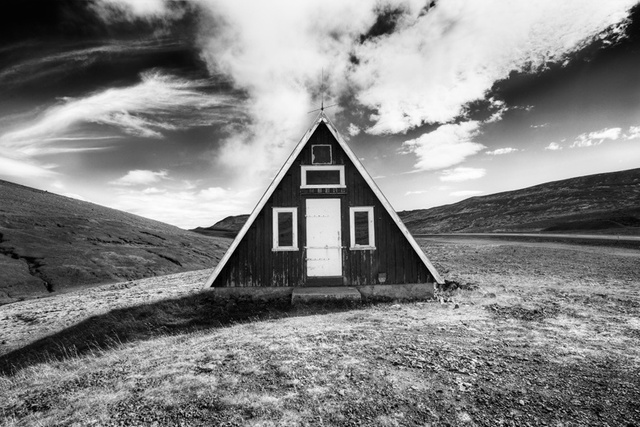 By visiting in mid-summer, Montoni exploited the endless twilight of the evenings, which provided consistently subtle light ideal for shooting. Montoni recalls the freedom in exploring Iceland's national ring road alone, discovering scenes spontaneously and sitting for hours waiting for the sky to open. Some destinations were so remote that emergency huts could be found filled with supplies for stranded travellers, such as the iconic A-Frame house featured in the exhibition. These images present a surreal account of this unique topography, but stand alone with a powerful sense of place.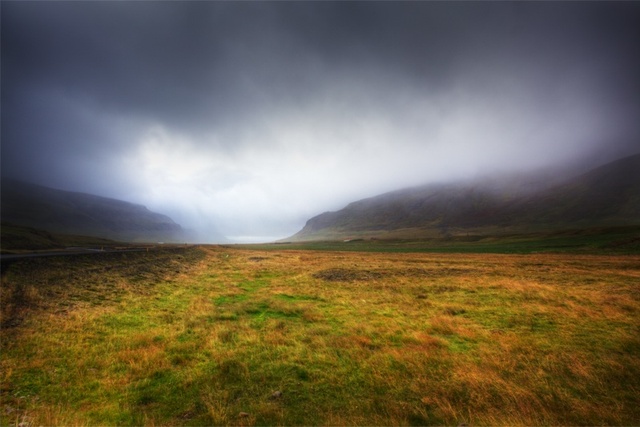 Montoni's interest is not specifically in landscape photography, but its narrative and communication. He recalls Henri Cartier-Bresson, with an affinity for the idea that photographs are not made simply to be printed and sold, but as a very personal creative exploit: "I'm not all that interested in the subject of photography. Once the picture is in the box, I'm not all that interested in what happens next. Hunters, after all, aren't cooks. " (Henri Cartier-Bresson)
The next chapter in Montoni's landscape tale is a work in progress, having begun three-dimensional hand-built studies of the photographs. Through triangulated wire frame sculptures, using self-taught welding and jewellery techniques, Montoni is seeking to translate the sculptural and organic forms of the voids captured within the landscapes. He is eager to explore the creation of tactile or even interactive sculpture. In the context to to his daily work as a digital designer, Montoni describes a deep satisfaction found in the solitary act of making by hand.
Curiously, I find many parallels can be drawn between the creative processes of the "user experience architect" and the process of making architecture for the built environment. Montoni's careful attention to the crafting experience resonates with the importance architects place on creating physically intuitive spaces that facilitate more connected living experiences.
As one practising designer observing another, it is inspiring to witness such a highly crafted body of work. The attention to detail resulting from patience and a commitment to perfecting the details.
Iceland is Montoni's debut exhibition in Sydney, currently on display at the Shapiro Gallery on Queen Street, Woollahra from the 22 August – 1 September, 2013.