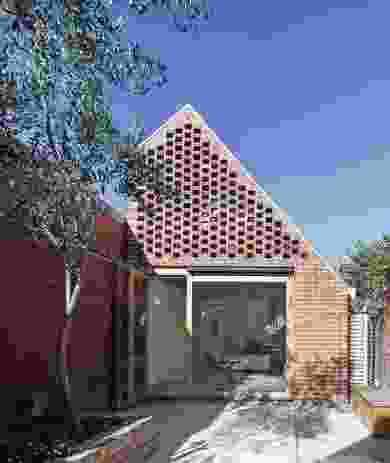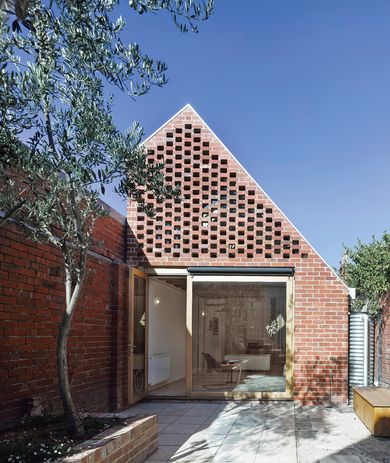 There undoubtedly comes a time in many people's lives when the family sanctuary, once so beautifully full and refreshingly familiar, becomes strangely unbefitting. The endless noise of children's chaos fades and metre upon square metre of emptiness suddenly appears, now conveniently free for limitless storage. Such sentiments would surely hold resonance for the clients of Jewel House, who, after sharing their generously sized North Melbourne terrace with their five daughters for some twenty-five years, decided to make the move and downsize to a smaller, single-storey Victorian terrace in Melbourne's inner-city suburb of Carlton. But with two-and-a-half decades' worth of hoarding, it became apparent that their much smaller residence would need some adjustment to be comfortably transformed into a suite for two. They decided to build the renovation themselves and sought advice from Karen Abernethy Architects to help realize their vision.
Within the confines of the existing exterior walls, the front section of the house was retained (it is located in a heritage overlay area) and its program changed to include a bathroom, main bedroom and study. This also became an informal entry, offering itself as a place to pause before the inner realm is revealed. To provide natural light – so highly sought after and so difficult to obtain in terrace dwellings – a light court was cleverly devised between the bedroom and bathroom, an interstitial space that visually highlights original detailing through full-height glazing in the corridor.
The rear section of the house, built of double red brick and thoughtfully crafted with dovetail details and bullnose corner brickwork, was carefully demolished and all salvageable materials retained for use in the rebuild. With the integrity and tradition of the existing materials palpable, Karen resolved to design an addition that was a reinterpretation of the original house's character and finesse.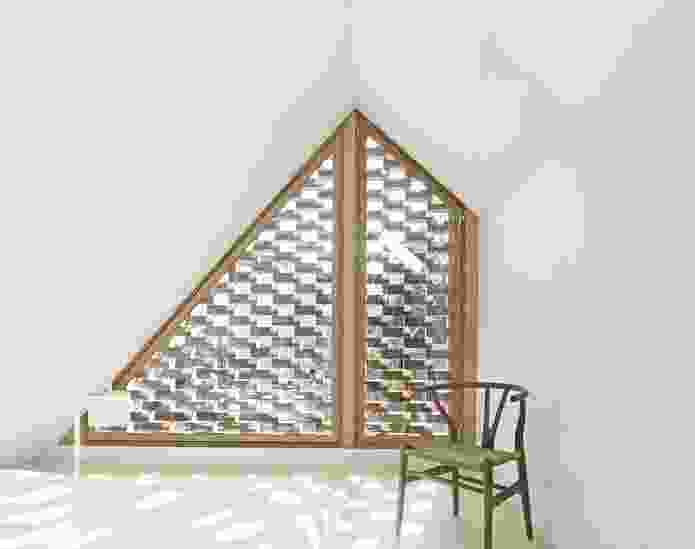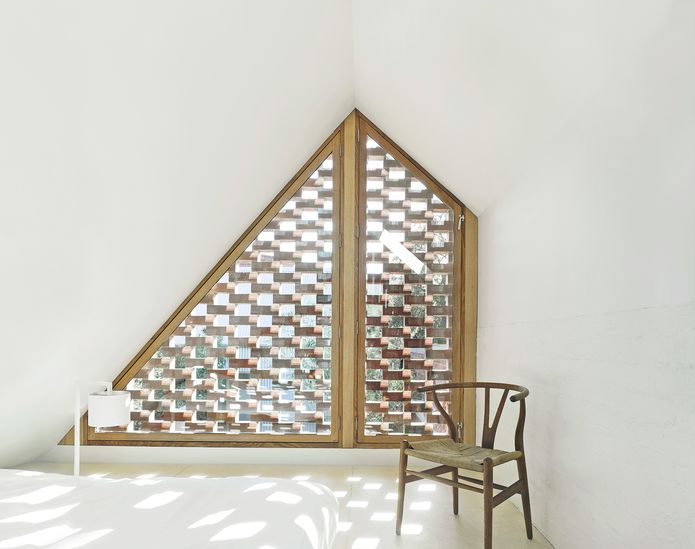 On transition from the existing to the new, moving through a doorway carved within an internal facade of Russian birch ply joinery, the materiality is intrinsically alike but its treatment notably distinct. At this point of transition, a bold volume of light and lucidity is revealed and the language of the renovation begins to be spoken. Internally, the palette becomes an infusion of ply, bagged and white-painted brick, plasterboard and concrete. Its details were inspired by those of the existing house, reinterpreted to suit an interior that is minimally adorned yet beautifully rich, its execution honest.
The addition now spreads itself across the entire width of the site, while its form is dictated by various site constraints in the way of neighbouring properties and height restrictions. The resulting triangulated portion is occupied by the kitchen, dining and living areas, with a lofty mezzanine that is accessed by a sculptural stair suspended in the centre of the volume. The stair, also made of steel and ply, was methodically designed, acting not only as a means of ascent, but also as a porous division between the dining and living areas. Its weight and permeability were of immense importance in maintaining sight lines and allowing the continuation of natural light from both the rear elevation and the skylights that punctuate the crisp white ceiling. At the level of the mezzanine, articulated on the western flank to provide sensitive shading, a lattice brickwork wall was designed and constructed from the reclaimed bricks, each brick gently spanning the space made by the separation of the two below. Beautifully crafted and observed from both levels in the addition, the lattice brick invites dappled sunlight into the volume and casts dances of patterned light and shadow against the height of the raking plaster ceiling.
A second structure was erected at the rear of the site. Taking its inspiration from the form of the extension but rotated at ninety degrees, the stand-alone bungalow is clad in corrugated iron and presents itself as a garden shed against the red brick and greenery of the garden. It provides storage, a bathroom and the possibility of another one to two bedrooms, offering the house flexibility when the accommodation of extra family is required.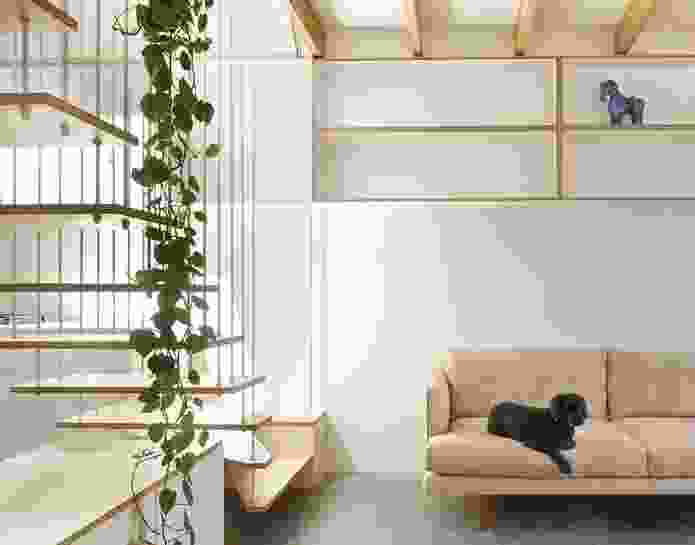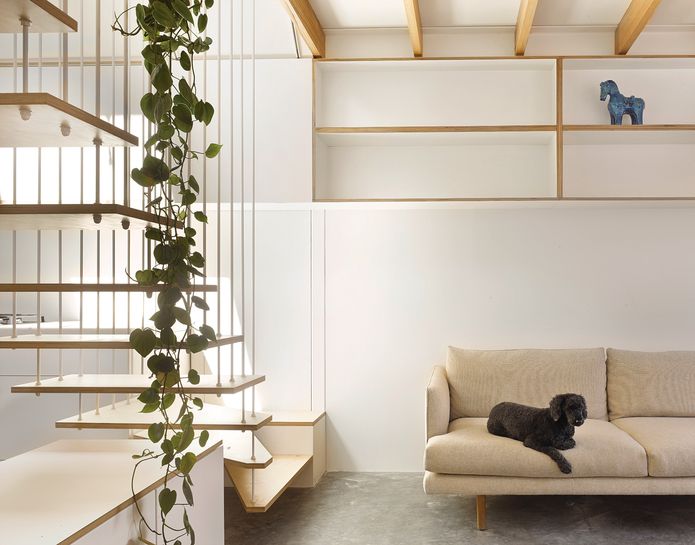 For the past six years, Karen has spent her time living and working between Melbourne and Switzerland, which perhaps, in the case of this renovation, allowed her to draw parallels between European domesticity and the reimagining of a piece of Australian heritage. In practice, Karen sees her work as "an opportunity to make something beautiful" and where possible will design everything, right down to the light fittings. In the design and construction of the Jewel House, the fact that the clients were also the builders, and that the building process was closely managed by the architect, allowed many design decisions to be made on site. Through this collaboration, they have transformed a diamond in the rough into a precious jewel.
Products and materials
Roofing

Lysaght Custom Orb in Zincalume.
External walls

Lysaght Custom Orb in Zincalume; red bricks recycled from existing house.
Internal walls

CSR plasterboard; Corian in 'Glacier White' from CASF; medium-density fibreboard; existing brick, bagged and painted.
Windows

Pickerings hardwood windows in natural oil finish (internal) and Intergrain DWD finish (exterior).
Doors

Piano hinges; Russian birch plywood doors by joiner in clear 2-pac finish.
Flooring

Concrete with polished and sand finishes; recycled Baltic pine, existing and from Urban Salvage, in Bona Traffic ultra matt finish.
Lighting

Superlight LED strip lights; mLight fluorescent strip lights; Fabbri festoon lights; porcelain batten holders.
Kitchen

Smeg cooktop and oven; Qasair rangehood; Corian benchtop and splashback; Laminex Contour Finedge fronts to under-bench cupboards; Rhino Ply melamine-faced birch plywood fronts to overhead cupboards; Plyco Russian birch plywood fronts to full-height cupboards; Gessi Oxygene mixer; Abey sink .
Bathroom

Astra Walker Icon range tapware; Laufen toilet; BetteStarlet bath; Corian shower base in 'Glacier White' by Formed; Corian joinery, wall lining and basin in 'Glacier White'.
Heating and cooling

dronic heating with Delonghi steel panel radiators and Bosch gas boiler.
External elements

Natural limestone pavers, honed; river pebbles; recycled bricks.
Other

Jardan Nook sofa in wool tweed; Objekto Paulistano armchair and Bloomy Moroso coffee table from Hub Furniture.
Credits
Architect

Karen Abernethy Architects
Melbourne, Vic, Australia
Project Team

Karen Abernethy, Louisa Macleod
Consultants

Builder Owner
Carpenters Andy Pascoe, Wade Lovich
Engineer John Gardner and Associates

Site details

Location Melbourne, Vic, Australia
Site type Suburban
Site area 175 m2
Building area 114 m2
Category Residential buildings
Type Houses, Residential

Project Details

Status Built
Completion date 2013
Design, documentation 12 months
Construction 9 months

Source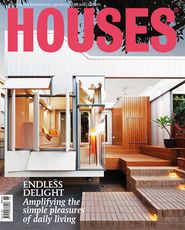 Issue
Houses, December 2014
Related topics