Canada was in the throes of discovering itself when I arrived in Toronto in September, a few weeks before the conclusion of Expo '67 in Montreal. The expo drew together Canadians from across the country's wide expanse, in an unforgettable act of self-discovery. Whatever their individual, linguistic, cultural and historical experiences had been prior to the expo that summer, they discovered they were members of the same nation – they were Canadians.
A year earlier, an exceptional piece of architecture designed by a young Australian architect from Sydney, John Andrews, had startled North America and seemed to sum up Canadian identity more than any other single piece of work. It was Scarborough College, planted on the sharp edge of a ravine behind the bluffs facing Lake Ontario. So extraordinary and richly evocative was Scarborough that Time magazine published a four-page colour spread in its 13 January 1967 issue. It was unprecedented publicity for the thirty-four-year-old Australian.
Prior to this, Andrews had worked on Viljo Revell's Toronto City Hall, a project that the Finn had won in an international competition in 1956. Andrews had gone directly to Harvard University on scholarship after completing his degree at the University of Sydney. As a registered architect, Andrews had entered the City Hall competition with four other students and had been placed.
Scarborough College deserved its instant fame; it was an extraordinary achievement for one so young and attracted worldwide notice at its completion. It was foremost a megastructure; secondly, it was formidably "brut concrete." This led many critics and commentators on architecture to label it brutalist, yet, there was much more to it. It was far more complex in its associations than anyone recognized at the time.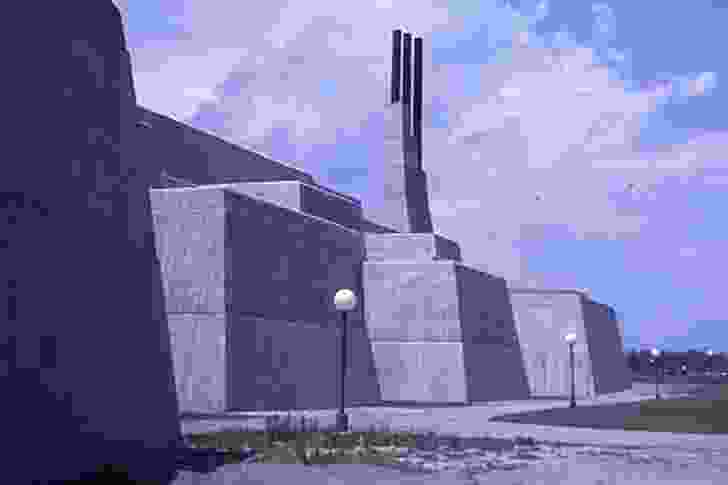 In retrospect it resonated with echoes of Russian constructivism, and the composition of three boiler stacks (one was false) repeated Sant' Elia and futurism. All this in a single, defiantly monumental scale. It also did something that, up until then, few Canadian architects had given due thought to – it recognized, in a sensible and very practical way, the impact of the harsh Canadian winter that lasted more than five months. Its irregular plan meandered around the steep escarpment like some giant fossilized snake. At long last someone had designed a building that genuinely reflected Canada – it had Canada writ large across its rough grey concrete exterior.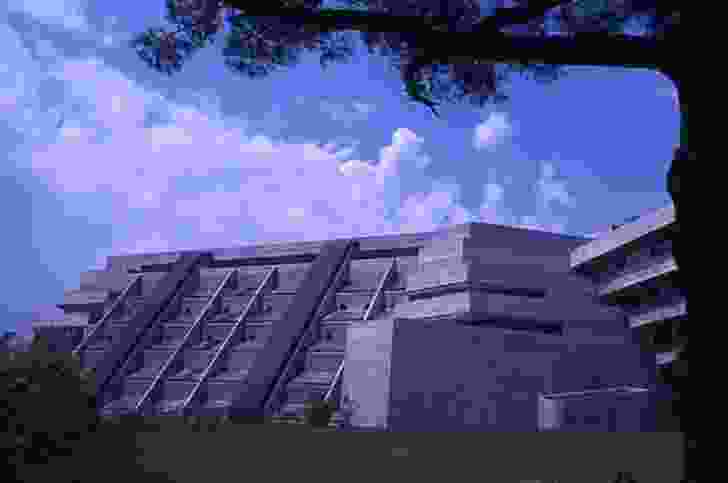 Scarborough College was the beginning of a career that would take Andrews far and win international opportunities. He would go on to have a series of careers: first his North American career, before being lured back to Australia in 1974 by the National Capital Development Commission (NCDC) to do the Cameron Offices in Canberra. This was the beginning of his Australian career, during which he would design a prolific range of large-scale educational and commercial work that included the King George Tower and Sydney Convention Centre (now under threat of demolition as part of Lend Lease's proposed Darling Harbour redevelopment).
Andrews' third career was an extension of this – following the economic slump of the early 1990s, he sought commissions outside Australia before semi-retiring to Eugowra in western New South Wales.
Soon after finishing my architecture training I decided to make a pilgrimage to Japan. Architecture Canada was my next stop, half the reason being the chance to see what Andrews was doing there. I did not work in his office at 47 Colborne Street, Toronto, but I did the next best thing and worked next door with his landscape architect buddy Richard Strong at number 45.
Andrews was the first Australian architect to make it big on the international stage, and he did it when he was very young (he designed Scarborough at just twenty-nine) and he is one of a select few to have achieved this. Harry Seidler springs to mind, but he was born in Vienna and brought to Australia an extension of Marcel Breuer's modernism; and his later work is more indebted to European baroque than to anything recognizably Australian. Then there is Glenn Murcutt, who made architecture truly Australian. But Andrews was the first to break through into the international spotlight and demonstrate to a sceptical world that Australian architects were world-class and capable of genuine inventiveness and originality.
Proving that Scarborough was not a fluke, Andrews would go on to design other equally powerful and intelligent masterworks such as the Canadian National Tower, Metro Centre (1970–77), Gund Hall at Harvard University (1968–1971), the Cameron Offices, and the Intelsat headquarters, Washington D.C. (1980–88).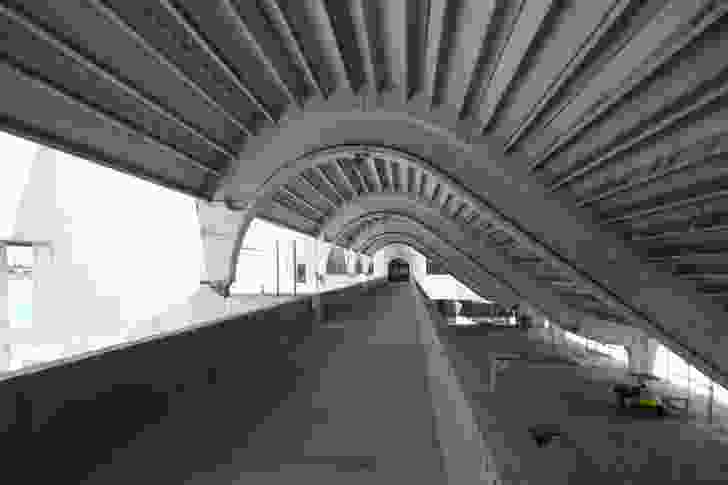 He was one of the first architects to give due recognition to climate as a contributory factor in design. Just as Scarborough College dealt with the Canadian winter, the Cameron Offices feature stepped office wings that incline to the winter light and alternated with narrow courtyards to enhance shadow during the hot Canberra summer. Much later, Andrews' Eugowra Farmhouse (1978) dealt with low rainfall, sparse vegetation and 42-plus-degree temperatures, and zero in winter.
Today at seventy-nine years of age, in retirement, suffering from type 1 diabetes among other ailments, Andrews is a largely forgotten architectural figure. But he should not be. The recipient of many architectural awards and honours, Andrews has contributed much to Australian society through his architecture and other activities, notably as the first founding chairman of the Australia Council's Design Arts Committee (1980–83). Typically Australian in his manner and attitude, he remains a forceful figure and a formidable opponent of "bullshit."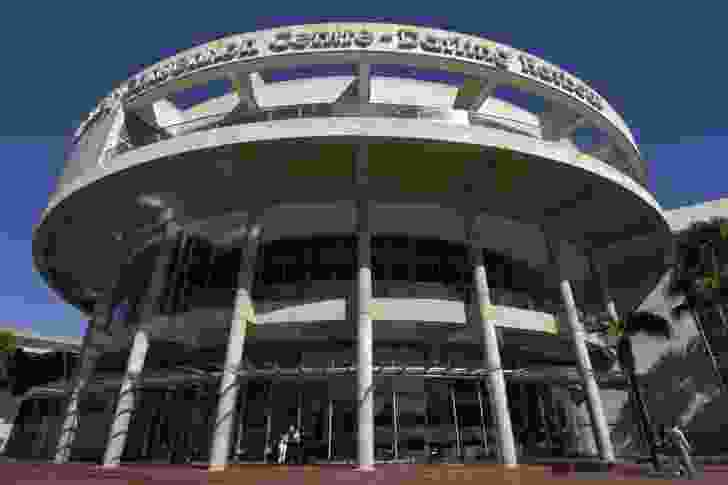 It is a sad thing to see so many of Andrews' Australian works altered, some almost beyond recognition – for example RMIT Technology Library (1977) has been defaced, and the sun shields on the Parramatta Tower have been replaced. Now, in perhaps the worst example so far, his Sydney Convention Centre is slated for demolition. This is a travesty.
The Convention Centre is worth saving, not only because it is perhaps the best surviving example we have of Andrews' work in Sydney, but because its demolition is so unnecessary and pointless, and counters everything we know about the impacts of demolishing functioning buildings simply to replace them with marginally better ones. Not only is this demolition dumb economically, in a country desperate to write a credible cultural narrative, it makes no sense at all to erase any more of the city's modern history than we already have.
Over two days in October 2012, The University of Melbourne hosted a John Andrews Symposium, which opened with a keynote lecture by visiting Professor Mary Lou Lobsinger on the educational innovations embodied in Scarborough College. This was followed on the second day with contributions from his former staff member Jennifer Taylor, and I supplied the concluding overview and analysis of Andrews' architecture. Without question, the highlight of the day was Andrews' presentation, telling of his personal and architectural narrative. It was a truly memorable occasion warranting permanent record, and was delivered with clarity and detail. The architect may be a forgotten hero among Sydney's academic establishment, but it was a happy occasion to see him acclaimed and honoured at last.
Read a flashback from the Architecture Australia May 2000 archives about John Andrews in America.