John Gollings is arguably Australia's best-known contemporary architectural photographer. His career has longevity, but Gollings is not only a maker of consistently great images – he has also become something of a curator and an explorer of the architectural image's possibilities.
The opportunity to see a wide selection of work from across this career is particularly welcome. There is of course a lush 2011 Gollings book, Beautiful Ugly: The Architectural Photography of John Gollings by Joe Rollo, but engaging though this is, there is nothing like seeing the images printed at large scale and presented in a spacious gallery. The photographs have been printed for the exhibition with wide margins and are simply pinned to the gallery walls.
The images are organized in groups with different emphases. A double row of photographs of modern and contemporary architecture is lined up on a long wall by the entry to the exhibition. The earliest is of the Sydney Opera House, under construction in 1968; the most recent were taken last year, of the Cox Architecture-designed ferry hub at Barangaroo and of Frank Gehry's Louis Vuitton Fondation in Paris. Australian images mix easily with those of international architecture, from Frank Lloyd Wright and Rudolph Schindler to Gehry and Zaha Hadid. These are all beguiling, all the more so for the luscious printing and immaculate installation. But they are images that fall within the conventions of architectural photography – they project buildings as iconic objects, disengaged from their settings, and usually have no people present. The shots are framed to minimize connections with urban or suburban contexts. And even the images of buildings decades old when Gollings shot them betray few signs of ageing or patina. Here, the photographer is a kind of cosmetic surgeon. They are all arresting images, but they are also the kind of images that have sometimes given the genre of architectural photography a reputation for misrepresenting and idealizing, for taking the architect's view of their work rather than being motivated by something more inquiring or critical. It is hardly surprising, however, that the architectural photographer's bread and butter images would reflect the faith of his clients that their work is architectural caviar.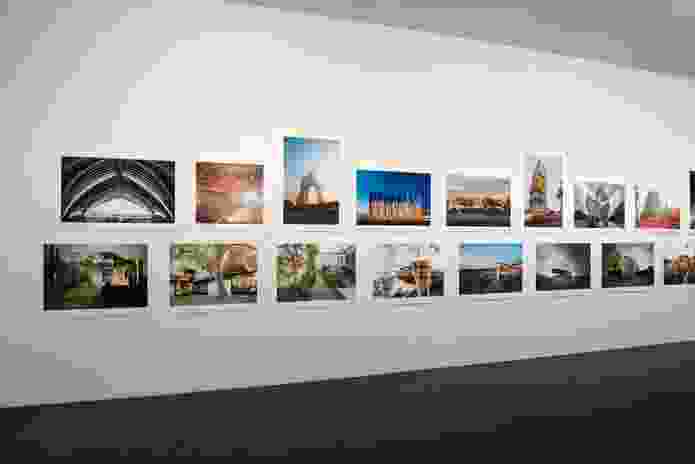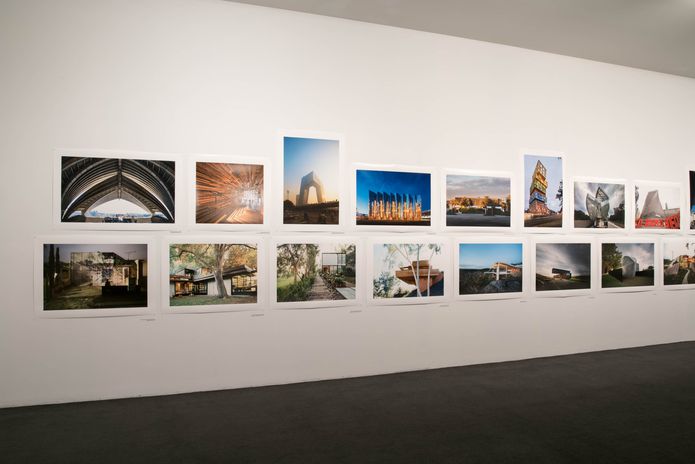 Many other photographs in the exhibition show Gollings building on his accomplishment in the commercial base of his craft towards a range of more interesting things. At the far end of the first room of photographs are images of the Melbourne cityscape. These are as sumptuous and as beguiling as the architectural photographs on the adjacent walls. But in aerial or otherwise distant shots, the elements of the city – buildings, street grids, patterns of lit windows in the early evening – become a field or array that erodes the specificity of buildings and urban locations. They have some kinship with the city paintings of Melbourne artists Jon Cattapan and Louise Forthun. This is a line of photographic inquiry that Gollings brought to a technical crescendo with the "three-dimensional" images he produced of Melbourne, Sydney and the Gold Coast for the Australian exhibition at the 2010 Venice Architecture Biennale, where they were provocatively juxtaposed with images of gigantic open-cut mines in the Australian interior. Even without the 3D format, these city photographs invite a viewer almost to fall into the image, a startling contrast with the distance entailed in the standard architectural image.
Gollings' city images are not alone in being as mindful of art practice as of photography. His 1980s photographs of the work of Edmond and Corrigan have surreal qualities. The best known of these images is of the Keysborough Church of the Resurrection, theatrically lit, with a priest in his vestments, back to the camera, looming large in the right of the frame. In another well-known image in this sequence, a woman floats in the night sky above another of Edmond and Corrigan's Keysborough buildings, perhaps like a figure in one of Marc Chagall's "magic realist" paintings. Strangely, although they are among Gollings' most memorable images, neither is in this exhibition. However, a third image in this idiosyncratic group is included: Edmond and Corrigan's Kay Street infill housing, with bounding kangaroos in the foreground corresponding to the goats Chagall often deployed on his canvases. The kangaroo image keeps company in the exhibition with another of an Edmond and Corrigan project, a backyard house extension. Gollings' notes on this one alert us to the inclusion of an anthill and fourteen lemons in the foreground of the image, the lemons apparently alluding to the rocks of the Ryōan-ji garden in Kyoto (fifteen of them, but with only fourteen visible from any one viewpoint).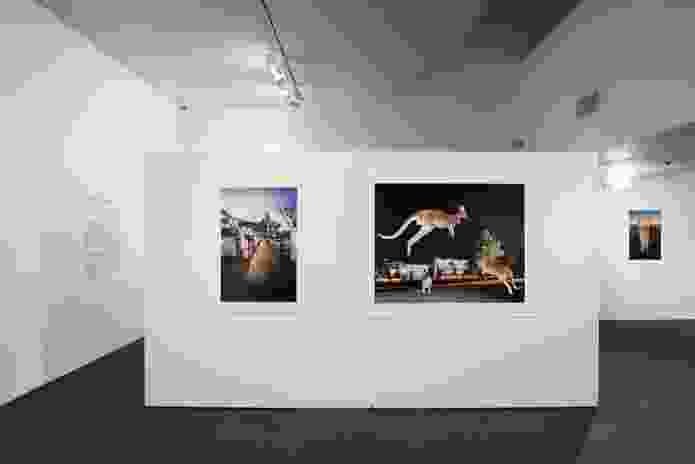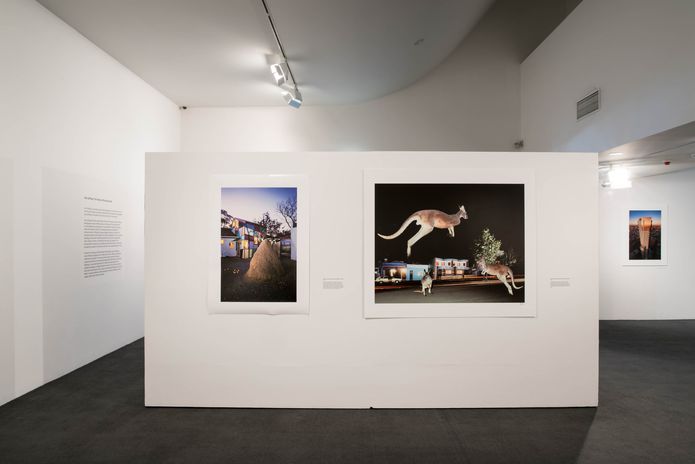 In another exhibition room, Gollings' fascination with the architecture and urbanism of Queensland's Gold Coast is played out in other works that are also mindful of lessons learned from art, in this case that of American artist Edward Ruscha. Two photographs from 1973, Every building on Surfers Paradise Boulevard east and Every building on Surfers Paradise Boulevard west, borrow their deadpan format and their titles from Ruscha's 1966 work Every Building on the Sunset Strip. Equally, the Gold Coast buildings Gollings pictures allude to Australian fantasies of Florida or Southern California. Gollings' interest in the Gold Coast – Surfers Paradise particularly – has been with him since his youth and has been explored by him in other exhibitions, Streets of Gold: Photographs of Gold Coast Streets, 1957–2008, and Learning from Surfers Paradise, which when I saw it mounted at the Gold Coast City Gallery in 2013 was presented alongside a re-examination of Robert Venturi, Steven Izenour and Denise Scott Brown's Learning from Las Vegas.
There is, then, a wry knowingness in Gollings' exploration of the possibilities of the architectural photograph. But Gollings' work gestures not only to the short borders architectural image-making sometimes shares with art, where invention, intervention and citation are expected and frank. A major group of images in the exhibition looks to archaeology: archaeological sites in North Africa, India, China and Cambodia and monumental buildings and compounds from various cultural traditions. Except for often being in black and white (to make them more serious?), these images share a great deal with Gollings' standard architectural photographs – the buildings are caught in beautiful light, the detail is sharp, extraneous intrusions (for these images, virtually any signs of modernity and, in particular, of tourism) are excluded through careful framing and timing. In one case where two human figures are present (Vittala Temple, Hampi, India, 1984), they appear to be almost subsumed into the building as the tree roots are in another of the images (Ta Prohm Temple, Angkor Thom, Cambodia, 2007). No doubt the framing out of the mundane mess of the contemporary raises the question of how well these photographs represent the experience of visiting the places they depict, but I think Gollings right to look further than a social documentary use of photography in considering these sites. Rather than recording the current state of ancient places in any literal way, Gollings wants his photography to honour them. This he achieves. His work on Surfers Paradise is a reminder, however, that the modern world – in all its egregious chaos – is not always without charm.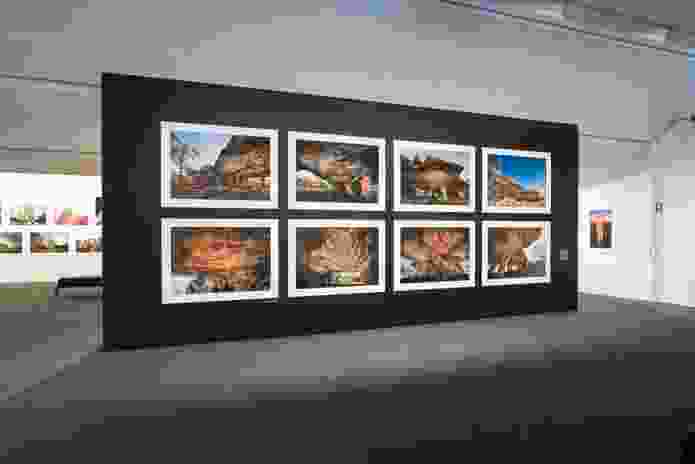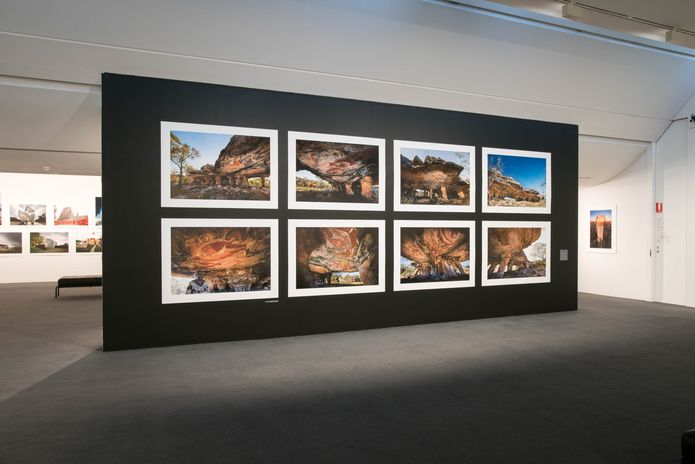 The only photograph in the exhibition that includes a person whose subjectivity is acknowledged – we clearly see her face and particularly her eyes – is in a group of images Gollings took in 2015. These show the oldest place photographed in the exhibition. Nawarla Gabarnmang is a site in Arnhem Land where a sheltered opening under a rock formation has been excavated by the Jawoyn people to make a colonnaded gallery. Its walls and ceiling are adorned with paintings of "fish, wallabies, crocodiles, people and spiritual figures," the earliest dating back 28,000 years. The eight images of this place are the largest in the exhibition. It is as if Gollings' skills in taking images of architecture old and new have been honed just to show us this place. Nawarla Gabarnmang is stunning and Gollings' images allow us to see it is so.
John Gollings: The history of the built world is on show at the Monash Gallery of Art from 2 December 2017 to 4 March 2018.
See John Gollings and Architecture Australia's editorial director Cameron Bruhn in conversation on the shifting architectural identity of the Gold Coast on 24 February.
Related topics