Student housing, by its very nature, presents considerable challenges for an architect. Typically, the budget is low and the key requirement is to maximize the return and accommodate as many units as possible.
Within this framework, the architects have delivered an impressive result with John Street, Box Hill. The exterior is a welcome relief in the existing streetscape and has the potential to lift the aspirations of the entire street.
The architects invested heavily in the briefing and design process to ensure low-cost but high-quality facades. Treatments include timber and brick. Their decision to retain the existing trees provides a welcome deception that you are surrounded by bush, when in fact you are in a completely urban locality.
The use of internal space in each individual unit is well thought through, and every available opportunity has been taken to maximize storage and workable living and study space.
– Jury citation
The main challenge facing the John Street, Box Hill development was its location – the site is at the exact boundary between a mid-rise, commercial zone and a low-rise residential zone. To combat this issue, Hayball designed different interfaces for each of the building's edges, allowing them to integrate seamlessly with their diverse surrounds.
– Hayball
For a full list of awarded projects see 2011 National Architecture Awards – the winners and for more awards discussion see Rachel Hurst and Rory Hyde's responses to the awards and the jury overview by Karl Fender.
Credits
Architect

Hayball
Southbank, Melbourne, Vic, 3006, Australia
Project Team

Luc Baldi, Sarah Buckeridge, David Jessup, Albert Hsieh, Eugene Chieng, Alfredo Marianni, David Castro, Nicole Loader, Samantha Levy, Naomi Douglas, Mercedes Mambort
Consultants

Builder Harris HMC Construction
Project manager Gallagher Jeffs Consulting
Services consultant Waterman AHW Consulting Engineers (Vic)
Structural consultant Mordue Engineering

Site details

Location John Street, Box Hill, Melbourne, Vic, Australia
Site type Suburban
Category Residential
Type New house, Residential

Project Details

Status Built

Source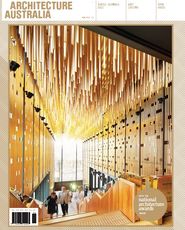 Issue
Architecture Australia, November 2011
Related topics