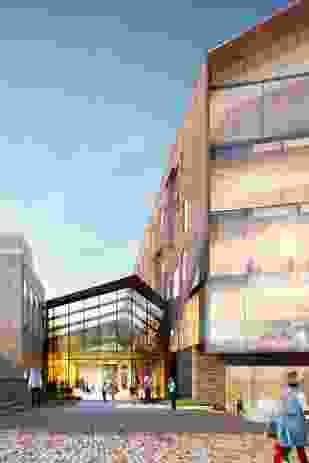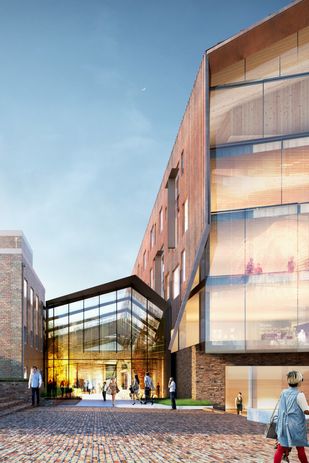 A major government building designed by John Wardle Architects will be built in the regional Victorian town of Ballarat, after the project received approval from the state's planning minister.
The $100 million "GovHub" project also involves landscape architects Aspect Studios and interior designers Geyer. Upon completion it will house up to 1,000 workers from a number of state government departments on a block currently occupied by Ballarat Civic Hall and the city's public library.
The final GovHub design comprises a five-storey office building with a brick and masonry base. A glass conservatory will act as a key entry point to the building, while a pitched roof echoes the forms of nearby domestic forms. The brick base is intended to echo the materials used in the neighbouring Civic Hall and the library.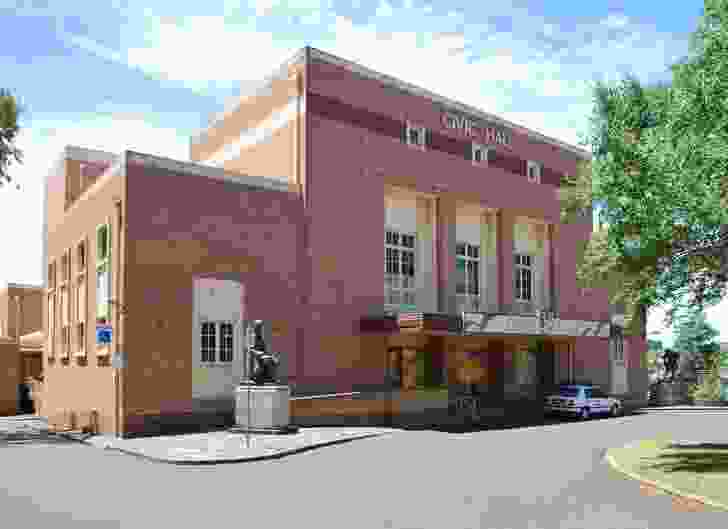 The Civic Hall was designed by Herbert Coburn and Gordon Murphy of Cowper, Murphy and Appleford and was opened in 1954. It closed in 2002 and the City of Ballarat proposed its demolition and replacement in 2014. Fierce opposition led the council to instead consider retaining the building.
In a separate but concurrent project, the City of Ballarat has commissioned Baumgart Clark Architects to work on the hall's restoration. The lower hall, however, is in poor condition and will be demolished and rebuilt as part of the GovHub project.
The reconstructed lower hall will occupy the same volume of space and will become a shared space that could contain a cafe, bar, gallery space, a live music venue or a gathering space.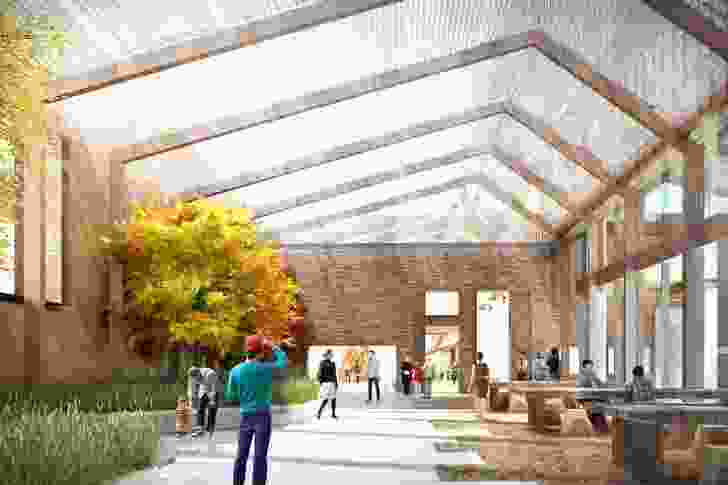 A new civic place on Mair Street, the main public thoroughfare, will link the proposed GovHub, the Civic Hall and the library.
The building is the first of several "GovHubs" the Victorian government plans to build in regional centres across Victoria, with the aim of boosting economic activity.
Jaala Pulford, Victorian Minister for Regional Development, said, "The project will breathe new life into Ballarat's CBD, diversify the range of jobs on offer and help provide career pathways for locals, while attracting more people to live in regional Victoria."
Construction is due to start at the end of 2018, with completion anticipated in 2020.
Related topics