Concept designs for a major government office building in Ballarat have been revealed as part of the community consultation process.
Designed by John Wardle Architects, the Ballarat "GovHub" will house up to 1,000 workers in part of a city block currently home to Ballarat Civic Hall and the city's main public library. Landscape architects Aspect Studios and interior designers Geyer are also involved.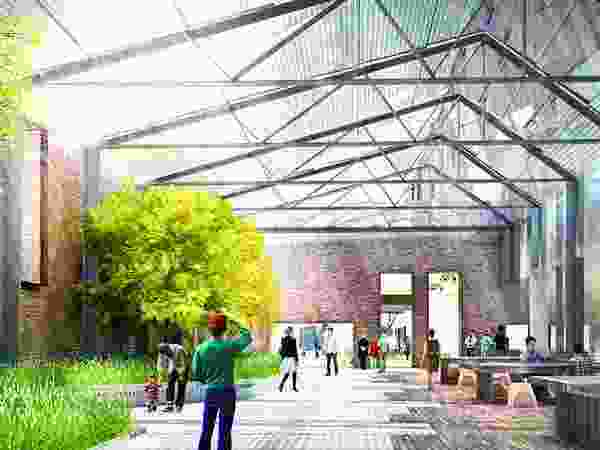 The architects' site-wide conceptual design response comprises a five-storey office building and a glass conservatory, which provides a key entry point to the building, as well as creating a public link between the GovHub and Civic Hall.
The proposed building will be made from a brick and masonry base in keeping with the material theme of the precinct. According to Development Victoria, "A key feature of the new GovHub will be the continuation of brick and masonry through the podium area with a colour palette that is sympathetic to Civic Hall."
The design of the proposed five-storey building has been scaled to suit its surrounds and its pitched roof references domestic forms.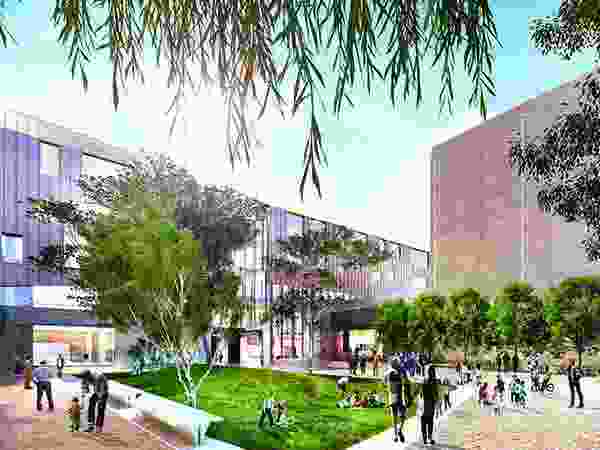 The ground floor podium could house commercial and retail tenancies as well as public spaces. In addition, the design proposes a new civic plaza on the main thoroughfare (Mair Street) and a central plaza that will connect the building to Civic Hall and Ballarat Library.
Internally, the building has been planned to locate collaborative activities near to the edges of the building to "reveal the work of those serving the public" and "heighten the sense of openness between the local community and the government."
In a separate but concurrent project undertaken by the City of Ballarat, Melbourne-based practice Baumgart Clark Architects will refurbish and restore the interior of the much-loved, 1950s Stripped Classical Civic Hall. However, the building's lower hall will be demolished and reconstructed as part of the GovHub project.
Development Victoria said that the poor condition of the the lower hall meant that retaining it "would compromise the design of the GovHub through loss of basement carparking space and a significant loss of office floor space."
The reconstructed lower hall will occupy the same volume of space and will become a shared space that could contain a cafe, bar, gallery space, a live music venue or a gathering space. Bricks from the demolition of the lower hall could be recycled and reused in the construction of its new incarnation.
A planning application for the project is expected to be submitted in late-December 2017. If approved by the Victorian planning minister, construction is expected to begin in late 2018 with completion expected in 2020.
To view the concept design, click here.
Related topics