Captain Kelly's Cottage by John Wardle Architects has won at the 2018 Dezeen Awards in London.
The renovated cabin, which dates back to the 1840s, won the House Interior of the Year award and was highly commended for the premier prize, the Interior Project of the Year, which went to Casson Mann's visitor centre at the Lascaux International Centre for Cave Art in France.
The project was one of 31 Australian projects longlisted in the interiors category.
The cottage is located on Bruny Island in Tasmania on the same property as John Wardle Architects' earlier project the Shearer's Quarters. The cottage was originally the home of Australian mariner and explorer Captain James Kelly in the colonial period, who was credited with being the father and founder of Tasmania's whaling industry.
Reviewing the project for Architecture Australia in March, Philip Goad described visiting the cottage as "a rare privilege, one to be savoured – a memory to take home.
"At night, it glows like a beacon, a message, even a hopeful sign that the art of making flickers on."
The cottage has received a number of other accolades. In May, it was among 20 international projects to be named winners of the Royal Institute of British Architects (RIBA) Awards for International Excellence 2018.
The Dezeen Awards program, which is a new initiative for the international design blog, attracted more than 3,500 submissions from 91 different countries. The program is divided into three main category groups: interiors, design and architecture.
The awards were judged by an international panel, which includes Astrid Klein (Klein Dytham Architecture, Amanda Levete (Amanda Levete Architects), Sadie Morgan (DRMM), John Pawson (John Pawson Architects), Thomas Heatherwick (Heatherwick Studio) and Ma Yansong (Mad Architects).
Source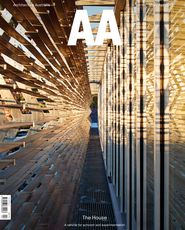 Issue
Architecture Australia, March 2018