John Wardle Architects' Collingwood office tower approved
The Victorian Civil and Administrative Tribunal (VCAT) has granted a planning permit to a commercial tower development in Collingwood designed by John Wardle Architects.
The development, to be named Northumberland, will comprise a 13-storey office building and a six-storey companion building with cafe and retail spaces. It will also incorporate the existing telephone exchange building on the site on Wellington Street.
VCAT granted the permit after the local council The City of Yarra failed to "decide the application within a prescribed period." Local residents objected to the proposal due to concerns of the height of the development, car parking provision, and traffic and noise impacts.
The council's planning officers recommended the development for approval. The council, however, required the main office tower to be reduced by three storeys to 10 storeys.
In its decision, VCAT ruled against the council, citing the planning officers' report, which included details of planning approvals for five nearby developments ranging from nine to 14 storeys.
"The proposal is consistent with this emerging pattern of development," VCAT concluded.
"Compositionally, the development is acceptable and […] we see no reason to remove three levels from the tower.
"We have not been persuaded that the reduction in height sought by the council in this instance is justified." 
The tribunal was "persuaded that the development demonstrates a high standard of architectural design."
"Overall, we have reached the conclusion that the proposed built form is an acceptable response to the site's physical and strategic context and achieves an acceptable level of compliance with the relevant policies and provisions of the planning scheme."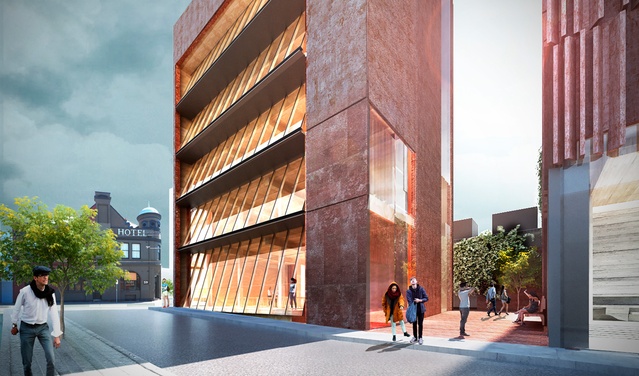 The design of the buildings takes its cues from the area's industrial past, street patterns and material expression. The southern facade of the smaller retail building facing Northumberland Street will be a sawtooth window that references the roof forms found on industrial warehouse buildings.
The office tower will be set back from both Wellington Street and the existing building, which will create a new laneway and general new public space. The design of the office building will target a 6-star Green Star rating.
The development is one of the first commercial buildings in Australia to contribute the Homes for Homes scheme, a fund established by non-profit organization The Big Issue to refurbish and manage social housing for low-income and homeless people in Australia. The developer, Grocon, will donate one-tenth of one percent (0.1 percent) of rents collected to the fund.
Grocon has also worked in partnership with Launch Housing to create end of trip facilities that serves two groups of people. During hours of minimal use by office workers, showers and change room facilities in the office complex will be managed by the Launch Housing to provide clean and safe facilities for people who are homeless.