New visions for a 12-storey office building planned for the Melbourne suburb of Collingwood have been released as the development was launched by Victorian planning minister Richard Wynne at the studio of John Wardle Architects on 22 June.
The Northumberland development will comprise a 12-storey office building and a six-storey companion building with cafe and retail spaces. The site, which will contain a lettable area of 15,063 square metres, fronts Wellington, Northumberland and Glasgow streets and will incorporate an existing telephone exchange building on Wellington Street.
The design of the development takes cues from the area's industrial past, street patterns and material expression. The southern facade of the smaller retail building facing Northumberland Street will feature a sawtooth window that references the roof forms found on industrial warehouse buildings.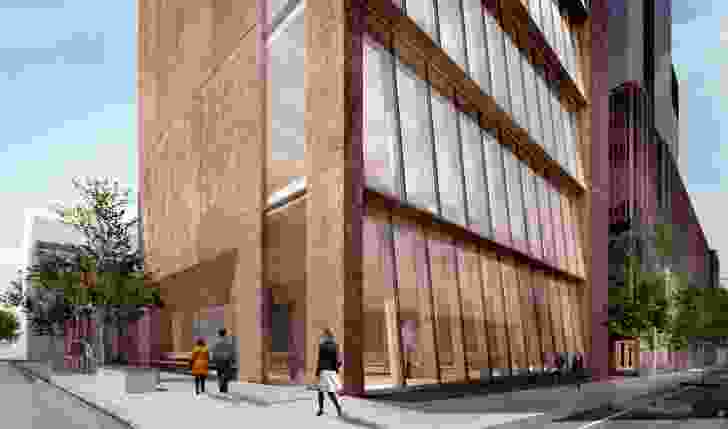 John Wardle, principal architect of John Wardle Architects, said, "We're very aware that this building heralds remarkable change" to the densely populated, gentrifying neighbourhood.
"In doing so, we wanted to create a building that was inextricably one of Collingwood, and of the fabric and the texture and the rigour of this part of the city."
The spaces between the two buildings will create a new public laneway, with the taller building set back from Wellington Street.
Overall, the design targets a six-star Green Star Design and As-Built rating and a five-star NABERS rating.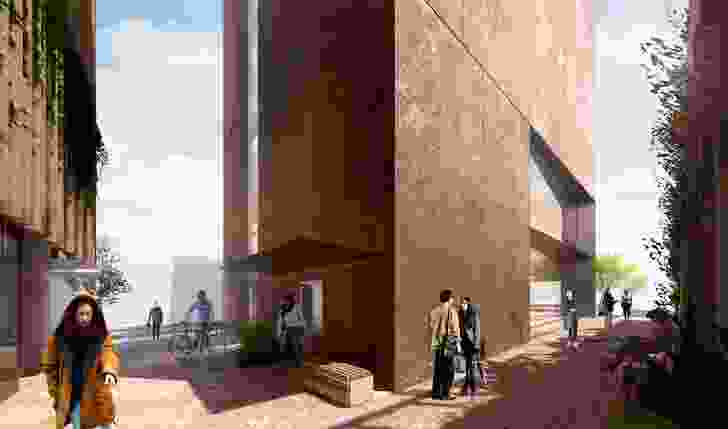 The project was granted a planning permit by VCAT in June 2017 after the local council failed to "decide the application within a prescribed period." Local residents objected to the proposal due to concerns of the height of the development, car parking provision, and traffic and noise impacts.
The final design features 136 car parking spaces, through the use of two-storey car stackers.
The office building will also feature a sizeable end-of-trip facility, with 196 lockers, 16 showers, 164 bike parking spaces, which will be accessed through a central entrance.
The project was initially announced by developer Grocon as one of the first commercial buildings to commit to the Homes for Homes initiative, a sustainable funding source for affordable housing established by The Big Issue in 2013. Developer Grocon will contribute 0.1 percent of the annual office rent received to the fund, which will be used to refurbish and manage social housing for low-income and homeless people in Australia.
Developer Grocon has also worked in partnership with Launch Housing to create end of trip facilities that serves two groups of people. During hours of minimal use by office workers, showers and change room facilities in the office complex will be managed by the Launch Housing to provide clean and safe facilities for people who are homeless.
Related topics