The National Gallery of Victoria (NGV) has unveiled its inaugural Summer Architecture Commission designed by John Wardle Architects.
The pavilion, which takes up temporary residence in the backyard of NGV International, is a the first in an ongoing annual series of architecture commissions.
The concept of the 2015 pavilion draws links between significant moments in the history of Australian architecture. It is inspired by CJ Dennis's poem I Dips Me Lid, published to commemorate the opening of the Sydney Harbour Bridge in 1932. For the pavilion, John Wardle Architects looked to a nearby neighbour to pay homage to.
"We thought, with some humour, of paying reverence to another Sydney," John Wardle said with a chuckle. "This time Sidney Myer Music Bowl."
Designed in 1956 by Yuncken Freeman and Griffiths and Simpson, the Sidney Myer Music Bowl is an early example of tensile structures.
John Wardle Architects' design takes its cues from the Sidney Myer Music Bowl. "The Bowl was something that was such an amazing, graceful, exuberant, incredibly innovative piece of design of that era," Wardle said. "[The pavilion is] something that links with era of Australian endeavour in Sydney and draws it to another era of endeavour in Melbourne and brings that into the 21st century, using both the reference to poetry, the form making, and the story. That link is the interplay."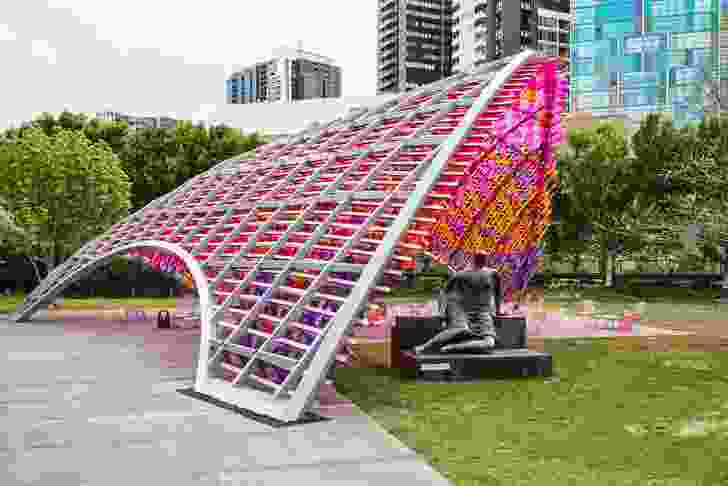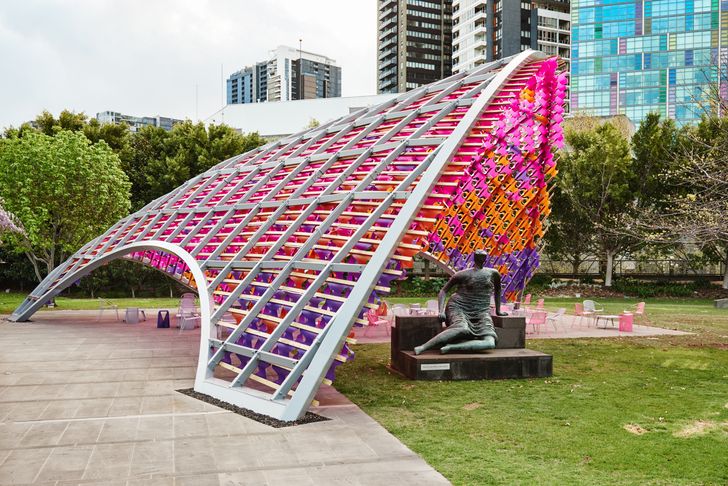 The pavilion is made from a steel grid shell, which is a 19th century structural system, but here it's been modelled using 3D programs in order to optimize the design of the structure. It is also designed for fast assembly with all the components made off site and installed in just 10 days.
Spanning 21 metres and standing at 9 metres tall, the pavilion arches over the NGV's garden like a half dome. A field of 1,350 hand-folded pieces of recyclable plastic is fixed to the underside of the grid shell and provides a gleaming pink shade from the sun.
Wardle said the colourful elements that adorn the inside of the pavilion are inspired by the great ceilings in Melbourne's landmarks such as the Great Hall at the NGV and the Capital Theatre by Walter Burley Griffin and Marion Mahony Griffin.
"Both are set to strong repeated and inflected geometries," Wardle explained. "So we had to apply a ceiling to our grey structural armature."
The petal-shaped folded shading elements are made from polypropylene, a ubiquitous material that Australian bank notes are also made out of.
"Polypropylene was interesting to us because it is a relatively omnipresent and common material, which we've used in an innovative way," said Mathew van Kooy, senior associate at John Wardle Architects. "To us, it was about creating a repetitive system that we were able to make a three-dimensional surface out of from a flat plane."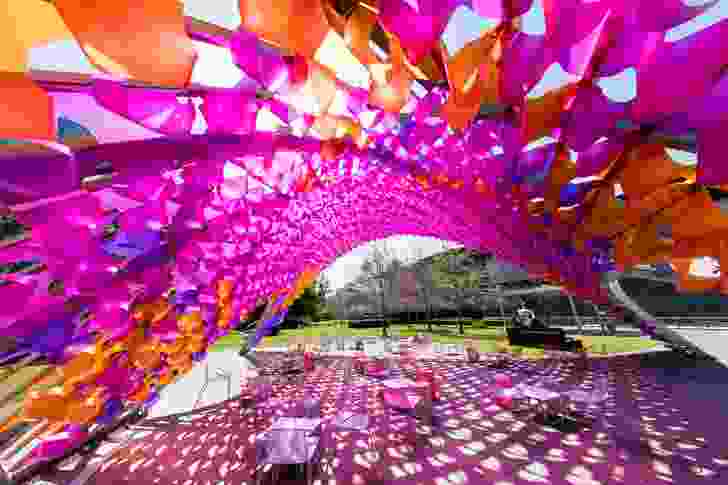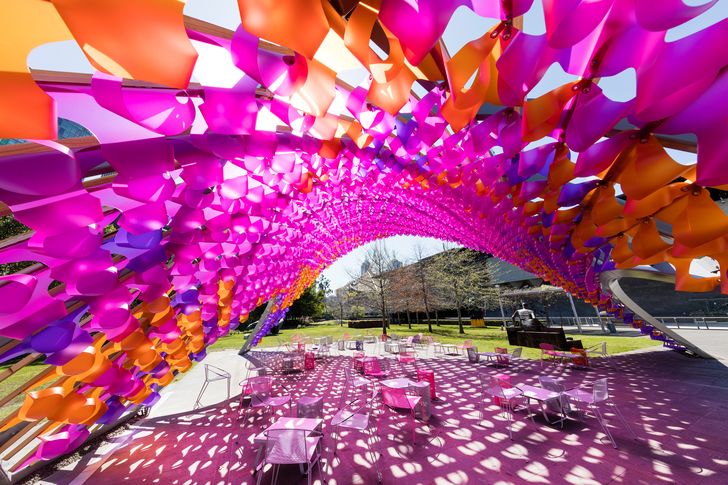 The surface is a meadow of fuchsia pink, orange and purple blooms. "As it was to be a structure that was to pronounce the start of spring and only last till summer, we've applied some the colours of both seasons," Wardle said.
Just like the Sidney Myer Music Bowl, John Wardle Architects' pavilion will be an outdoor performance venue hosting music events, kids activities and picnics throughout summer and autumn.
But for John Wardle Architects, the project is about more than emulating an architectural predecessor. "It's about the transition of technology through time," van Kooy explained. "CJ Dennis's poem refers to the technological achievement of time – the enormous span and the delicate structure. And similarly, the Sidney Myer Music Bowl's tensile structure was the height of technology in its time so it was an expression of architectural tectonics."
John Wardle Architects' design channels this heritage of inventiveness and innovation – a heritage that the practice hopes to continue. "This pavilion we hope will create its own histories but in its inception draws on histories of other places that have encouraged people to gather together."
Perhaps the words of CJ Dennis also ring true here: "You too, in sheer amaze / Look upon this, and hark to other days, An' dream of this fair city's early start."
The 2015 Summer Architecture Commission is on exhibition in the Grollo Equiset Garden at NGV International until 1 May 2016. More information here.
The NGV has also announced that from 2016, there will be an annuual open competition for the summer architecture commission. It will be open to all Australian architects or architects in collaboration with designers. The NGV has engaged Andrew Mackenzie from CityLab as competition advisor and he will also work with the Australian Institute of Architects on the two-stage competition. The first stage will be an open ideas competition and shortlisted entrants will receive an honourarium for stage two. Submissions will open in early December 2015.