For any established retail brand, shifting the site of a flagship store can pose significant challenges and risks. However, the success of the new Sydney store for Jones the Grocer, the latest in a long series of collaborations between the iconic providore and designers Landini Associates suggests that being open to change is one of the ingredients in this business' success.
The original Jones the Grocer site in Woollahra, which opened in 1996, was the quintessential high street shop. Predominantly a gourmet grocer, it had a small cafe attached but the focus was firmly on the produce. Fast forward over fifteen years and the brand has changed owners and has undergone significant national and international expansion, with stores in three states as well as Singapore, Qatar and the United Arab Emirates.
Owner John Manos felt it was time to reflect the changes to the brand in its home city's flagship, and decided to take a new tenancy in Westfield Sydney. Mark Landini, creative director at Landini Associates, explained that evolving rather than replicating the old store helped them overcome the risks associated with the move.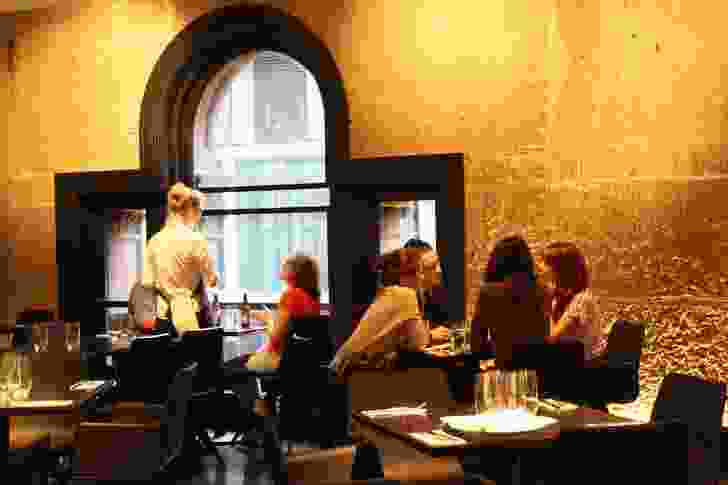 Mark said he viewed Jones the Grocer's move to Westfield as "High street with a roof" but that the main differences were the increased permeability of shopping complex tenancies, which means a consequently more noisy and competitive environment. The specific location (Jones the Grocer is situated on level five at the edge of the food hall) meant that inverting the mix of grocer and dining to present as a restaurant first and foremost, would make the most of the space.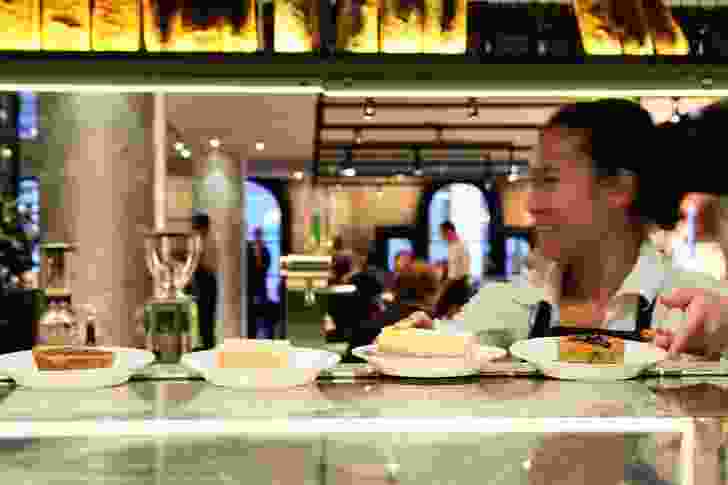 The new Jones the Grocer has a variety of offerings from a tapas bar, cafe, charcuterie and cheese selections, a private dining area and its own bakery and patisserie.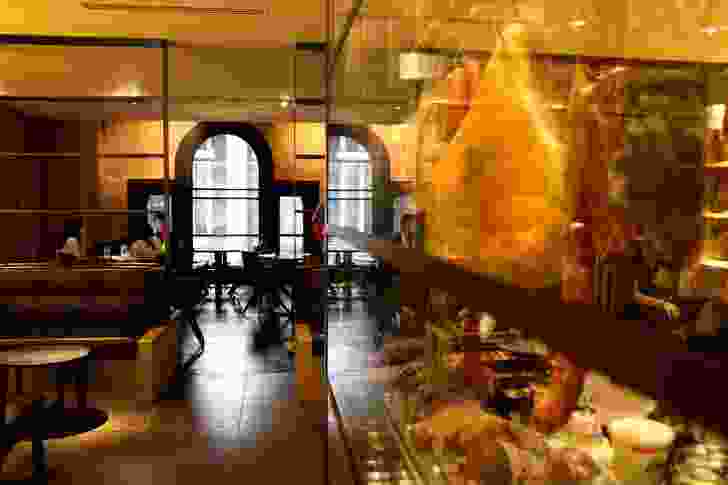 Landini Associates created smaller moments within the overall space to demarcate different functions yet retain a cohesive look and feel. To provide a boundary from the shopping complex outside the design team used the physical structure of the bakery and patisserie benches to separate the private space of the shop from the public space of the mall. The smaller areas for each offering were also faced internally, looking towards the food preparation activities. This further enhances the distinction between inside and outside and allows customers to focus on the products and services of the retailer.
In all of its locations, Jones the Grocer has developed something of a cult following, in some cases attracting queues of up to an hour's wait. Landini puts this down to the stores' ambiance, which he describes as "egalitarian hip" – interesting and cool but at the same time not intimidating and less expensive than one would imagine. He believes the owner's savvy retail sensibility, which constantly has an eye on what's next, has enabled Jones the Grocer to continue to keep things fresh from both a design and product offering perspective, an approach that clearly resonates with markets across diverse locations.
Credits
Designer

Landini Associates
Surry Hills, Sydney, NSW, Australia
Site Details

Location Woollahra, Sydney, NSW, Australia

Project Details

Status Built
Category Commercial, Hospitality, Public / commercial
Type Retail

Client

Client Jones the Grocer
Website jonesthegrocer.com

Related topics