JPW wins competition for final piece of Parramatta Square
The City of Parramatta has announced the winner of a competition to design a commercial office building in Parramatta Square, the final project proposed for the $2-billion, three-hectare urban renewal area in western Sydney.
Sydney practice Johnson Pilton Walker (JPW) were chosen by the jury over finalists Architectus and Bates Smart.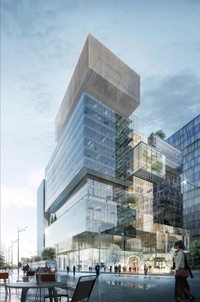 The 16-storey building, known as 3 Parramatta Square, will include commercial office spaces, retail spaces, childcare facilities and a central atrium to draw natural light into the public areas.
The building has been designed from the inside out, with a focus on encouraging public interaction. "Our approach has been to put people first," said Graeme Dix, a director at JPW. "The way in which the building works – how it responds to daylight, draws in air, and connects people across different levels and spaces, is integral to creating a place where people feel comfortable, focused and inspired."
The City of Parramatta's administrator Amanda Chadwick said, "3 Parramatta Square is a visually engaging, highly-flexible building which will deliver quality spaces that matches, if not exceeds, other modern office developments."
The City of Parramatta has appointed Walker Corporation as preferred developer for site. In 2015, Walker was appointed to develop two other sites in Parramatta Square – the Johnson Pilton Walker-designed twin commercial towers (4 and 6 Parramatta Square) and a Bates Smart-designed residential tower (8 Parramatta Square). The City of Parramatta will retain 50 percent ownership of the 3 Parramatta Square, which is worth $320 million.
Walker Corporation recently lodged a development application for 4 and 6 Parramatta Square.
The project is the final building in Parramatta Square to be designed. The first, a new campus for Western Sydney University (1 Parramatta Square) designed by Architectus, will be complete in 2017. Other projects in the area include a civic building (5 Parramatta Square) designed by Maunelle Gautrand Architecture, Lacoste + Stevenson and DesignInc; and the public domain designed by JMD Design, Taylor Cullity Lethlean, Tonkin Zulaikha Greer, and Gehl Architects.
A development application for 3 Parramatta Square is expected to be lodged by the end of 2016.