Three years after winning the international design competition, Johnson Pilton Walker's twin commercial towers for Parramatta Square in western Sydney have been submitted for a development approval.
The designs of the towers, which are defined by a floating "public space in the sky," were chosen from an international field of 73 submissions in 2013. In 2015, Walker Corporation were appointed to develop the site.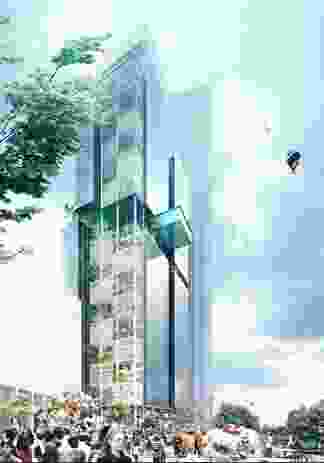 The development application will seek approval for two towers which will rise to 26 and 31 storeys respectively, although the original competition-winning design was two 53-storey towers. The defining features of a double-height sky terrace and sky lobby accommodating public space will remain.
As well as flexible office spaces, the towers will also accommodate conference facilities, childcare facilities, an auditorium, and a commercial catering kitchen. Cafes and restaurants will connect the base of the towers to the public domain, which is said to be larger than Sydney's Martin Place.
The towers will also be connected to the Parramatta railway station via an underground pedestrian link.
The towers, known as 4 and 6 Parramatta Square, are part of a $2-billion, three-hectare urban renewal project for western Sydney. Other projects in Parramatta Square include a new campus for Western Sydney University designed by Architectus, which will open in 2017; a civic building designed by Maunelle Gautrand Architecture, Lacoste + Stevenson and DesignInc; the Aspire tower, a high-rise residential building designed by Bates Smart and a public domain designed by JMD Design, Taylor Cullity Lethlean, Tonkin Zulaikha Greer, and Gehl Architects. An additional commercial office building is currently undergoing an expression of interest process.
If approved, the towers will be built in stages and are due for completion in 2019 and 2020.
Related topics