MANCHESTER CIVIL JUSTICE CENTRE
DENTON CORKER MARSHALL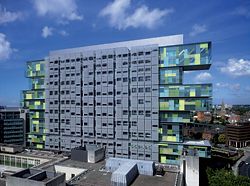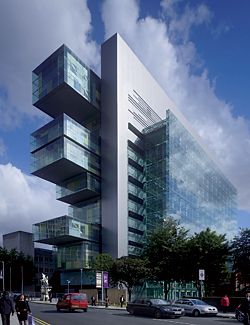 JURY CITATION
This extraordinary new project in Manchester was the result of an international design competition for what is the largest court complex to be built in the United Kingdom for a number of years.
The design of the complex advances a range of ideas about how an institution with hundreds of years of precedent can be made relevant to contemporary society. The bold design replaces the traditional solid courthouse structure, which contains and encloses justice, with an idea about transparency and connection.
The layered walls, which give the building its distinctive plan form and profile, are essentially varying layers of transparency and solidity, each layer proposing a specific relationship with either the city of Manchester or the court users. The high glazed wall for the public atrium at the building's forecourt links the building directly to a space of the city. Within the interior of the courts, this transparency continues to mediate the public's relationship with the court functions. The major courts themselves are arrayed in a dramatic series of cantilever forms at the ends of the building, suggesting quite literally the courts' dynamic connection to the city.
The effect of these architectural strategies is to position the courts as open and accessible within a contemporary democratic culture.
The project also reinforces the value of design competitions for major public buildings, in advancing new ways of thinking about traditional building types.
Manchester Civil Justice Centre
Architect
Denton Corker Marshall.
Structural and services consultant
Mott MacDonald.
Cost consultant
Gardiner and Theobald.
Builder
Bovis Lend Lease.
Developer
Allied London Properties.
Photographer
Tim Griffith.