Watercube — National Swimming Centre
CSCEC + PTW Architects + CCDI + Arup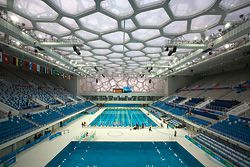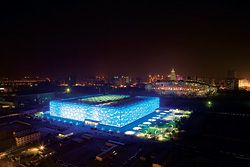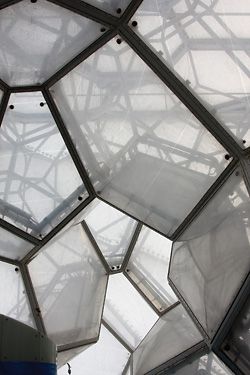 Jury Citation
Situated along the main axis of the Olympic Green across from the National Stadium, the National Swimming Centre is one of the two main venues for the 2008 Beijing Olympics. These two buildings have become the symbol of the Beijing Olympics, and the "Watercube" and the "Birdsnest" are worthy companions.
The design of the National Swimming Centre combines the idea of the molecular structure of water with the symbol of the square to create an inspired and inventive architecture. Conceptually, the square box and interior spaces are carved out of a cluster of foam bubbles, nature transformed into structure.
The Watercube uses state-of-the-art materials to create a visually striking building that is also energy efficient and ecologically friendly. The most impressive aspect of the project is the outer shell or molecular skin that envelops the building. The entire geometry is based on a unique lightweight construction system made up of a transparent dual cushion envelope captured in a steel frame, integrated as one element. The building has a chameleon-like quality that captures light in an extraordinary and memorable way. In every respect the Watercube is an engaging and ethereal building, which straddles comfortably the traditions of both Chinese and Western architecture.

Architect CSCEC + PTW Architects + CCDI + Arup—design architect PTW Architects, CCDI; design engineer Arup.
Engineer and structural consultant Arup.
Interior designer PTW Architects in association with CCDI.
Builder China State Construction + Engineering Corporation.
Project manager Beijing Pake International Engineering Consultancy.
Earthwork and foundations Beijing Mechanical Construction Company.
Photographers Ben McMillan (top and middle), John Pauline, PTW (bottom).