Dialogue Architecture is an installation/exhibition of the work of Herreros Arquitectos that was included in the exhibition curated in the Old Italian Pavilion by 2012 Venice Architecture Biennale director David Chipperfield.
The intent behind the installation, and that of Herreros himself, is about "spreading technical knowledge and culture as a tool for dialogue and anchoring for ideas." In the exhibition space, a small selection of projects – including the Munch Museum in Oslo, the AGORA project in Bogota, the competition design for an Intermodal Railway Station in Santiago de Compostela, and Casa Garoza – cover the walls. Each project is identically represented with a carefully crafted diagram of the network of people and skills that contributed to the project, as well as an extended sectional detail drawing and a blank formal model.
Occupying the centre of the room is a large high table at which visitors can sit or stand around to either listen to recorded dialogues, or to have dialogues of their own. Around the tops of the walls, the names and activities of Herreros' own core practice network is written forming a frieze that also completes the mise-en-scéne of a banquet hall. Over the period of the Vernissage, Herreros himself seemed always present: a perfect host.
After the evolution of a similar dialogue about modes of practice in Australia over the past eighteen months in the Australian exhibition Formations: New Practices in Australian Architecture, there was an immediate affinity with Herreros' approach and intention.
Anna Tweeddale: In the exhibition there are no total images of your work, there are no photographs, there are no facades, you are presenting each project with a network diagram, a section and a simple model. How did you arrive at that format?
Juan Herreros: I understand the Biennale as a place to show concepts. Innovation is in the ideas we propose about how to work today as architects, so it was clear to me that no renders, photographs or building models should be shown, but instead, some particularities of our method of working. It is a confrontation I want to have with other colleagues: the intention of this show is like a conversation between cooks about how we do things, rather than to show things specifically prepared for the exhibition that are actually not part of our daily work. The neutrality of the documents puts some distance between the architect and the projects. Usually architects are presented as somebody with a very dramatic relationship with their creations, which appear like a personal projection; full of intensity. We have to relax this super-heroic condition and explain that the architect is just the person responsible for a synthetic work including a lot of information, a lot of inputs, a lot of knowledge, all coming from other people. So it's more like being a DJ than an orchestra conductor.
AT: In the exhibition text you wrote that the dialogue between colleagues, specialists and consultants is yet to be "exploited as a critical resource to read, interpret, describe and act responsibly upon a troubled and uncontrolled reality." Can you give me an example of what you mean by this?
JH: This is an idea of opening up some distance. Some architects are quite close to production, considering that the architecture they want to produce is an exact translation of their sketches into real materials. Even understanding that tendency, we're far from expression of the necessity to control everything, to be sure that nothing that is not from the architects brain will actually be built.
AT: So when you're talking about uncontrolled territory, you're talking more about the way of working rather than a broader context or contemporary situation?
JH: Yes, I'm talking about methods of working. Contemporary situations are very often a reflection of the uncontrolled – it is an ingredient of our culture, our way of life. It's important to have some training to deal with the everyday lack of control, to deal with a city out of control, or a neighbourhood out of control, or a building out of control. So this idea that the responsibility of architecture is basically to impose order, I'm not…
AT: You're not interested in order? (laughs)
JH: It's easy to do: military culture.
AT: Do you think you get different sorts of relationships with your clients from relaxing control, and does it lead to different results?
JH: Yes, both. In the way we work, clients are very much present in the conversation and we really want to transmit that they are an active part in the making of decisions, while the project itself is continuously enriched by the knowledge of other people. So the work of the architect is selecting, interpreting and processing all the information received.
AT: Can you give a particular example from one of the projects in the exhibition of what is gained from this approach?
JH: As an example, in the project for the Munch Museum in Oslo we held the competition with a lot of international consultants but in the development of the project, most of our consultants became local, which seemed to be a loss. However, through them, we understood a lot about the behaviours and the technical culture of the country. I'm not talking about the technical processes to make construction details, more about the society and the roles of the professionals. So they have helped us a lot as consultants, but mostly I have understood how they work, how they make decisions, how they discuss, and we have a lot of knowledge now about this interesting society through these people who only wanted to give us good solutions for our technical problems.
AT: Another part of the exhibition also is a series of recorded dialogues that visitors can listen to from discussions that were held in Oslo. How did it come about that you held these dialogues and recorded them?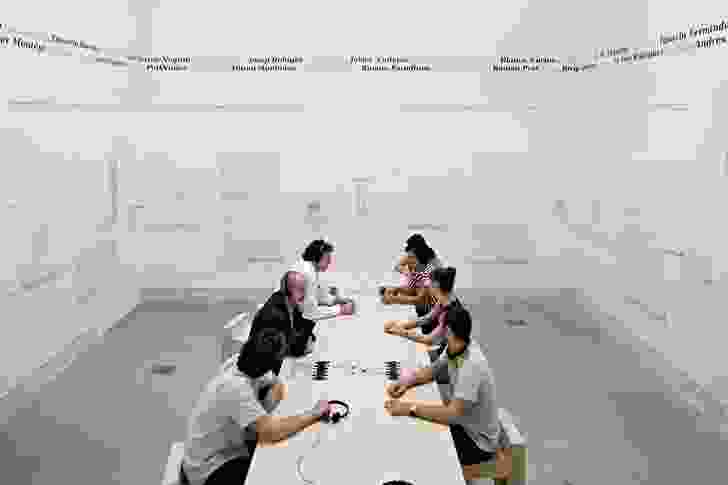 JH: Well it's an open project we have been running for a long time. The name of the project is 'The Banquet,' because of the Banquet dialogue from Plato, the Greek philosopher, where we read how a group of philosophers and poets, one by one, took the floor to explain their ideas about love. In this case, we invited all these friends to sit at this table and to talk about different topics. We have brought here the three banquets recorded in Oslo. The idea is to create a kind of archive of conversations about the topics that we are interested in. And the table is the origin…
AT: The table that sits in the Venice exhibition?
JH: Yes, this is the same table that was in the Oslo show. It was designed for a new restaurant in the Reina Sofia Museum of Art in Madrid. The idea is that having these big and high tables and seats in the restaurant, the dinners are in a kind of erect position that invites them to have a conversation between strangers, creating a temporary common ground.
AT: So you also use this table when you are running your 'Banquet' project?
JH: Yes, yes. This table went to Oslo and now it's here, and next will go to other places. All the conversations take place at the same table.
AT: What are you going to do with all these dialogues once you have collected them?
JH: Perhaps we'll do something virtual, like a website-parlor where visitors can participate and follow the history of the participants. To taking the names of the people involved and creating a diagram of them to understand where they come from, what their occupation is, where they teach, will create new relations and new common grounds between this particular growing community.
Juan Herreros is also the chair professor at Escuela Técnica Superior de Arquitectura de Madrid and professor of architecture at Columbia University, New York.
Related topics