Junior designers take on Canberra light rail
Canberra's high school students went head-to-head with each other in a design ideas competition for the proposed Canberra light rail project, organized by the Australian Institute of Architects and the Capital Metro Agency (the government organization responsible for the light rail).
Over 100 students from 14 schools participated in the two-day charette and competition, held at the University of Canberra 7–8 April 2015.
The Year 9 and 10 students workshopped their designs in collaboration with tertiary students and graduates of architecture. Working in teams, the students investigated ideas for a light rail stop at both an urban scale as well as detailed design explorations.
The students explored a range of design ideas from site selection, landscape setting, social responsiveness and engagement with the community to accessibility and safety, as well as ecological principles, materials and adaptable designs.
Each of the designs were assessed by a jury and at the end of day two, two prizes were awarded in each of the three categories of the competition. The winners are:
Best station or light rail stop design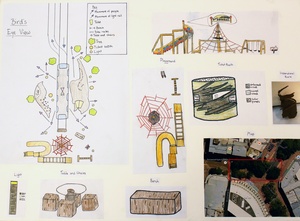 First Prize
Barking up the Right Tree – Crayons, Lyneham High School
Jury citation: This project is a bold insertion into Garema Place where bark has been used to inspire the design of the shelter. The design is an inviting space for a diverse demographic.
Second Prize
Get in Touch – Get in Touch, St John Paul II College
Jury Citation: Utilising tree branches as inspiration, Get in Touch focuses on the natural environment and uses the shape of a leaf to shelter the rail stop.
Best connection to neighbourhood/community facilities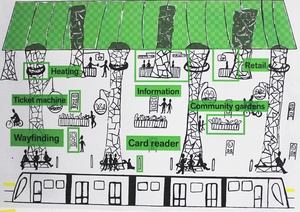 First Prize
Bringing the Outdoors in – teleo2600, Telopea Park School
Jury citation: This project creates symbols or icons to represent various stations that are meaningful to places in Canberra. Environmental sustainability embodies the design and connects people to nature.
Second Prize
It's About Time – Leaps + Bounds, Lyneham High School
Jury citation: It's About Time draws on Canberra's cultural history using various poignant events to inspire a social timeline, inspiring different themes for each station.
Most innovative design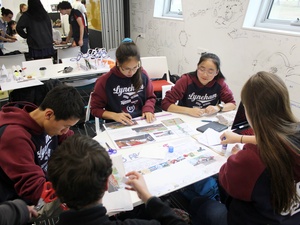 First Prize
It's About Time – Leaps + Bounds, Lyneham High School
Jury citation: Winner of two prizes, this project is powerful in its use of Canberra's history to inspire the design.
Second Prize
HexaPlex – Team Metro, Daramalan/Merici College
Jury citation: An environmentally responsive design, this project is a collection of hexagonal pods that forms a canopy inspired by Walter Burley Griffin.
See all prize-winning design and vote in the People's Choice Awards online.
The proposed Canberra light rail is a 12-kilometre track that will run between Civic at its southern termimus to Gungahlin in the north, along Northbourne Avenue, Federal Highway and Flemington Road. The project aims to boost Canberra's sustainable growth and improve transport options. The project is currently in procurement stage and is expected to begin construction in 2016.
In 2014 the Institute's ACT Chapter ran an ideas competition for the design of the station at Dickson (midway along the line) which was won by Ann Cleary and Cassandra Cutler.