City of Sydney councillors have voted defer the construction of Japanese architect Junya Ishigami's Cloud Arch sculpture planned for central Sydney until after the completion of the light rail in 2020.
A tender report tabled in a council meeting on 10 December stated, "Despite the obligation to allow the City access to the site for the installation of the footings in the Light Rail Development Agreement, Acciona (Light Rail construction subcontractor) has to date denied access."
The design of the sculpture was unanimously chosen following a competition that drew more than 700 expressions of interest from around the world.
The Cloud Arch was designed to be an "ethereal ribbon" that "behaves like a flicker," reaching 58 metres into the sky, diagonally traversing the intersection of George and Park streets from the Queen Victoria Building.
"The cloud evokes a spirit of openness and freedom. The soaring arch, by reaching for the sky, encourages people to dream and to be bold in striving to realize their ambitions," Ishigima said in a statement in 2014.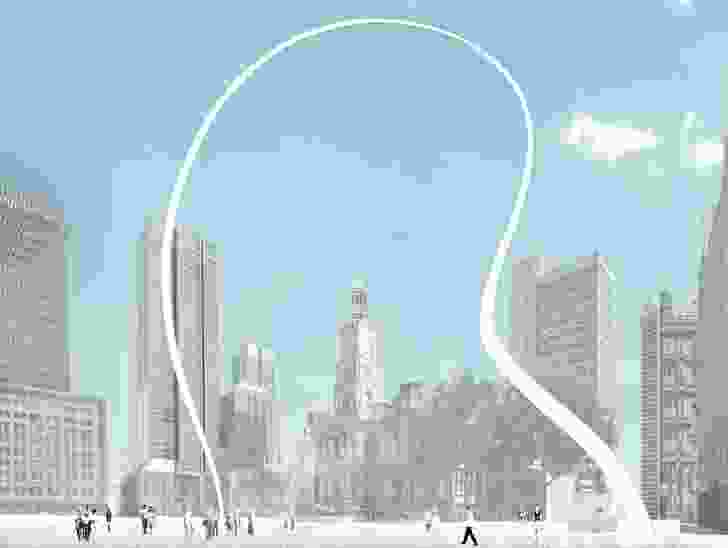 The design was endorsed by the City of Sydney in 2014. However, due to technical constraints underneath George Street, restricted access to the site and challenges posed by the construction of the light rail line, the locations of the arch's footings had to be altered, which also caused a redesign of the footings.
"Acciona have since installed conduits outside of the Light Rail corridor and through the modified footing area which has meant yet another redesign, delay and further expense," reads the tender report.
"The current program for the Light Rail works recently provided to the City only allows a window from January to April 2019 to install the northern footing. This time is now insufficient to undertake the necessary works."
"Accordingly, it will be impossible to install the northern footing for Cloud Arch before the Light Rail opens for operation.
"All the design changes that have needed to be undertaken because of the denial of access have altered the project scope, delayed installation and increased the overall project delivery costs to approximately $22 million."
The escalating cost of the project has caused controversy among City of Sydney councillors. The ABC reported in a meeting of the council in August, councillor Kerryn Phelps urged the council to cancel the project "if this project exceeds $11.3 million."
However, in the meeting on 10 December, councillor Jess Scully said, "It is devastating, something that is transformative and visionary is impacted by poor execution.
"I hope that one day we are able to deliver the cloud arch to the people of Sydney."
Related topics