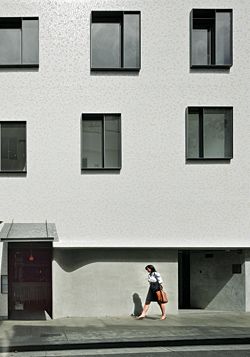 Jury: Melinda Dodson (jury chair), Elizabeth Watson-Brown, Peter Stutchbury, Max Pritchard, Cameron Bruhn
International Award jury: Melinda Dodson (jury chair), Elizabeth Watson-Brown, Max Pritchard, Cameron Bruhn

Over a hectic fourteen-day tour of Australia, Elizabeth Watson-Brown, Cameron Bruhn, Max Pritchard, Peter Stutchbury and I visited projects in Adelaide, Perth, Hobart, Barcaldine, Zilzie, Geelong, Sydney, Melbourne and Brisbane, all recent award winners in their respective state and territory awards programs.
We looked for work that was inspiring, rigorous and beautiful, projects demonstrating humility, generosity, a legible plan and judicious use of budget. We also looked for distillation: the removal of the superfluous to reveal the architectural essence of human scale, light, space, air, and local context and identity. This is a contradictory time for architecture. We have had economic buoyancy followed by economic downturn, and as architects we are part of a carbon emitting industry, so it was natural that the 2010 jury would reflect on the future, applying the "enduring architecture" test and the essential test of sustainability, albeit an overused word.
We were warmly welcomed into homes and proudly shown through schools, workplaces, public buildings, public spaces, bars, restaurants and several courtrooms. We saw projects of great merit but also projects which caused us to think hard about the future. Some served to reassure, such as the conservation and adaptive reuse of the Former Wests Furniture Showroom. We know that around 50 percent of the buildings we will occupy in 2050 exist now, and here a significant 1950s Brisbane building has been returned to its former unorthodox magnificence. Similarly, the Lyons Architecture Office by NMBW demonstrates modest workplace design. Redundant fitout elements have been stripped away and materials and resources conserved, creating a collaborative office environment with character and ambience. Surry Hills Library and Community Centre conducts important research into double-skin facade systems acting as building "lungs", which integrate plants to clean recirculating air.
With several freeway projects under consideration, the jury had to decide how to reconcile high-quality architectural solutions, knowing what we know about the future of petrol-based private car use. It is among the challenges of our time, for architects and juries alike, and we will be forced again and again as a profession in years to come to question project briefs tied to the rigid, oil-based paradigms of the past.
There is still uncertainty about the Australian home of the future. We saw many beautiful examples, but polar opposites continue, from low-density suburban solutions with high transport energy consumption to very-high-density buildings, centrally located, but with high building energy consumption.
In future years we hope to see more projects demonstrating viable alternate housing typologies, along with simple climate responses.
However, in many cases architects displayed extraordinary leadership, advocacy and at times perseverance. These were projects where a transformative act resulted in new ideas for the profession and new ideas for the community about architecture. Often this leadership and perseverance were matched by a strong vision from the client, and it should be noted that while the 2009 jury worried about a lack of expenditure on public urban design projects, in 2010 the opposite was true. Most notably, Mayor Clover Moore and the City of Sydney have demonstrated a commitment to the public realm with the Pirrama Park and Paddington Reservoir projects, and while we were challenged by Melbourne's Eastlink Freeway as a freeway, we know that as a public art and architecture program, something extraordinary has been achieved. We saw projects that created places for community in the public realm, along with workplace communities such as Roslyn Street and the ANZ Centre.
Perhaps the most powerful story of collaboration between client and architect is the Barcaldine Tree of Knowledge, an important monument and historical symbol of Australian workers' rights in Queensland. The architects have amplified the beauty, history and serenity of this important place through their ability to communicate a clear vision for the project to the community. The Mayor of Barcaldine, Rob Chandler, was a strong patron, understanding the tangible and intangible benefits that good architecture can bring to Barcaldine.
So it is the lessons from past and present that reassured this jury about the future, and perhaps it was fitting then that we should find Hobart's Supreme Court Complex most deserving of the 25 Year Award for Enduring Architecture.
Built in the late 1970s, it is a building of high quality that has required little maintenance over its life and has benefited from minimal intervention to date. Careful conservation will ensure it can be valued and appreciated by generations to come.
We hope you enjoy the 2010 Australian Institute of Architects national award winners as much as we have and we commend them to you.
Melinda Dodson, 2010 Australian Institute of Architects National Jury Chair.