What makes an ideal home? In his book Origins of Architectural Pleasure (1999), Grant Hildebrand claims that "refuge and prospect" are the most desired attributes of human habitation. In primitive terms, we all seek a cave to hide in and a perch for surveying the horizon. However, Hildebrand warns that "refuge and prospect are opposites: refuge is small and dark; prospect is expansive and bright. It follows that they cannot coexist in the same space." As an augmented form of our natural environment, architecture can be seen as an attempt to accommodate these contradictory impulses.
The clients of the K House wanted a cave and perch in one. They requested that their Sydney house be wrapped in an impenetrable cloak of privacy, yet still be permeable to sunlight. They wanted to exploit every possible harbour vantage while shielding their interior from view, and desired both a multitude of living spaces and a single, uninterrupted room. In short, their brief called for the impossible. Fortunately, they had hired the right architects.
In the decade since forming Chenchow Little Architects, the work of Tony Chenchow and Stephanie Little has been celebrated with awards including the Australian Institute of Architects' Robin Boyd Award for Residential Architecture, which recognizes the best house design nationwide. If architecture is "frozen music" (Goethe, 1839), Tony and Stephanie are expert improvisers, seemingly capable of averting gravity (Ang House, 2008), bending geometry (Pitched Roof House, 2009) and manipulating light (Skylight House, 2011) at will. "Some clients don't want to paint themselves into a corner," says Tony. "They don't want to accept limitations or make finite decisions. There are no corners here."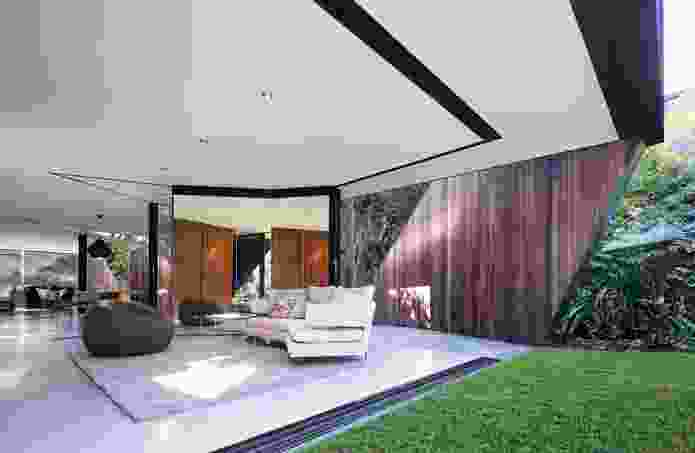 The architects describe the K House as an oyster shell with a dark, protective carapace and shimmering inner lining. Hinged on its windowless southern edge, the house is prised open to the westerly harbour view, sheltered courtyard to the north and rear garden to the east. Like an oyster's shell, the exposed edges of the house are serrated, simultaneously providing openness and enclosure. The lid of this shell is the bedroom level, which, shrouded in black louvres, hovers over the living spaces. And the shimmering lining comprises mirrored panels that can be drawn back or extended to divide the main level of the house, doubling and fragmenting the view into infinite jewel-like planes.
So, how exactly did this mollusc-dwelling come to be? When asked to reveal their design method, Tony and Stephanie tell two different stories. On one hand, they say that underlying the triangulated wall planes and torquing volumes is "a simple plan" that has gradually been "distorted and elaborated." On the other, they recount working like sculptors, establishing the perimeter form first and then subtracting external spaces from within. Most likely, both processes occur in tandem, the architects working inside to out and outside in.
"If there's something that's constant in our work," says Tony, "it's the treatment of courtyards." But he explains that the K House's courtyard is a much more ambiguous space than those of the practice's past projects. It is linear rather than central, on the periphery rather than in the middle, and excavated rather than framed. "Each job has its own DNA," declares Stephanie, to which Tony adds that "aspects of early works recur in mutated form in the later work. This project is part Szirtes House (2005), part Pitched Roof House."
Architects tend to enter the profession designing houses, hoping to then move on to bigger things. Offered an ever-changing feast of sites, typologies and scales at university, they learn to draw plans for libraries, museums, schools and cemeteries. So while Australia's most famous architects – from Seidler to Boyd to Murcutt to Maynard – are known for their houses, the collective ideal is to aspire to something more. Looking at the mainly residential output of Chenchow Little Architects, one can't help but speculate about what the practice might do next. Surely it has exhausted its repertoire of sleek, sculptural and monochromatic houses by now?
Tony and Stephanie respond with a quote from, of all people, Cuban dancer Carlos Acosta: "To learn, to evolve – and still feel, as I do, that there could be even more – I see that as a kind of freedom that can keep you from repeating yourself. And as an artist, that's one of the hardest challenges. Bringing freshness to what you already know almost too well, so that you don't let it slip into becoming boring" (Herald Scotland, 2013). Tony says, "We realize when our briefs are similar, and council controls are all alike, that we really have to push and explore our spatial repertoire." With accumulating confidence, increased knowledge of detailing, expanding budgets and evermore demanding briefs, Chenchow Little Architects is pursuing increasingly sculptural work. The K House is simply the latest instalment of the architects' evolving opus. New, more spatially daring houses are already in the works.
Products and materials
Roofing

Lysaght Klip-lok roof decking in Colorbond 'Monument'; Astro Astrosnap lock system in Colorbond 'Monument'.
External walls

Cement in off-white.
Internal walls

Boral spotted gum timber; Viridian mirror; CSR plasterboard.
Windows

Capral AGS 889 Series sliding doors with black anodized frames; Breezeway glass louvres with black anodized frame; Vental motorized aluminium louvres.
Doors

Solid-core doors with spotted gum veneer; Halliday and Baillie door handles.
Flooring

Ardex Pandomo concrete screed in clear sealant; Boral spotted gum strip flooring in natural oil finish.
Lighting

Flos Parentesi lamps and Kap recessed downlights from Euroluce.
Kitchen

Highland cooktop; Miele oven, dishwasher and steam oven; Liebherr fridge; Qasair rangehood; Vola tap; Abey tap; Corian sink and island benchtop; clear polished spotted gum joinery from Briggs Veneers.
Bathroom

Viridian mirror cupboard doors and wall cladding; freestanding Kado Lure bath in black from Reece; Apaiser Haven bath from Rogerseller; Corian vanity shelf and sides in 'Cameo White'; Catalano Zero 50 Washbasin and Tonic mixer from Rogerseller.
Heating/cooling

Hydronic underfloor heating.
Credits
Architect

Chenchow Little
Sydney, NSW, Australia
Project Team

Tony Chenchow, Stephanie Little, Laura Meyer, Janice Chen Chow
Consultants

Builder Pacific Plus Constructions
Engineer SDA Structures
Hydraulic engineer Whipps Wood Consulting
Landscaping ASPECT Studios

Site details

Location Sydney, NSW, Australia
Site area 767 m2
Building area 392 m2
Category Residential buildings
Type Houses, Residential

Project Details

Status Built
Design, documentation 12 months
Construction 12 months

Source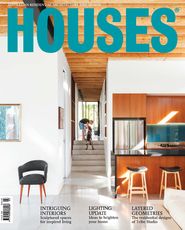 Related topics