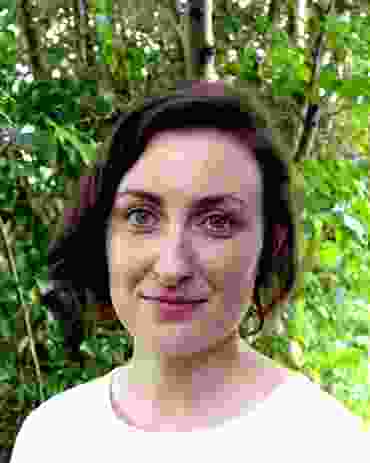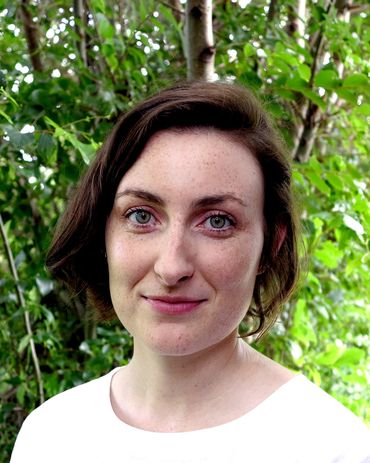 ArchitectureAU: How did your relationship with India, as a researcher and architect, come about?
Kali Marnane: I was at a crossroads in my career and personal life and was beginning to question the way architecture was practiced and public space produced. I was seeking an alternative experience that was more mindful – that thought about all​ of the end users of a space, reflected on the process and how it could have gone better, and took into account those who are marginalised from the design and construction process. I had been dwelling on this for a few months when a friend emailed me about an NGO based in Sydney called The Anganwadi Project (TAP). A volunteer had pulled out of their project at the last minute and they were looking for someone. I applied, interviewed and got the position in October. I quit my job, sold my furniture and moved over to India in January 2016, volunteered for six months and then decided to embark on a PhD.
AAU: What interested you in India, both as a research subject and as a platform for architecture?
KM: India has always held fascination for me for its diversity, traditions, art, architecture, food and culture – it's an incredible country! I think the interest to explore India more deeply really stemmed from seeing Australia's context in Asia and its Indigenous heritage. The focus throughout my architectural education was on European and American precedents but these didn't always suit our climate, lifestyle, context or history. I suppose I was looking for more balance and reality.
What made you choose to pursue a PhD on the significance of common or shared spaces in an informal settlement in India?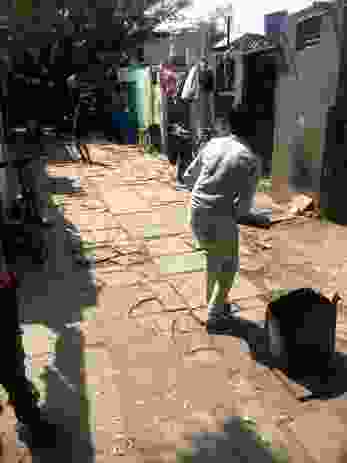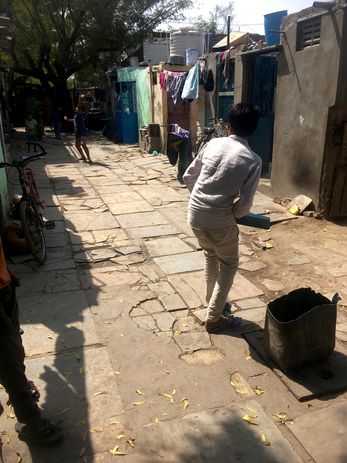 KM: Common spaces that are shared and used by members of the public have always held an interest for me. This is where the life of a city happens – in streets, small squares, verandas, front gardens and strange leftover bits in-between buildings. These are the places where I have so many good memories – playing street cricket with neighbours, bumping into friends, riding bikes, catching up with family, going to protests and marches, attending festivals, or even just walking from A to B and being immersed in the life of the city. Often those places are not designed to put people first (like a lane based on a truck turning circle rather than the perfect afternoon soccer game), or are designed without thinking about people who don't get an opportunity to have a say – children, those without a home, those who may not have as much money as others – but also need or want to use and feel safe in these spaces.
After working in India I started reading about informal settlements and found that a lot of the literature didn't reflect my experiences. Additionally, hardly any research documented the morphology of informal settlements and so my interests in public space, equity and sustainability came together into my PhD topic. It is my hope that understanding the needs of the most marginalised can help us create better outcomes for everyone.
AAU: You've previously written that as a foreign observer it is all too easy to either romanticise slum life or to write it off as an aberration. With an average of 33 per cent of the urban population of developing countries living in slums, how do we set a "normal" baseline for housing and development?
KM: It can be easier to deal in absolutes, but life is never black and white (especially in India). My research is trying to understand the grey, messiness of what life in a few of these communities is really like. I don't know if it is possible to set a "normal" baseline for housing and development!
I'll let you know if I find out.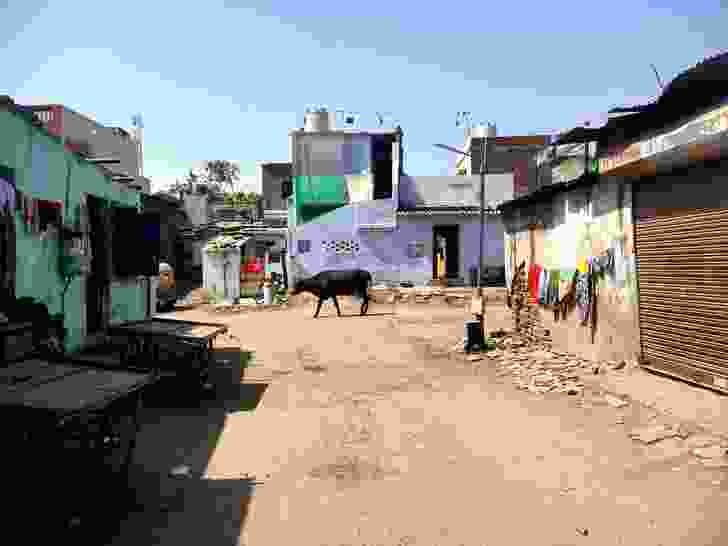 AAU: What are some of the case studies you're employing in your research?
KM: I'm studying a few different communities in Ahmedabad that have varying levels of tenure security. One of the many problems with the term "slum" – and there are many – is that it encompasses so many different places and people dealing with different contexts. For example, one community I know has no toilets, no water, no electricity, no land security and have made their houses with what they can afford: bamboo, plastic, hessian and recycled tiles. So their children's education is not their first priority – getting work, food and water is. In another community, many houses are two story rendered brick, they have toilets, water connections and electricity. Their struggle is around land and home ownership, infrastructure provision and getting their kids educated and into better jobs. The differences are huge! So a comparative analysis will help to demonstrate the different challenges and opportunities that different communities are facing. A lot of upgrading projects don't take into account these differences, or the impact of people's livelihoods, family structure and community on the built environment. My research aims to provide this missing information that might help create better policies and architectural outcomes for people living in informal settlements.
AAU: You and Niini Mendonca were volunteer architects with the Anganwadi Project in Ahmedabad, which resulted in the construction of a pre-school and community building. What were the challenges involved in designing and overseeing the construction of such an important and sensitive building an as an outsider?
KM: The challenges were many! However, depending on your perspective they can be thought of more like important learning opportunities to understand the context we were working in. Contractors not turning up because of a festival or wedding taught us the importance of family, community and ritual. The difficulty in sourcing materials or having them delivered to site gave us a very small insight into the daily challenges the local people face. For example, the street our site was on was too narrow for the sand delivery truck, so donkeys would be used, or it would be left at the end of the street for us to carry to site in bowls (not a fun task).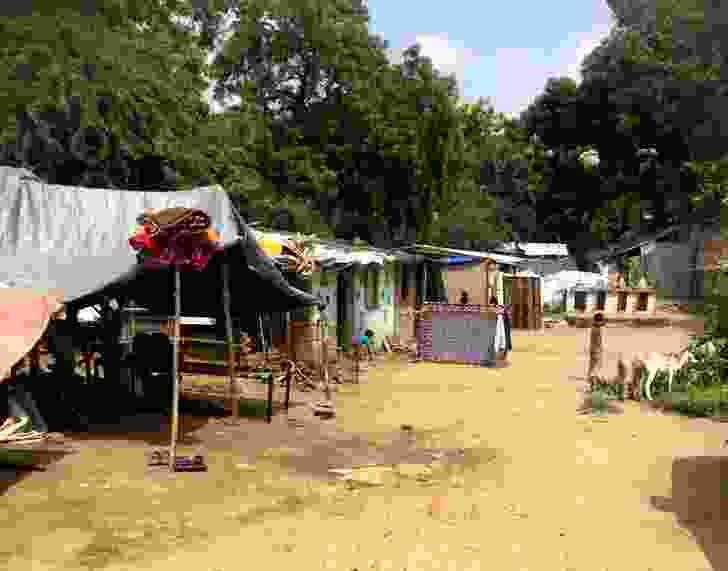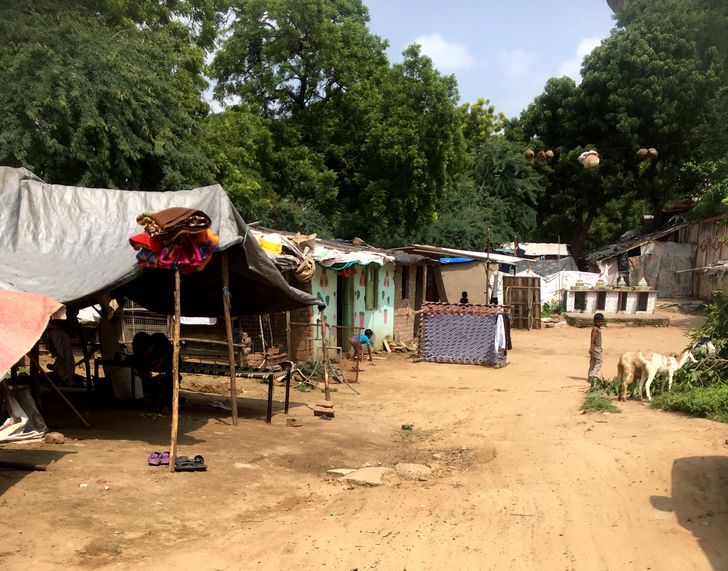 Language barriers taught us how to be creative in communication (a 1:20 model and lots of hand gestures were a good start) and the importance of something as simple as a smile to help you get to know the people you are working beside. The heat became debilitating in the lead up to monsoon – it was 50 degrees when we were tiling the floor and walls without any fans! I very quickly understood why people slept so much during the day.
There would be times when the community would be without water, and experiencing that first hand really opened my eyes to the challenges that some people face – how do you keep hydrated? Cook? Clean? Bathe? One of the most important lessons was that building relationships was the key to getting things done in a meaningful way. Slowing down to share a cup of chai with the contractors or a neighbour let us get to know each other. Love and respect towards everyone involved in the process was critical to getting things done and having the project be well received and adopted by the community. After all, what's the point of a building without the people in it?
AAU: With Tess Martin, you were among the winners of the Queensland Government's "Density and Diversity Done Well" competition. Has your research on common spaces and informal settlements in India affected the way you think about housing in Australia?
KM: Absolutely. Really, the key to our proposal was that you can increase density all you like, but without appropriate public and shared infrastructure it will be an unenjoyable, uncomfortable place to live. Our proposal was just as much about increasing public transport, adding safe bike lanes, injecting more greenery and shade to streets and activating street edges for safety (and fun!) as it was about housing density.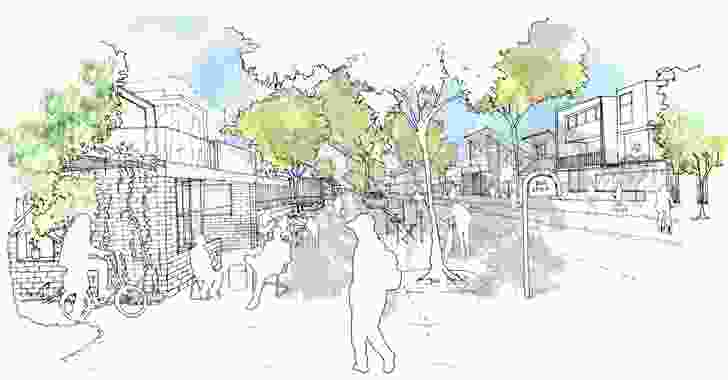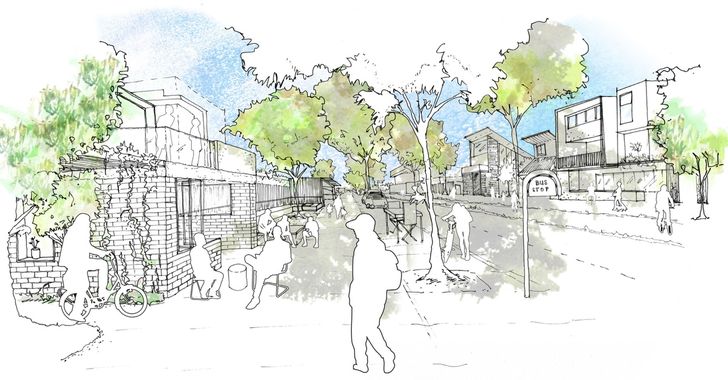 This is the aim of my research: to understand the significance of public spaces for the most marginalized in our society in order to make places that better support them, and in doing so better support the whole community.
Related topics