Ask any Aussie to describe their experience of an outhouse and chances are it won't be good. These typically stuffy, awkward timber structures seemingly in the middle of nowhere are hardly what you'd call sophisticated. And those flies. Along with that heat. But outhouses are a necessity, often hard-working and generally serve their purpose well. So it was only a matter of time before the outdoor dunny received an image overhaul.
For Madeleine Blanchfield Architects, the brief to design a new bathroom separate to their clients' existing cabin was an opportunity to reimagine, with whimsy, a typology common in Australia throughout the first half of the twentieth century. The outhouse was to be situated low on a lush hillside in the Kangaroo Valley, south of Sydney. "We wanted to create something which made the most of the incredible site and secluded nature of the cabin," says the practice's director, Madeleine Blanchfield. "And we were mindful to not just replicate the home's style or introduce an architectural folly that would serve to interrupt the serenity of the landscape."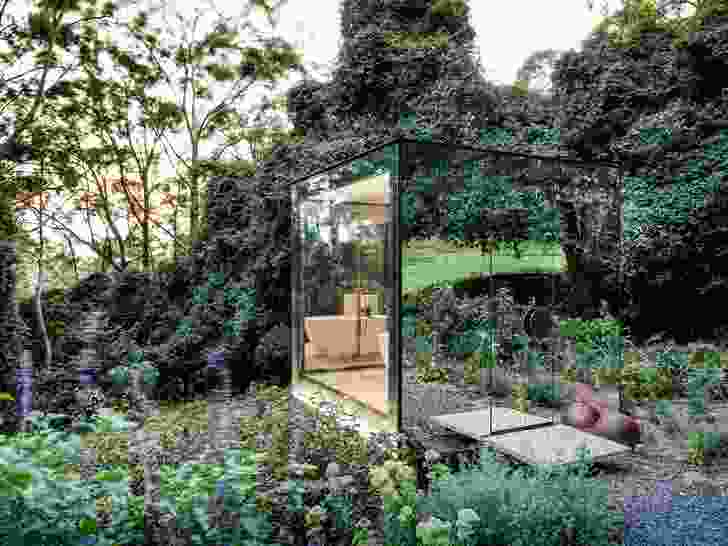 The resulting structure is constructed from one-way glass and presents as a compact, mirrored cube, slightly elevated from the ground and nestled among the surrounding vegetation. It blends seamlessly into the hillside and "disappears" – an optical illusion that never ceases to capture the imagination of the cabin's short-stay visitors. Internally, the experience is completely immersive, with the glass walls simultaneously offering kaleidoscopic views of the bush and multi-faceted reflections of the small interior. The interior scheme is minimalist, with the internal blackened steel framework treated as a feature and adding to the walls' prism-like effect. Next to these supports and 360 degree views, the strikingly white freestanding bathtub, toilet and hand basin provide crisp accents. And all the while, you can see out but no one can see in.
Blanchfield and her team literally didn't have much room to play with, but they made sure the outhouse's detailing is impeccable. Any misstep would have been magnified, diminishing the overall aesthetic and compromising the project's conceptual nature. However, form is also matched by function and for all its good looks, the structure is super efficient. The mirror is a high thermal performance material and the gap between the floor and ground allows for plenty of additional ventilation to avoid overheating. Mirrored outhouses may be some way off becoming a "thing" but this project is the perfect mix of quiet sanctuary and sublime setting.