At the edge of the Indian Ocean, three hours' drive south of Perth, lies Margaret River – a town loved for its restaurants, fresh produce, wine, surf and forest: the ultimate place to kick back and indulge. This region is the Vaucluse (France) of Western Australia (sans mountains of course, and similarly lacking the architectural relics dating back 2500 years to Vaucluse's occupation by Greek aristocrats).
Karri Loop House is located a few minutes outside the centre of town in what is a leafy, almost suburban street. The owners, a couple with three young children, built the house themselves. The design firm they chose, MORQ, was established in Rome, Italy and now also has a base in Perth, where co-founders Andrea Quagliola and Emiliano Roia are Associate Professors at The University of Western Australia.
The clients' brief was quite sensuous and not particularly unusual: essentially it referenced strong childhood memories of being in a grandfather's 1960s-style house in Holland. With its big windows, huge garden and lots of hiding places it felt like a holiday house.
The clients wanted a house that would flex to accommodate future iterations of their growing family over many years. They wanted to follow the sunlight across the day, and to have a window seat, wide eaves, a flat roof and timber-framed windows – an earthy house with plenty of airflow.
While I was in the house listening to the owners describe these elements, they slowly began to appear. They have been embedded, although perhaps not as expected. Rather, they have been transformed into something that is extraordinary, yet subtle. The designers have obviously thought a lot about the clients' brief, imagining how they would live here, on this particular site, every day, in relation to the sun, the breezes and the trees.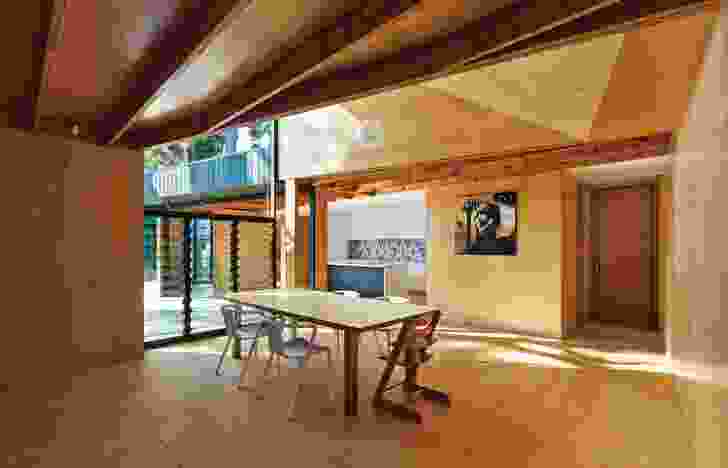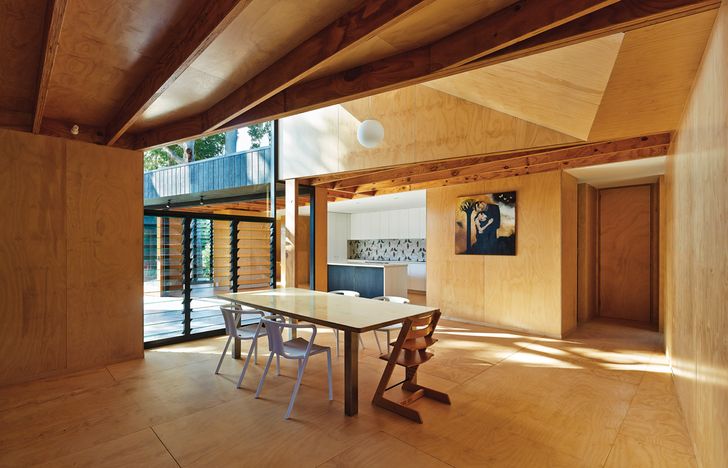 When in these spaces it becomes evident that the Roman house, the European tradition of the courtyard and privacy are specific concerns in MORQ's work. In the experience of the Karri Loop House there are lessons to be learnt from his mastery over these elements. One of these is about becoming aware:
And surely you have seen, in the darkness of the innermost rooms of these huge buildings, to which sunlight never penetrates, how the gold leaf of a sliding door or screen will pick up a distant glimmer from the garden, then suddenly send forth an ethereal glow, a faint golden light cast into the enveloping darkness, like the glow upon the horizon at sunset. – Junichiro Tanizaki, In Praise of Shadows (1977)
That is the thing with the subtlety of slightly hidden beauty: the exotic pleasure of coming to know something slowly.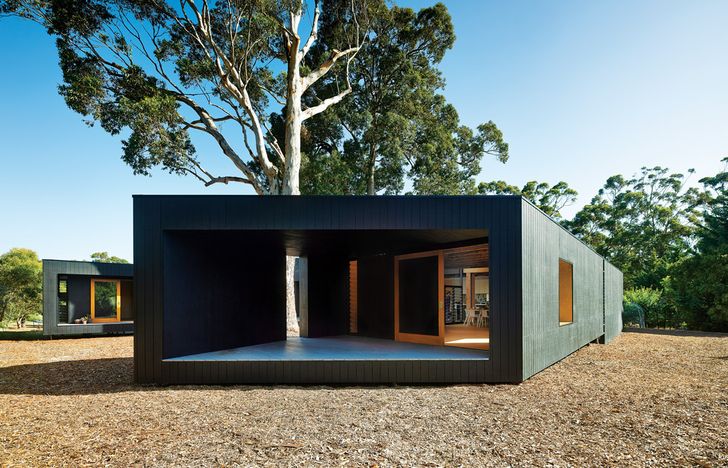 Site is everything. In this instance it was "the trees that made special an otherwise ordinary site," Andrea explains. "We can only really imagine a design in response to site. It goes back to Rome in our early days when we think about a building in response to a condition, and something resonates within us." So it was the trees, one karri and two marri, that directed the house's form and spatial sequencing, and the decision to elevate the house above the ground on mega anchors (hand-dug) so as not to shock the trees' shallow root systems. With the assistance of a prominent arborist the trees have been closely managed over a period of years. Rainwater is fed from the roof down to the roots under the house. Services are suspended from the underside of the floor so as to avoid digging trenches.
We also learn about those moments when "eyes feel and skin sees." Looking, as you are, at beautiful images of this house, you will not know what I know. Walking barefoot throughout the house, so as to take care with the silky soft plywood floor underfoot, absolutely affected how I saw and engaged with the house and its owners. What is that feeling of walking alongside (without touching) certain materials: black, rough-sawn plywood; silky-smooth, creamy gold plywood or glass? "When you walk along steel or granite or timber – you get a feeling," Andrea says. And as Finnish architect Juhani Pallasmaa makes explicit, the body senses these things and good architecture orchestrates all our sensations. We linger in those moments of the heavy timber door; these things bind us to time and place in the same way that certain music or fragrances do.
Citing the influence of Tanizaki's essay, Andrea speaks of the amount of light we have in Western Australia, stating that there is too much and questioning how to manage that. In the Karri Loop House, MORQ has worked to contrast qualities of light between adjacent spaces by beautifully manipulating their connections to the outside world via the devices of deck, courtyard, expanses of glass and wide eaves so as to effect degrees of softening of the light as it enters the house. In this house you could move through the spaces across the day, basking like a lizard.
Products and materials
Roofing

Fielders KingKlip Zincalume roofing.
External walls

Gunnersens Shadowclad cladding, painted.
Internal walls

Laminex hoop pine ply; Boral Gyprock.
Windows

Custom timber-framed windows.
Doors

Laminex Plylite.
Flooring

Laminex hoop pine ply.
Kitchen

Neff appliances.
Bathroom

Reece accessories.
Heating and cooling

Radiant Floor Heating Safe-t-Flex heating foil.
External elements

ModWood silver gum decking.
Credits
Architect

MORQ
Perth, WA, Australia
Project Team

Andrea Quagliola, Emiliano Roia, Matteo Monteduro, Josh Saunders, Tor Dahl, Ken Yeung, Catherine Farrell, Clare Porter and Sally Farrah
Consultants

Builder Tectonics Construction Group
Cabinetmaker Margaret River Cabinets and Joinery
Engineer Margaret River Structural Engineering
Leading carpenter Henk Van Oostenbrugge

Site Details

Location Margaret River, WA, Australia
Site type Suburban
Site area 2200 m2
Building area 290 m2
Budget $710,000

Project Details

Status Built
Design, documentation 12 months
Construction 45 months
Category Residential
Type New houses

Source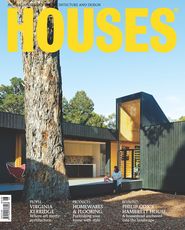 Issue
Houses, December 2013
Related topics