On the New South Wales Central Coast, nestling high in the saddle between the Copacabana and Bouddi National Park headlands, this 1980s project home was brilliantly located and butt ugly. The architect's brief was to extend the single-storey brick house economically, while taking advantage of the ocean views.
Part of the challenge in any project is to accept what you cannot change, and change what you cannot accept. It would be difficult for many architects to accept the coarse (but not in a good way) clinker brickwork of the original building.
Boyle determined to leave the bricks alone and use the building as a platform. Adding a new first floor with open living spaces, a bedroom and a deck to take full advantage of the views to Copacabana Beach.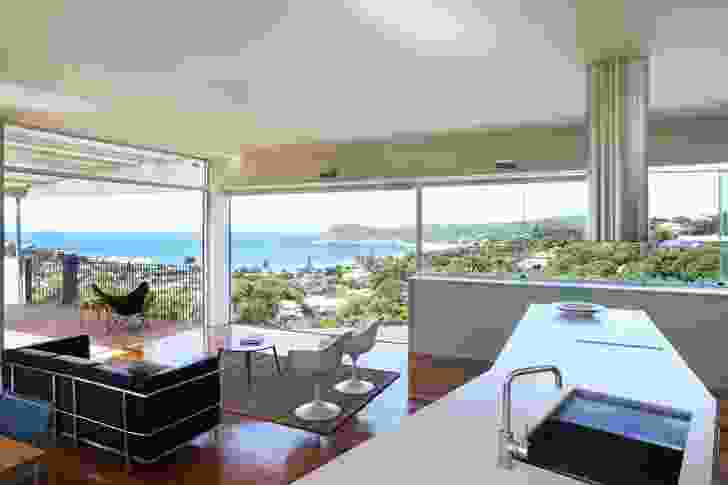 The elongated form of the new upper level mirrors the form and sense of enclosure of the nearby headlands while offering light from the north and privacy from the street. Its low walls and solid balustrades frame the view in a sheltering yet dramatic way, and simultaneously screen out neighbouring buildings.
A new staircase provides the central core around which rooms on the upper level are planned in a pinwheel arrangement, with axis lines distorted to maximise the feeling of space and connection to the view.
Mediating between the original house and the addition is a giant pergola that replaces the existing garage. Eventually the pergola will be vine-clad and offer a shaded green canopy linking a new car port to the patio, a short journey on steps built from salvaged railway sleepers and bricks.
The masterstroke of Boyle's design to eclipse, rather than disguise the unpalatable brickwork with the strong design of the upstairs addition and pattern composed of vertical cedar battens over clear-coated fibre cement cladding. It's straightforward and economical. A bit beaky and pointy, like a pelican or a crocodile, but beautiful in its own way. And it works.
Credits
Architect

David Boyle Architect
Pretty Beach, Sydney, NSW, Australia
Site Details

Site type Suburban

Project Details

Status Built
Category Residential
Type New houses

Related topics