British architect Ken Shuttleworth has been involved in the design of some of the world's most iconic and challenging buildings over a 40-year career. In three decades at Foster and Partners, he worked on architecture ranging from the structurally expressive HSBC Headquarters in Hong Kong to the Millennium Bridge in London. In 2004 he set up his own practice, Make. Today, the firm employs 170 staff and has now opened a Sydney office to develop three major projects in the city: Wynyard Place – a 27 storey office tower and transit interchange in the CBD, the re-imagining of the historic sandstone buildings on Bridge Street into a luxury hotel, and the interior design and fitout of 71 Macquarie Street. Philip Oldfield spoke with Shuttleworth, was in Sydney in August to formally open the studio.
Philip Oldfield: You're here in Sydney as part of Make's expansion into Australia. Can you tell me a little bit more about the firm's plans here?
Ken Shuttleworth: We had a project which we won – Wynyard Place – about three years ago. We're working on that with Australian practice Architectus and that's been a fantastic collaboration. Together we're working for Multiplex, a construction firm that we know very well from London. Make has a relationship with Multiplex that sort of expanded really, and it's been a really good collaboration.
We were also asked by Mr Kwee, one of the owners of Pontiac Land, to help him bid for the sandstone buildings [at 23-33 and 35–39 Bridge Street], which are absolutely fantastic. We have worked with Pontiac before, so we knew them from about a decade ago. They asked us to get involved and we did, and they won the job.
Then we've just won a job doing the fitout at 71 Macquarie Street [building designed by Tzannes]. We have an approach to fitout that is very much about bringing the architecture inside – the completion of the architecture, essentially.
There are about eight people in the Sydney office at the moment, and we wanted to get established on those three projects. The plans are not to wildly expand, but to deliver those jobs properly. But if other work comes up which we can get involved with, that would be fantastic too.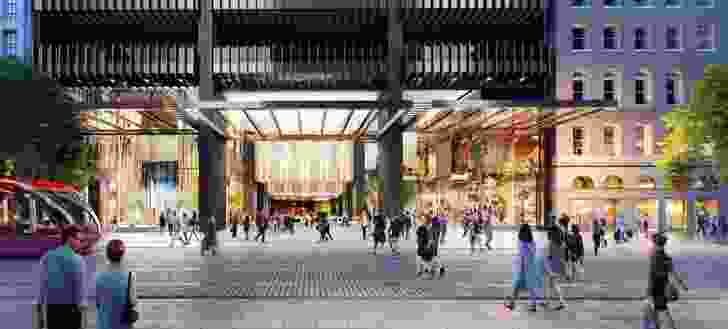 PO: It was a design excellence competition for Wynyard Place that brought you to Sydney. These competitions are bringing a variety of international firms to the city, and generating new collaborations. What are your thoughts on this process? How do you think it is impacting Sydney's architecture?
KS: Well I think having more ideas is great. In the design of Wynyard Place, there was no obvious solution. We decided to jack up the lift cores – so you go underneath them – to make the station below work better, rather than having people threading around the core. This makes a big difference and I think it's one of the reasons we won the project. So as a process, [the competition] obviously delivered a new solution. I think, for the client, the danger is getting an architect he doesn't want to work with. In London we'd probably have a competition on a project like this, but the client would decide who's going to be the architect. Here it's a bit more complicated.
PO: You mention jacking up the core. When you talk about the work of Make, you seem to focus as much on the public space in and around buildings as the buildings themselves. It seems to me that's been a big driver in the design of Wynyard Place, which will be your first project here in Sydney.
KS: Most of our projects tend not to be a single building, they tend to be around courtyards, around gardens, or where we're trying to create something special. And with Wynyard Place the idea is really to pull Carrington Gardens right into – and almost under – the building, so that it almost feels like the gardens extend through the project. A big public gesture. And it actually celebrates travel. At the moment, the station doesn't really celebrate travel at all. It's an experience that's designed around the train rather than the public. In our projects, we start with the idea of creating places, be it on our site or around our site.
PO: You've worked on a variety of iconic towers throughout your career. Australia is experiencing a skyscraper boom and planning systems are changing to allow for supertall buildings. But the tower remains a divisive typology. What do you think we should be doing to design better highrise architecture?
KS: Well, first of all it's getting the location of them right that's important. I think they should be clustered. Grouping them as we do in London, or in La Défense [in Paris], for example. I don't think height is an issue. The only thing that drives how high we go is the cost of land. I don't think there's a technical limit on how high we should go, it's just a matter of making sure the economics make sense. Forty storeys are where everyone seems to stop, as that's the most economical height. But if you've got a real pressure on land, there's nothing stopping you going up to 60, 80, 100 storeys – nothing at all! And towers are divisive. But cities have to keep evolving, to keep moving forward. To maintain the vitality of cities, keeping them dense is really important. It makes much more sense for them to be denser, keeping people closer to the action and closer to the work. This keeps travel times down and makes a massive difference to carbon emissions. So I think we're going to get higher densities. Inevitably that means you go taller.
PO: You're on record talking about the need to move away from the standard glass curtain wall. It seems to me that Make has a different approach to facade design, incorporating ideas of opacity, art, pattern, etching and large-scale artistic pieces. I wonder if you can tell me a little more about this.
KS: There was a really interesting moment when airconditioning came in historically. We went straight from quite solid, heavy masonry buildings with opening windows to all-glass buildings. And I remember working on projects in the 1960s, 70s and 80s when it was cheaper to aircondition the building and seal it up than it was to have opening windows, because the cladding system would be simpler and energy was so cheap. Then the climate change movement arose, and I think at Fosters we picked up on that before anyone else really. And at Make we've taken this much further – we're thinking about trying to make the building as energy efficient as possible. And the glass curtain wall is the obvious symbol of a project's energy use – you get 50 percent of the heat loss and heat gain through the cladding. But you've got to consider orientation, views and daylighting. You need balance.
PO: How do you see this working in the context of Sydney?
KS: We need to look at each site: the shading from other projects, the orientation of each building, the use and the view. The thing is, the view is so fantastic. You're not going to build a solid wall in front of the view of the Sydney Harbour Bridge, are you? You're going to find a way of making that work. And people here love the view. I love the view! The value is in the view. If you're going to have a glass wall facing anywhere, you're going to face the harbour. And you're going to find a way to deal with the glass specifications, and the shading, to make it work.