Japanese architect Kengo Kuma and Sydney-based Koichi Takada Architects' verdant, terraced design has won a competition for a 19-storey residential tower in Sydney's Waterloo.
The building will be the tallest of five buildings on a site at 48 O'Dea Avenue, which will collectively be known as W48.
Kuma said, "Our intention is to give a warm and a natural atmosphere to the community with unique design strategies.
"The upper volume of the tower [will] seamlessly transform into the lower part of the stepped terraces in order to create an intimacy between the building scale and the pedestrian-scale on the street level.
"Eaves wrapping the facade [will be] covered by sticks, which give a warm impression of the wood to the facade.
"The entire facade becomes a vertical urban forest by having a vegetation on each eave.
"Those strategies will blur and soften the profile building, and give a whole new image of the W48 precinct of the Waterloo."
The forested tower will be designed with landscape architecture practice Oculus.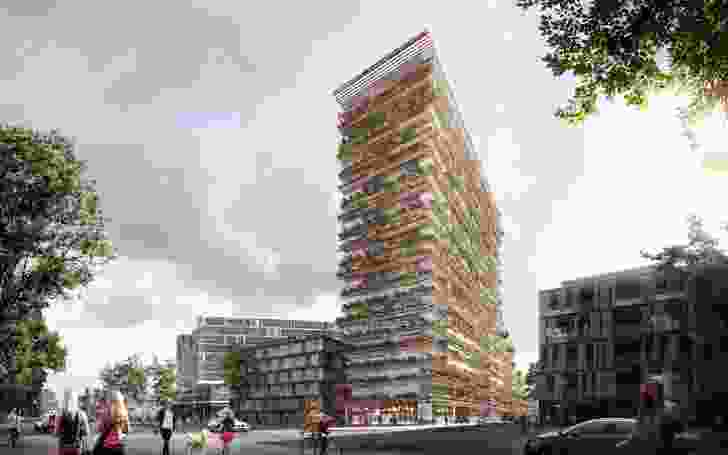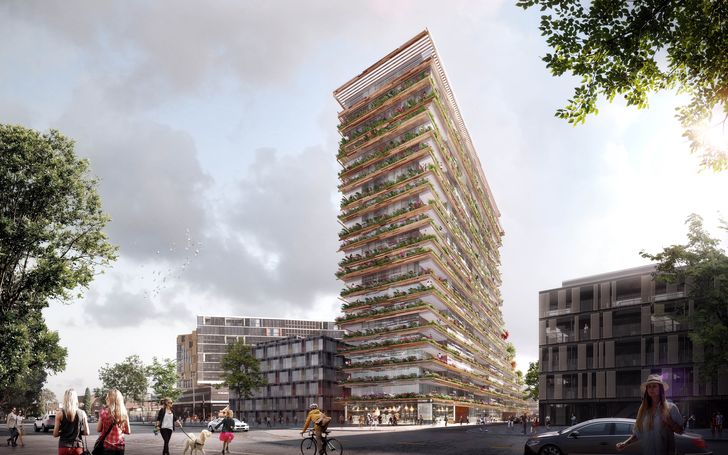 The tower will be accompanied by an additional three buildings designed by Koichi Takada Architects and one by fellow Sydney-based practice Silvester Fuller in the development by Crown Group.
"Responding to Kengo Kuma's vision for the tallest of the five buildings," said Koichi Takada, "I am excited to design three low-rise buildings that create a dynamic architectural dialogue within the precinct.
"I drew on an idea of 'green luxury,' finding inspiration in nature. Each building is designed with a 'human touch' to express its organic and distinct architectural character."
Across the five buildings, there will be 384 high-end apartments as well as restaurants, cafes and shops. The tower will also include a cantilevered rooftop infinity pool, a gym and a community room.
"It is my honour to work alongside Kuma-sensei, the Japanese master of architecture. It is a dream come true," Takada said.
The development will be Crown Group's third in Waterloo, following Viking designed by MHN Design Union, which was shortlisted for the 2015 NSW Architecture Awards, and the recently announced Waterfall designed by SJB.
The tower will be Kengo Kuma's third building in Australia following the Darling Exchange public library and community centre for the City of Sydney and a 25-storey hotel tower designed with Crone.
Related topics