Japanese architect Kengo Kuma has unveiled a prototype in Tokyo for a massive sea cucumber-inspired installation that will take centre stage at this year's Design Canberra Festival in November.
The piece, produced at the Kengo Kuma Laboratory at The University of Tokyo, is a simulacrum for what will eventually be a three-metre-high, 12-metre-wide installation in central Canberra.
Titled Namako, the Japanese word for sea cucumber, Kuma's design references that unique animal's softness, transparency and form.
Composed of a mesh of bio-acrylic rods and zip-ties wrapped around a steel-rod frame, the design continues Kuma's exploration of different types of weaving, both in the literal and conceptual sense.
"Our laboratory investigates the possibilities of weaving through many projects and other activities," said Kuma.
"This includes our ongoing installation project in Australia […] which is produced through a reckless weaving process."
Drawing on nineteenth century architectural theorist Gottfried Semper's conceptualization of architecture as fundamentally a process of weaving, Kuma explains that his practice not only engages in the weaving of things, but also the weaving of ideas, people and fields outside of architecture.
In the case of Namako, this "reckless weaving process" has included a collaboration between the University of Tokyo's Kuma Lab and architecture students from the University of Canberra who travelled to Japan to work on the prototype, and who will assist with the weaving of the Canberra installation.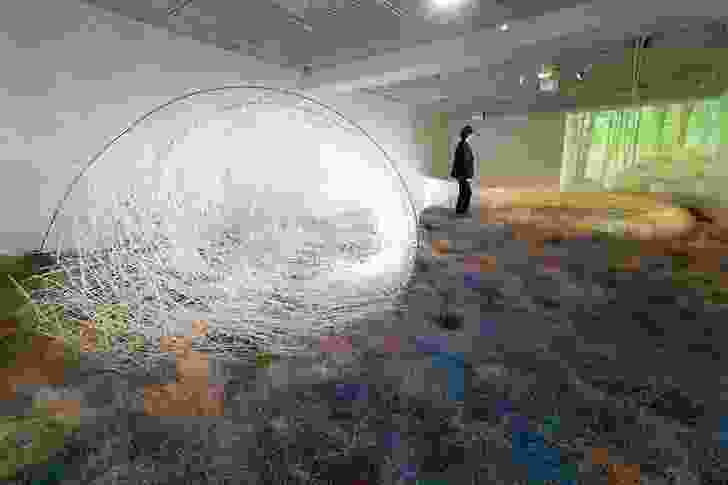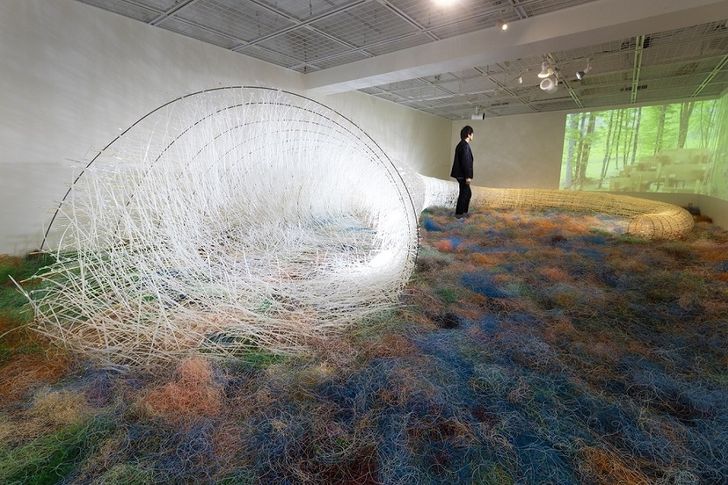 Design Canberra artistic director Rachael Coghlan said the work was an ideal fit for the festival, now in its fifth year.
"The festival seeks to encourage experimentation, new collaborations and opportunities to see landmark sites in Canberra with new eyes and from a new perspective," she said.
"Initiating an international collaboration with one of the most significant Japanese figures in contemporary architecture at the moment is a really exciting opportunity to celebrate what Canberra is about and what Design Canberra is about, which is promoting Canberra as a global city of design."
Kuma's work will be installed on Aspen Island on Lake Burley Griffin, and will remain their for the duration of the festival, offering audiences the chance to interact with the installation and see the setting in a different way.
"Aspen Island is a really key part of Walter Burley Griffin and Marion Mahony Griffin's plan for the city – the kind of utopian vision for a national capital city, that it would fit within the landscape rather than dominating it" said Coghlan. "To an extent I think Kengo Kuma's installation is going to do the same – it will respond to the place rather than overwhelm it."
While respecting and responding to Canberra's design heritage, Namako will also bring an experimental perspective to design, which Couglin says is sometimes only possible through the lens of a design festival.
"What a design festival can do is bring a really ephemeral perspective to design and activation and city-making," she said. "There is incredible design excellence in Canberra, there's no doubt about it, but because of some of that design excellence sometimes it's not possible to be experimental.
"But when you're only having an installation for a month you can be quite audacious with some of the ideas you're introducing, the materials you're using and the partnerships you're forging."
Kengo Kuma is a prolific writer, speaker and designer, and one of Japan's best known architects. Among his seminal projects are Suntory Museum of Art in Tokyo, Bamboo Wall House in China and Besançon Art Center in France. He has a number of projects in the works in Australia, including a residential tower described as a "vertical urban forest" in Sydney's Waterloo and a new civic building for Sydney's Darling Harbour.
"We're really excited about this architectural collaboration," said Rachael Couglin, who is also CEO of Craft ACT. "Architecture is a really big part of Canberra's design identity and I think bringing in a really significant Japanese architect like Kuma is just hugely exciting to everyone involved in this project."
Design Canberra is presented by a small not-for-profit arts organization, Craft ACT.
Related topics