A new civic building for Sydney's Darling Harbour designed by Japanese architecture practice Kengo Kuma and Associates has been approved. The project is the practice's first in Australia.
The Darling Exchange building will be the centrepiece of Darling Square, a proposed new neighbourhood that is part of the NSW government's $3.4 billion redevelopment of Darling Harbour.
The six-storey circular building will be wrapped in ribbons of timber, suggesting the appearance of a "hive."
"Our aim is to achieve architecture that is as open and tangible as possible to the community," said Kengo Kuma in March 2016 when the project was first unveiled. "This is reflected in the circular geometry, which creates a building that is accessible and recognizable from multiple directions. The wooden screen wraps the exterior of the building in a dynamic and exciting manner. It is a historical reference to Darling Harbour originally being a hive of business activity and a focal point as a market exchange."
In an interview with ArchitectureAU acting editor Linda Cheng, Kuma said, "My Darling Square project is also different from my former projects. I'd never tried that kind of shape before. The dynamics of the Sydney waterfront pushed me to go to that design. Also the very open atmosphere of Sydney pushed me to open the freedom of design. For me it's a very important project."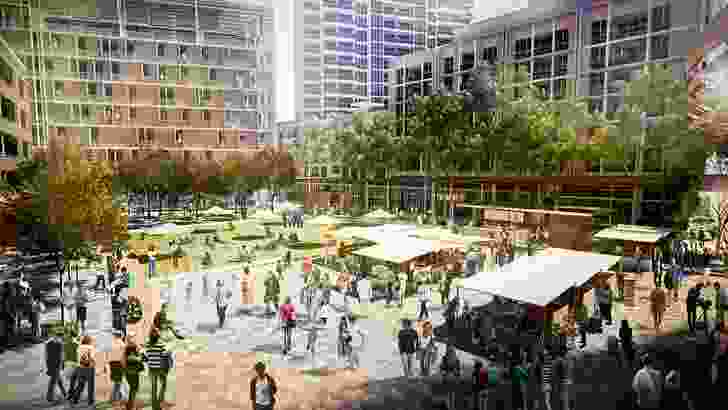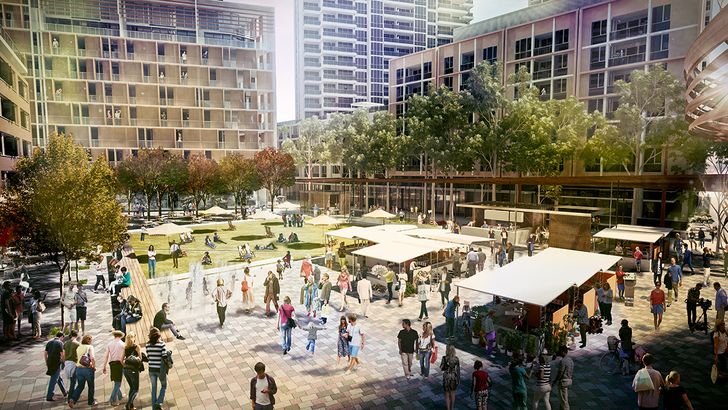 The building will house a new community library across two floors and includes a "makerspace" and will host an innovative exchange program for start-ups. In an agreement between developer Lend Lease and the City of Sydney, the council will lease the 2,225-square-metres of space for 99 years from the developer.
The proposed library will replace the current Haymarket library and will also quadruple the size of the existing facility.
The building will also include a ground floor open market hall, a childcare centre and a rooftop bar and restaurant.
A new 2,700-square-metre urban square designed by Aspect Studios will be created adjacent the building, which will include areas for a pop-up market, green spaces and two retail pavilions by Archer Office.
NSW planning minister Anthony Roberts and Lend Lease unveiled a 10-metre prototype of the building's facade, made from a timber product called Accoya, which is durable, stable and sustainably sourced. The timber is light-coloured and designed to weather over time.
Darling Exchange is expected to be completed in 2018.
Related topics