Japanese Prime Minister Shinzo Abe has announced architect Kengo Kuma as the winner of a second design competition for the new Tokyo Olympic Stadium.
Kuma's design was part of a joint venture between the architect, construction companies Taisei Corporation and Azusa Sekkei.
Dubbed the "hamburger" in Japanese social media circles, Kuma's design will replace Zaha Hadid Architects' widely unpopular design, which resembles a bicycle helmet. Hadid's design was criticized for being over scaled and too costly and vilified as a "monstrosity," "a monumental mistake," and a "disgrace." The Japanese government dumped the design in July 2015 and announced a fresh design competition.
By contrast, Kuma's stadium features a sunken sports ground which allows the stadium to be only 49.2 metres above the ground – 20 metres shorter than Zaha Hadid's proposal.
Kuma's design references historic Japanese temples. It combines traditional Japanese timber structure and modern steel construction. It also features shrubbery planted around the outer concourses of the stadium, designed to help it blend into the surrounding vegetation.
The new design is expected to cost ¥153 billion (AU$1.75 billion), which is significantly less than the cost of the original design, ¥252 billion (AU$2.9 billion).
In announcing the winning design, Japanese Prime Minister Shinzo Abe said, "I think this is a wonderful plan that meets criteria such as basic principles, construction period and cost."
Zaha Hadid vehemently disagreed, issuing a statement accusing the Japanese government and the country's architectural fraternity of collusion, protectionism and plagiarism. "Sadly the Japanese authorities, with the support of some of those from our own profession in Japan, have colluded to close the doors on the project to the world."
"[M]uch of our two years of detailed design work and the cost savings we recommended have been validated by the remarkable similarities of our original detailed stadium layout and our seating bowl configuration with those of the design announced today."
Earlier this month, the Japan Sport Council unveiled two design unearthed from the second design competition. The unsuccessful design, inspired by the five asian elements of wood, fire, earth, metal and water, was the work of 2013 Pritzker Prize winner Toyo Ito, who was also among the 11 unsuccessful finalists in the original 2012 design competition.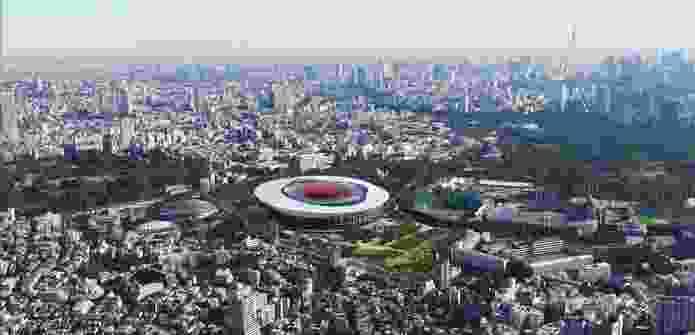 A seven-member panel of judges assessed each consortium's proposal based on nine-point criteria, reported Japan Times. Kuma's design received 610 points, a narrow margin over Ito's design, which received 602. Architect and critic Takashi Moriyama theorized that the crucial difference could be due to the construction methodology. "Design B (Ito's) proposed an unprecedented method for construction (to shorten the building period) by using new materials to build the stadium, whereas design A (Kuma's) proposed using a more orthodox method that is familiar to everyone … I believe the judges assessed design A as being less risky," he said.
Related topics