The strong and continued use of a colour is often used in marketing and branding to encourage us to associate those colours with a particular company, product, idea or feeling. Red says Ferrari. Blue says a number of companies, ranging from ANZ to Facebook. Green has become almost adjectival. Needless to say, I'm expecting to see a whole lot of orange, and a little bit of blue, in SJB Interior's new fitout for the Kennards Self Storage head office in Sydney. The storage company's unashamed use of the colours to brand its centres across the country has made its buildings instantly recognizable. As a large-scale, drive-by graphic technique, this approach works. The use of a big, fun colour outside instantly negates the inherent qualities of the building it shrouds. The company can occupy pretty much any building big enough to suit its needs – the colours instantly make it a Kennards' building. Inside, however, the buildings house everyone else – individuals, families and companies all using the internal space for whatever ancillary requirement they might have.
This business is about providing space for others to occupy, so I was intrigued to find out how SJB Interiors might go about realizing the company's brief for an interior for itself. A second-generation family-owned business, Kennards is by no means a blank canvas; the organization has a history that the family is rightly proud of. Perhaps appropriately then, the company found a suitable existing commercial/ industrial building to occupy and went about making modifications to the existing fabric. This allowed them to create a space connected to one of their storage facilities, of course, that would become its new corporate headquarters. SJB Interiors director Jonathan Richards was presented with a brief to create a new working environment that reflected the communal and relaxed ethos of the business, while for the first time bringing together the organization's marketing, accounts, finance and call centre operations under one roof.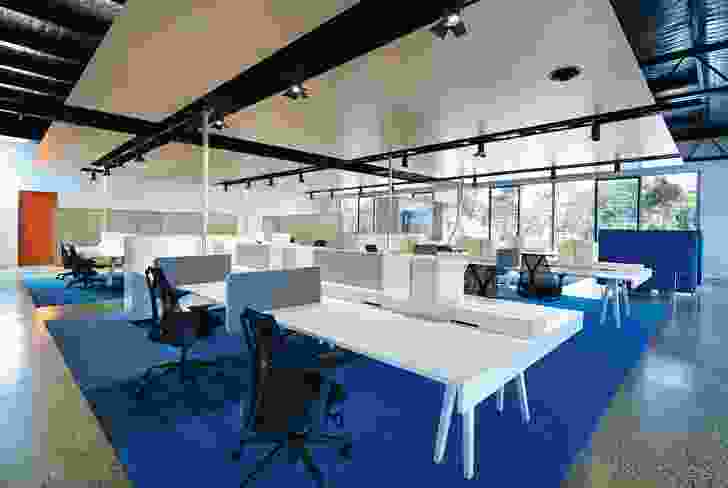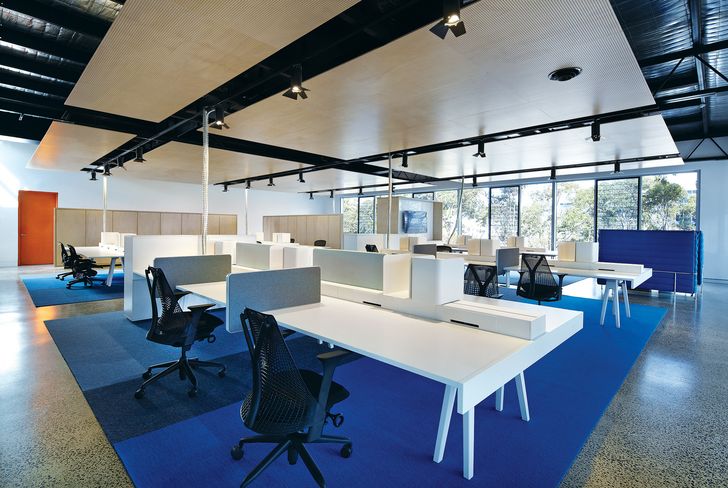 SJB Interiors set about creating a series of spaces within a space. Meeting rooms, workstations, breakout spaces, the public foyer and waiting areas are arranged across a polished-concrete floor plate. Big, brave orange and blue livery greet you as you walk in the front door, but as you climb the new stairs, the coloured regalia starts to soften. At the top of the stairs a custom-designed rug by Fiona Lynch spans the foyer across to a birch ply reception desk with a soft orange-wash frontpiece. The mix of furniture was chosen with the intention of being a bit of a conversation starter: furniture components in varying hues of eclectic blue inhabit space off to the side, and corrugated-cardboard Wiggle chairs by Frank Gehry were selected for the waiting lounge – the perfect piece for a self-storage company's fitout. The less-public zone of Vitra workstations by Ronan and Erwan Bouroullec sits beyond, veiled by a bespoke mesh screen. An abundance of natural light floods the space via shaded glass walls and clerestory skylights in the truss zone above.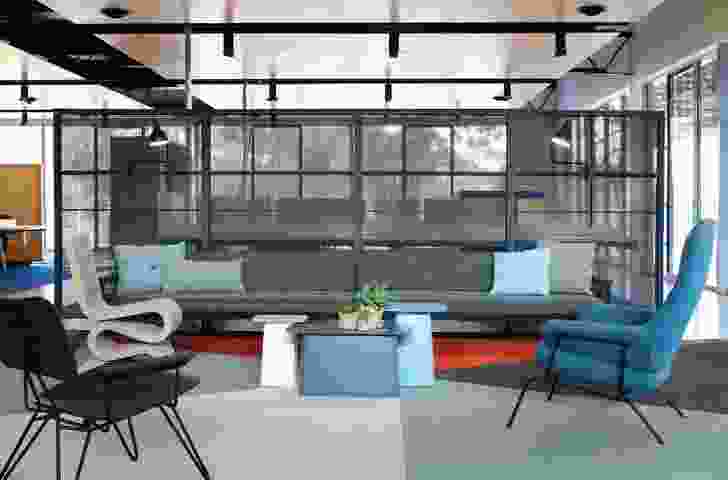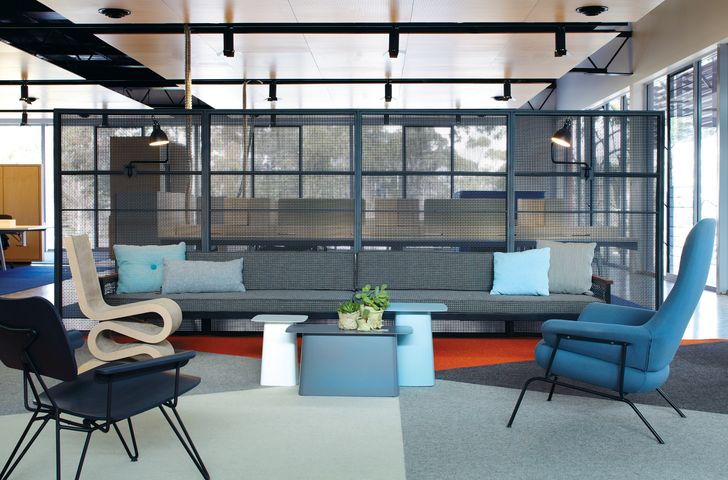 The centre of the workplace sits between these private and public zones. Sentinelled by two birch obelisks, a large kitchen/ utility space has been set as the real heart of the office. With a concrete bench sitting centre stage, this space serves as an informal meeting area, a photocopy room, a pigeonhole area, an office supply centre and, of course, the kitchen. This typically domestic association instantly brings a relaxed informality to the space. While you don't feel like you are in someone's house by any means – it is still a workplace first and foremost – it is a comfortable space that is a pleasure to be in. When I visited the project we naturally found ourselves congregating around the concrete bench; it encourages an informal, relaxed feeling that serves as a welcome counterpoint to the day-to-day operations of running a successful enterprise.
Overall, this new head office has elements of both the domestic and the industrial that temper the corporate. These three elements sit comfortably together to bring about an appropriate head office for a successful family business that has grown steadily over the years and continues to do so. In designing a space that is informal, professional, efficient and genial, SJB Interiors has simultaneously managed to reflect the values of its client and subtly executed a strong branding approach to create an office space that is enjoyable to work in.
Products and materials
Walls and ceilings

Plywood to walls and ceilings from Austral Plywoods. Viridian glass to meeting room walls.
Windows

Steel window systems in meeting rooms are custom designed and made based on standard steel section sizes.
Flooring

Loose rug at executive meeting table from Armadillo & Co. Tretford Fields Collection carpet to entry, and Tretford carpet in 'Night Sky', 'Cornflower', 'Brilliant Blue' and 'Biliberry' to open-plan area, all from Koskela.
Lighting

Davide Groppi Sampei lights to waiting lounge. Giant pendant from Corporate Culture to kitchen. Floor lamps and wall lamps from Luke Furniture to lounge.
Furniture

Vitra Ad Hoc circular table to meeting rooms, Click unit to training room, Joyn workstation to open-plan office space, Metal Side Tables to indoor waiting area, lounge and outdoor area, ID mesh chair to workstations, Wiggle chair to waiting lounge, Alcove sofa to breakout lounge and Softshell Chairs to meeting rooms, all from Unifor. Tolix Armchair and Tolix Tabouret stools from Thonet to kitchen and open-plan area. Hai lounge chair from District 246 to open-plan/lounge area. Moroso Diesel lounge chair from Hub Furniture. Breeze Daybed from Tait and Pix Ottoman from Stylecraft to waiting lounge. Office chairs from Living Edge.
Other

Plywood joinery and screens from Austral Plywoods. Kitchen joinery painted Dulux 'French Blue'. Stair balustrade painted Dulux 'Natural Grey'.
Credits
Design practice

SJB Sydney
Surry Hills, Sydney, NSW, Australia
Project Team

Sophie Lewis, Jonathan Richards
Consultants

Builder Commercial Industrial Contractors
Electrical Get Wired
Joiner Pluim Interiors
Steelwork H and H Steel
Structural and hydraulic engineers Lambert & Rehbein
Workstation supplier Vitra

Site Details

Location Sydney, NSW, Australia
Site type Urban

Project Details

Status Built
Design, documentation 6 months
Construction 5 months
Category Interiors
Type Workplace

Source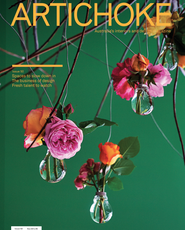 Issue
Artichoke, March 2015
Related topics