On 5 February, Victoria's former premier Jeffrey Kennett addressed an audience at MPavilion on the topic of Melbourne's 21st century urban frontier.
During Kennett's seven years in office, from 1992 to 1999, the government's aggressive and controversial privatization agenda brought billions of dollars to its coffers. The suite of capital works undertaken by the Kennett government, including a number of cultural institutions, has left an indelible mark on Melbourne's urban landscape.
"[An] important aspect of our time in office was our support for the arts, culture and sport, and I combine them all together," Kennett said. "Sport-art-culture is one of Victoria's greatest strengths and we should always invest in them. Government must be a patron of the arts, they must be patron of a culture, and they must be a patron of gardens."
So in looking to Melbourne's urban future, in the face of growing challenges of population growth, housing and transport infrastructure, what does the former premier want to see for the state he branded as "on the move"? Here are five of his suggestions.
1. A new parliament house
Despite proposing to restore Victoria's Parliament House to its former glory in the 1990s, Kennett now believes it's time to build a new one.
"The parliament house we have is very old, it's very costly to maintain and I'm afraid to say it's no longer conducive to good decision making," he said. "If it had been a business, it would have been wiped out years ago."
"When we were in office[…], we had a plan […] to put a roof over the railway line beyond Federation Square. One of my concepts there […] was to build a new Parliament House surrounded by gardens."
Kennett said that if his government had been re-elected in 1999, he would have held a design competition for a two- to three-storey Parliament House on the site now referred to as Federation Square East, which has been earmarked for private development. The low-rise building would overlook the Yarra River but not overshadow it.
In March 2014, he called on the then Napthine government to consider building a new parliament house if private development of the site did not go ahead. An expression of interest was held in September 2014, but the current government has not yet announced a preferred developer. "I suspect that's because they're find it increasingly difficult to make it stack up financially without having buildings that are so large that they'll overshadow the river, which is not on," Kennett said.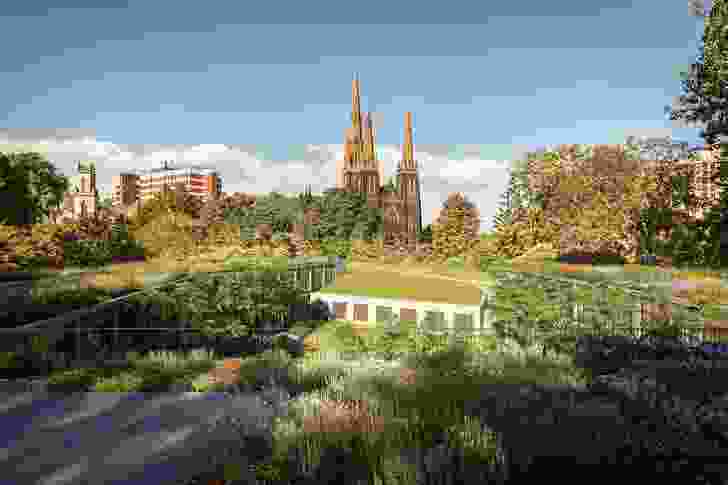 "That's why I say [we should have] a low-level parliament house [with a] modern design.
To be able to have a competition that designs a new parliament house surrounded by garden could be the most wonderful thing," he said. "It could have been an architectural masterpiece."
The plans to restore the decaying Parliament House were never completed. But it seems set to stay with a new $40 million addition by Peter Elliot Architecture and Urban Design and Taylor Cullity Lethlean for members' offices.
2. An underground railway network
"If I had the option or the opportunity, I would probably borrow $100-200 billion […] and build an underground rail system," Kennett said.
He first floated the idea at the Australian Property Institute Pan Pacific Congress in 2012. At the time, transport expert and professor of sustainability Peter Newman agreed with Kennett's comments that an underground train network was needed in Melbourne. But the president of the Public Transport Users Association Daniel Bowen disagreed, telling The Age, "We shouldn't be fooled into thinking that for our trains to run efficiently we need them to run underground."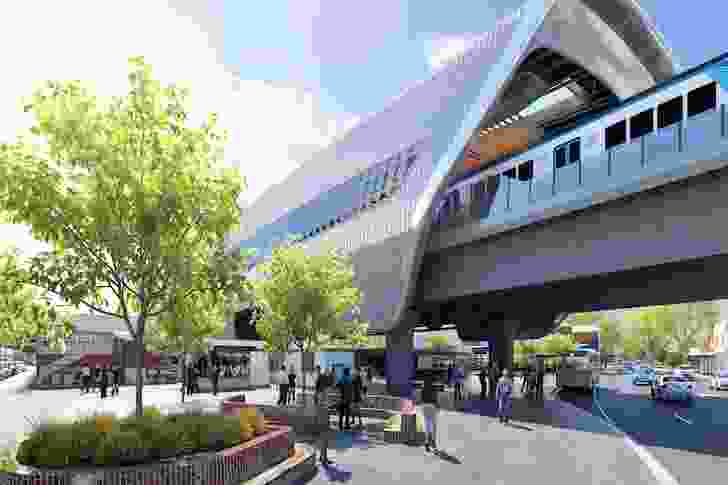 The current Andrews Government has taken a different approach. It recently released a $1.6 billion plan to elevate sections of the Pakenham-Cranbourne train line, as part of a plan to remove 50 level crossings across the state over the next eight years. The plan is aimed at improving travel for drivers as well as enabling more trains, more often.
However, as Kennett puts it: "We will never, ever be able to meet our on [above ground] transport requirements the way we're heading, particularly with the projections in terms of population growth.
"If you have a look around the world at the underground systems that have been in place for 50 to 100 years, they're wonderfully reliable, wonderfully clean, and here, we still have blockages and delays.
"The great challenge in one sense is the challenge of infrastructure and how we're going to fund it. That's going to require a considerable change in the way we do our accounts."
3. A masterplan for the city's gardens
"A defining issue [for Melbourne] is the quality of our gardens right around the city," Kennett said. "They are assets that are very hard to repeat or to replicate."
He names the Queen Victoria Gardens, in which the annual MPavilion sits, as one of his favourites in the city. "So much so that I've suggested to the Lord Mayor that we ought to replicate this type of site and call it the Queen Elizabeth Gardens with a statue or some appropriate recognition of the reign of Queen Elizabeth."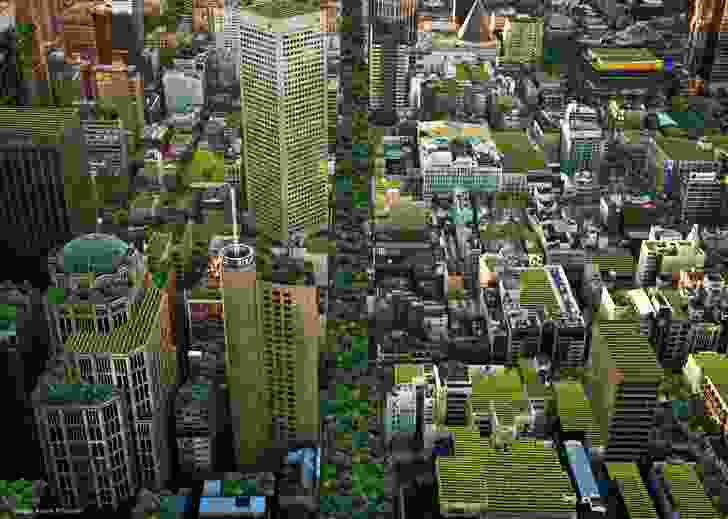 In response to the federal government's announcement of increasing tree canopy coverage in Australia's cities, Kennett said, "[The federal environment minister Greg Hunt] can outline a plan and he might give some money, but I think he's just making an observation. A lot of our trees are going to die in the next 20 to 30 years. How are we going to replace them? With what are we going to replace them?
"We have to have a masterplan for our gardens and priority attached to how we're going to maintain them. The intrinsic value of what we have here is so important. Governments must play a role in all of this because unfortunately if they don't, then of course decay sets in very quickly indeed."
4. Good "creative" design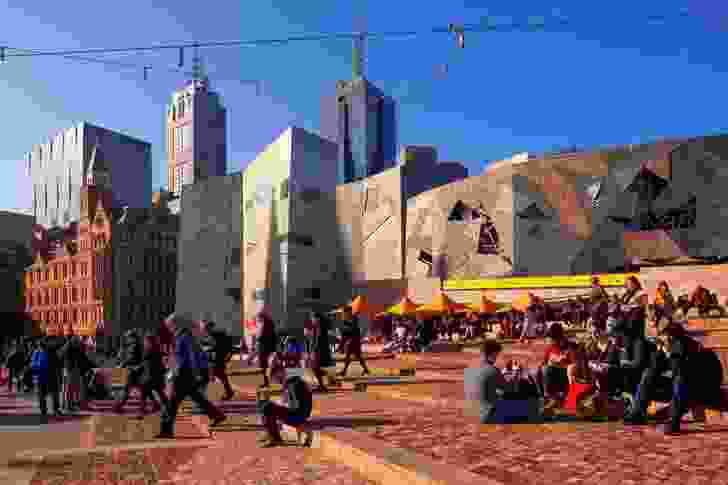 "I want to see good design. I'm not saying I agree with all designs, but I want to see creative designs."
He points to the design of Federation Square by LAB Architecture Studio and Bates Smart as an example of his government having the courage to foster "creative design" – a design he said he "couldn't really relate to" but "accepted it in whole."
"We were lambasted by a lot of people over that design, including my dear friend Dame Elizabeth Murdoch, who wrote me a very pithy letter telling me exactly what she thought. But after it opened and it came into use, she wrote to me again, she said 'I remember the letter I wrote, I'm sorry. I now think it's a wonderful space.'"
5. Better apartments
In 1997, the Kennett government introduced the Good Design Guide for Medium-Density Housing – a predecessor to ResCode. It was intended "to guide the transformation of the middle ring of suburbs through the incremental changes introduced by densification," wrote architect Eli Giannini in 2011.
But Kennett believes the current planning laws that encourage densification have gone too far. "It breaks my heart when I drive around the main roads and I see the planning laws have changed to allow beautiful old Edwardian, Victorian homes to be pulled down and converted into flats or units."
"I hate the high rise buildings that are built to maximize return and are fundamentally squares that reach up into the sky," he continued. "Many of them containing single bedroom apartments that are so small, I have no doubt in the future we're going to see not only a glut, but a lot of these buildings are going to be very difficult to occupy."
"The last decade has been driven by greed. How quickly can you build, how much money can you make so people are exploiting plots of land to get as many houses on them."
"I don't mind high density as long as design is good both externally and internally."
The current state government is in the process of formulating guidelines or apartment design, set to be released mid- to late-2016.
"I think the current [planning] minister seems to be working towards a situation where he's saying these small 30-square-metres one-bedroom options should not be as prevalent as they are today and I'd agree with that."
The public projects that either began or were completed under Kennett's administration include the Melbourne Museum and Melbourne Exhibition Centre by Denton Corker Marshall, the Melbourne Convention Centre by NH Architecture and Woods Bagot, the redevelopment of National Gallery of Victoria by Mario Bellini, the refurbishment of State Library of Victoria by Ancher Mortlock Woolley, the Federation Square by LAB Architecture Studio and Bates Smart. In addition, the Kennett government presided over the development of the Crown Casino complex and the Docklands redevelopment.
Related topics