The four shortlisted designs in the Kensington and Kingsford: K2K Urban Design Competition have been revealed.
The competition, organized by Randwick City Council in Sydney, seeks ideas and designs that will help shape future planning of the two suburbs, located to the south-east of Sydney's CBD. The two precincts will be served by the new light rail network, which will run along the area's major road, Anzac Parade, and is due to be operational in 2019.
From an entry pool of 19 submissions, four were shortlisted in August, following the conclusion of stage one (expressions of interest) of the competition. Teams then developed their proposals further in stage two, and these proposals are now open for public comment. Schemes respond to a design brief and a list of responses developed in consultation with the community.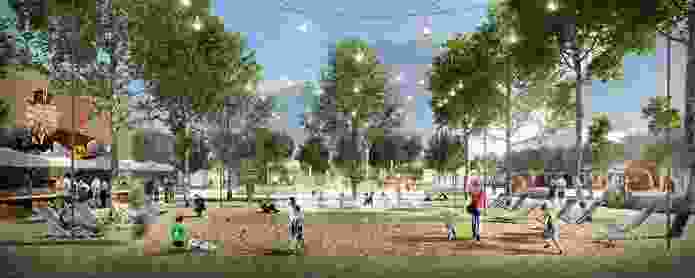 The proposal from Aspect Studios Urban Design and Landscape Architecture, SJB Architects and Urban Design, Terroir Architecture and Urban Planning and SGS Economics and Planning identifies the K2K project as "an urban circuit breaker" that will see two centres evolve into integral hubs in a larger network that includes transport routes, Sydney's parks and public institutions. Kensington is imagined as a village and Kingsford as a vibrant employment destination with new plaza and walkable loop at nine ways circus. UNSW and NIDA serve as an arts quarter between the two and will house a trigen facility. Anzac Parade is a fast-paced corridor with a focus on large-scale business, while Doncaster Avenue becomes a green, pedestrian and cycle-friendly street.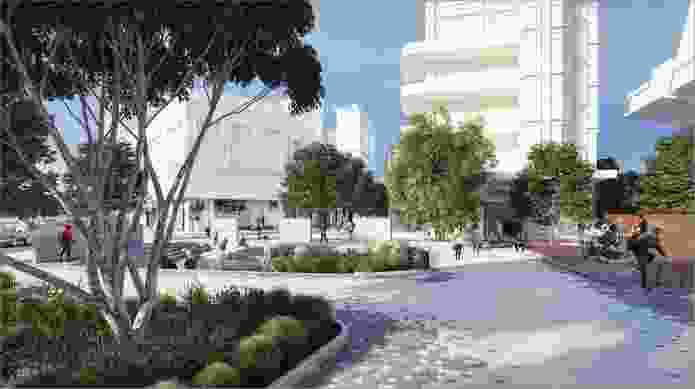 Coda Architecture and Urban Design, Realm Studios Landscape Architecture, and GTA Transport Consultants' design prioritises pedestrians and cyclists over vehicles along Anzac Parade by improving pedestrian access to light rail stops and reducing traffic lanes and provision of on-street parking. It also proposes giving priority road access to ride-share and driverless vehicles. A walkable development zone, which would spread 500 metres from light rail stops, would broaden development into streets behind Anzac Parade and avoid developing the transit corridor into "a solid street wall, impermeable and hostile." Public space and streets are employed to reveal the geological and water history of the site and mitigate flooding.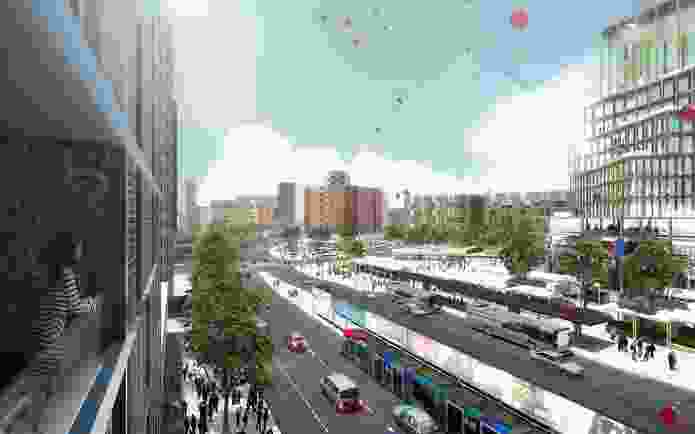 JBA Urban Design and Planning, Stewart Hollenstein Architecture and Urban Design, Arcadia Landscape and Natural Systems, The Transport Planning People and Jess Scully envisage a sequence of organic and linked opportunities to create meeting places, breakout squares and moments for gathering along a more pedestrianized Anzac Parade. Development would be intensified around light rail stops and east-west connections traversing the main road would be improved. A network of commons in Kensington "restores the balance between hydrological systems and urban development," reducing – perhaps removing – the need for stormwater management. Kingsford becomes an exchange, with the nine ways road intersection transformed into a public junction, with new public square and civic building. Side streets and laneways become malls for outdoor dining.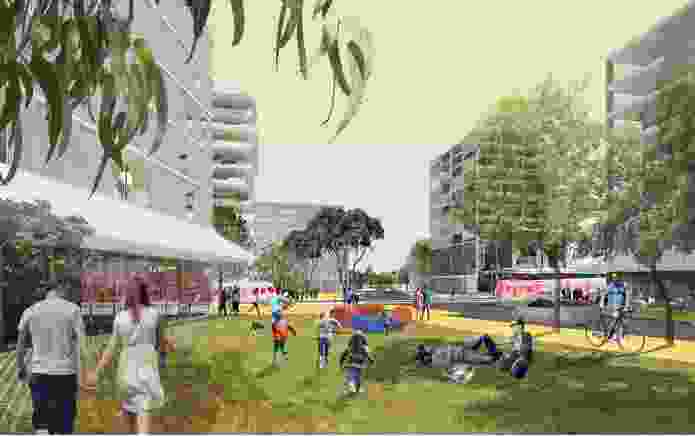 The scheme by James Mather Delaney Design Landscape Architects, Hill Thalis Architecture and Urban Projects, Bennett and Trimble Architecture and Urban Projects proposes to reinstate the millstream, an existing water system running north–south parallel to Doncaster Avenue, as a green spine and reimagine Anzac Parade as a "boulevard punctuated by new civic places of intensity." The Anzac Parade footpath would be widened by 10 metres to create a pedestrian spine and civic spaces would "cluster community and transport services in relation to the light rail platforms." Pedestrian and cycle connections follow the green spine, which also enables better floodwater management, while two new parks are proposed in each of the town centres.
The competition jury consists of jury chair Malcolm Snow (National Capital Authority), Ben Hewett (NSW Government Architect's Office), Jennifer Neales (Fred St), Kerry Clare (Clare Design) and Tim Greer (Tonkin Zulaikha Greer).
All four schemes can be viewed in person at Meeks St Plaza, Kingsford and the Masonic Centre, Kensington or online at www.k2k.sydney. Proposals will be publicly exhibited from 21 September to 5 October, and the winning team will be announced on 17 October 2016.
A prize pool of $300,000 is on offer, with $140,000 to be shared equally among the shortlisted competitors and $120,000 awarded to the winner. The jury may choose to award $40,000 to a commended competitor.
Related topics