Kensington House is on a unique site that the clients wanted to preserve. It sits adjacent to a small, grassed corner park that has be come a sort of "borrowed space" for the dwelling, with a tennis court that belongs to the house placed between it and the park.
The original Californian bungalow, which was mucked around with in the 1970s and then left to become shabby for thirty years, was accompanied by a kidney-shaped pool at the back and an outbuilding in a corner of the site. When the clients engaged Virginia Kerridge Architect to refresh and extend their home they had owned it for five years – and during that time they had discovered what worked and what didn't. When the clients first moved into the house their children were little and they appreciated that it didn't matter if the kids "trashed it." The house had a kind of loose freedom, which Virginia has managed to capture in her reworking of it.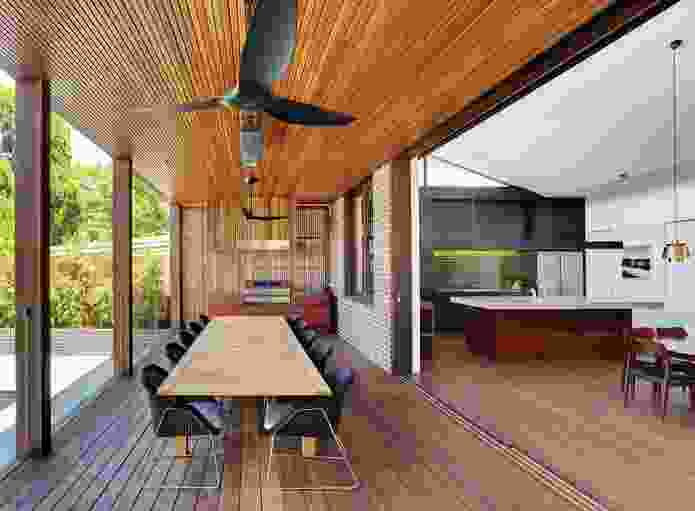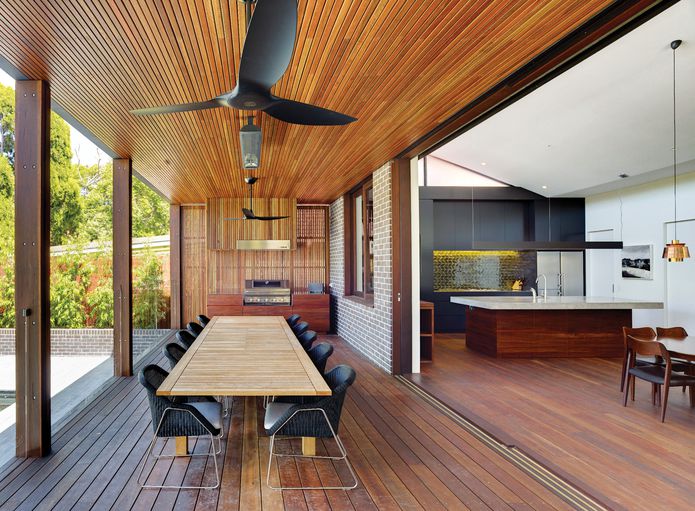 The biggest challenge was that the site is in a low part of the suburb and therefore is prone to flooding. The existing addition at the rear, containing family spaces, didn't really work with family life and was underwater at times.
Virginia encouraged the clients to keep the main part of the existing house and its character detailing (so as not to overcapitalize on the property), then add a new suite of children's rooms upstairs. She also replaced the dreary flood-prone rear living spaces with a new, slightly raised rear pavilion and large rear deck.
The old tennis court was replaced with a new all-weather half court in bright colours. This side of the house had a low-eaved verandah and remains discreet, only seen occasionally from the adjacent park through a vine-covered fence. Three new rectangular dormers poke out from the heavy tiled roof of the main house, with deep recesses for shading and louvres for privacy. Two of these dormers serve new children's bedrooms, while the middle dormer lights a reading room/playroom.
The detailing of the new rear pavilion displays the calm junctions that have become a signature of Virginia's work, and the selection of elemental materials gives the new wing a craftsmanship that harks back to the original house as well as an informality that befits a robust family.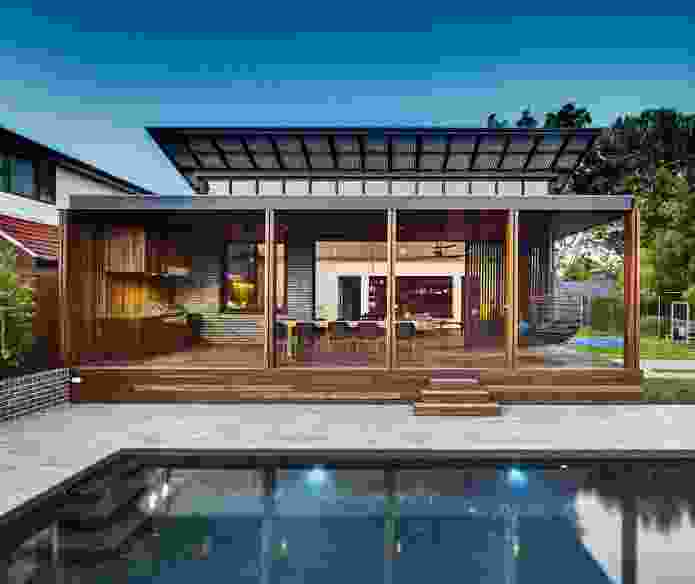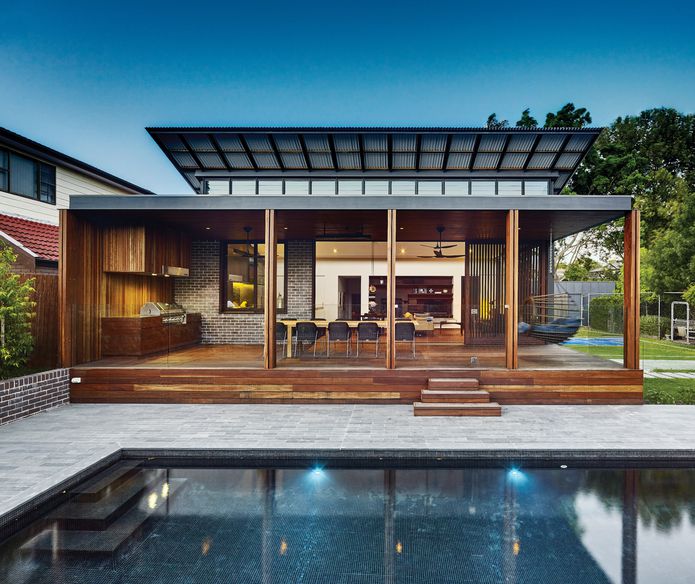 The main room looks toward the deck and the side court, and has a shaded clerestory. Its interior is white and light-filled, with a sunny living space, a comfortable eating area and a rich combination of bold materials in a large, restrained kitchen. The gear for perimeter sliding doors, blinds and screens sits behind a band of metal running internally and externally around the elevations. Louvres give high-level ventilation but are protected from rain by a wide, high-pitched eave, left without a soffit.
The importance of all-weather living is reflected in the integrity of the large covered deck, or outdoor room. Paired recycled timber posts sit at the edge of the raised deck and are capped by a fine inverted metal angle beam. Dark brick matches that of the house's street facade but is jointed with paler mortar. Timber decking boards, also forming the low sides of the raised deck, are matched by finer strip timber on the verandah soffit and around an end wall of built-in barbecue facilities. This space has fans and an outdoor heater that tempt use at unlikely times of the year.
The kidney-shaped pool at the rear of the site has been rebuilt into a more modern, discreet rectangular form, with almost invisible glass panels separating it from the new rear verandah. The corner outbuilding, used as a guesthouse, is now painted a dark colour to diminish its presence.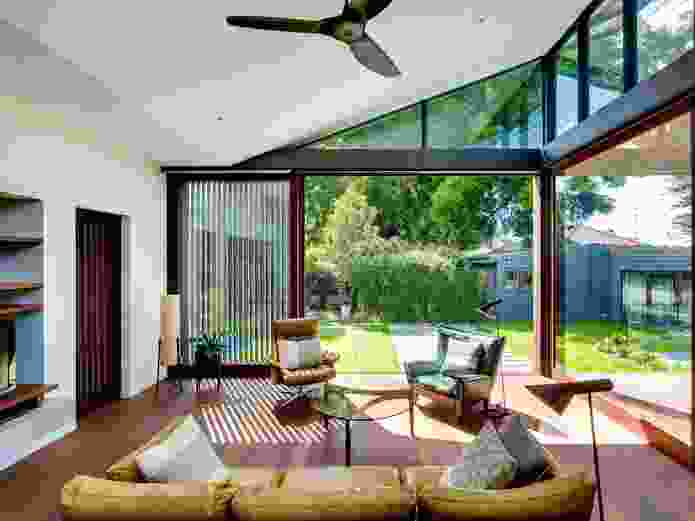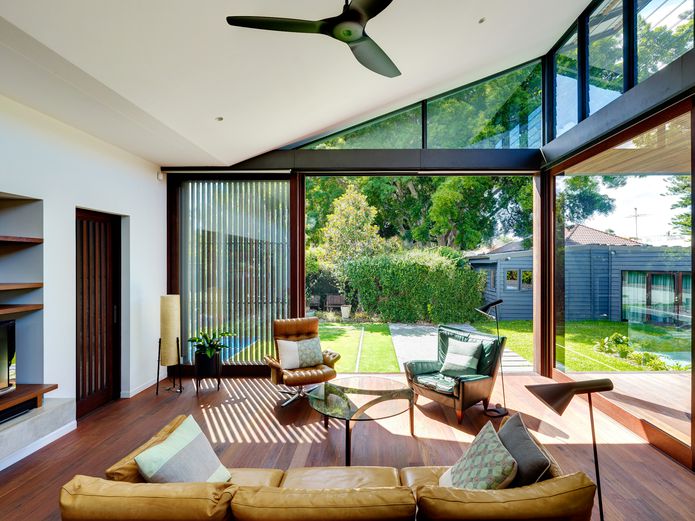 Invariably, suburban residential projects are tainted by a requirement for two off-street parking spaces, meaning visitors are greeted by an older house hidden behind a crudely scaled double-garage door or visible carport. But the width of this block has meant Virginia has been able to tuck a double garage between the house and the adjacent park, with the garage door perpendicular to the street. The front garden is fenced with an elegant timber screen, at some points sitting on a low brick fence that echoes the original polite garden wall.
This is a project that gives back on so many levels, in addition to the obvious rebuilding of the rear of the dwelling. The house is restored, the streetscape is respected and reinforced, parking for the owners and their guests is provided and the garden is safely fenced yet transparent. Materials are thoughtfully chosen, are carefully manipulated and offer delight both at first glance and on detailed scrutiny. It may not be the largest residential project Virginia Kerridge Architect has completed, but it shows the continued care and talent for which she is now justifiably reputed.
Products and materials
Roofing

Lysaght Custom Orb in Colorbond 'Woodland Grey'.
External walls

Austral Bricks Bowral Blue bricks.
Windows and doors

Fewings Joinery hardwood windows and doors; Halliday Baillie door pulls in satin chrome finish.
Flooring

Australian Architectural Hardwoods recycled ironbark flooring in Synteko finish.
Lighting

Great Dane Utzon Lamp copper pendant light and Mega Bulb pendant light.
Kitchen

Miele cooktop, oven and steam oven; Qasair rangehood; Liebherr fridge; Billi hot tap; concrete benchtops by builder; cabinets in recycled hardwood and polyurethane by Square Peg Woodworks.
Bathroom

Popham floor tiles from Onsite Supply and Design; Rogerseller Logic taps; Geberit cistern.
Heating and cooling

Haiku fan from Big Ass Fans.
External elements

Bisanna Tiles Diamond Grey natural slate, honed.
Furniture

Dining table from Vampt Vintage Design; dining chairs from Great Dane; lounge chair from Living Edge.
Credits
Architect

Virginia Kerridge Architect
Sydney, NSW, Australia
Project Team

Virginia Kerridge, Bernardo Santos, Bettina Steffens, Jonathan Tang
Consultants

Builder Artechne
Engineer SDA Structures

Site details

Location Sydney, NSW, Australia
Site area 998 m2
Building area 194 m2
Category Residential buildings
Type Alts and adds, Houses, Residential

Project Details

Status Built
Completion date 2014
Design, documentation 18 months
Construction 12 months

Source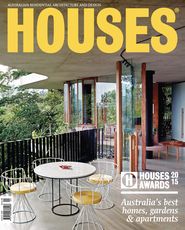 Issue
Houses, August 2015
Related topics