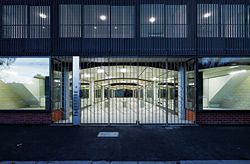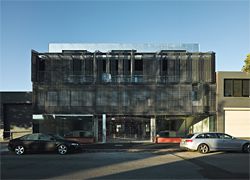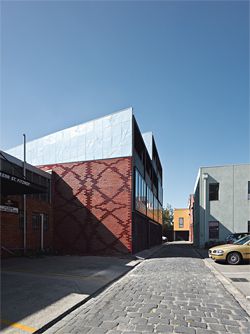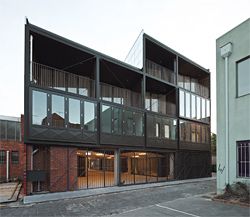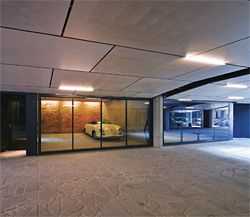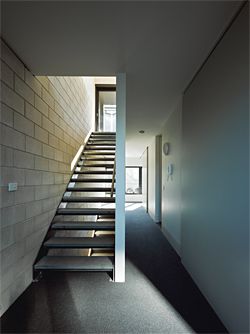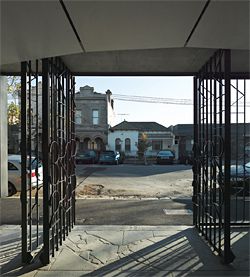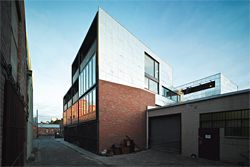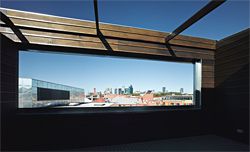 Architects have long been fascinated by multiple-unit residential housing projects. This fascination can surely be traced to the myriad of very particular characteristics of this form of building. Unlike most other architectural projects, where expression – of programmatic, aesthetic or technical attributes – is paramount, multiple-unit residential projects seem to disallow expression. They are always, in a sense, mute. Maybe it is this silence in the face of the cacophony of contemporary architecture that architects find so attractive? These projects are also highly symphonic works of art, for, again unlike other building types, they are compositionally concerned with the arrangement, repetition and variation of like elements and motifs. But, like John Cage's 4'33", the silent multiple-unit residential project disappearing into its environmental context becomes the performance.
They often require formal and spatial ingenuity in the manner of a puzzle, and so can deliver a form of professional gratification once the puzzle is solved. Not to mention significant planning and environmental efficiencies. Le Corbusier's Marseille Unité d'Habitation (1947–52) puzzle box is undoubtedly the most admired multiple-unit residential project by virtue of its spatial ingenuity, while in 85Australia Harry Seidler startled in his numerous split-level crossover apartment projects, such as Ercildoune Apartments (1963–65) in Elizabeth Bay. And they do more than gratify formally. They require inherent discipline as they are invariably highly constrained by budget, regulation and economy. They confirm the architect's own discipline.
Most importantly, more than other kinds of building, multiple-unit residential architecture has developed typologically. By this I mean that major advancements in the design of multiple-unit residential buildings have occurred in a step-like rather than an incremental fashion. No other building form is so highly categorized by type. Think of terraces, row houses, walk-ups, Sydney sixpacks, maisonettes, point blocks, balcony access flats: apartments are defined by their type, implying that the design exercise of the multiple-unit residential project is above all an exercise in typology.
Lastly, they confer an egalitarianism upon their designers, their contexts and their occupants. In housing groups of people they become barometers of society and tell us a great deal about the state of the individual within society and our public domain.
With these observations I hope, firstly, to measure the achievements of NMBW at their recently completed apartment building, 32–34 Kerr Street, Fitzroy, and secondly to make some observations about society and our place within it.
The Kerr Street units replaced two industrial buildings on the site, one facing the street and one facing a rear laneway across open parking. The new complex, containing seven residential units and two small home offices addressing Kerr Street, is configured much like the original, with a street building and a laneway building, except that these two are separated to allow air and light into the centre of the site. The laneway building itself is shaped to achieve city views for the street building and northern sun for itself, while the street building's top storey is set back to reduce its scale on the street, approximating that of its neighbours.
Running through the site centrally from street to laneway is a continuous six-metre-wide terrazzo arcade that provides vehicular (from the laneway) and pedestrian access (from both street and laneway) to the residential units. The laneway could possibly have been reduced in width at the street to allow additional street frontage, but maintaining its full width assures that the units have a public, even grand, address. Also, all cars are provided with turning access so they can leave the site in a forwards direction. In this respect, 32–34 Kerr Street is a very civic, not to mention civil, building.
Each of the seven units has space for two cars to park behind a clear glazed garage door. Entry to the units themselves is via a door but through this garage, suggesting that the garage is intended to be used for activities well beyond the storage of cars and domestic detritus. The ground floor, apart from the glazed shopfronts to the home offices, is clad in permeable metal gates and screens of detailed design.
The three units in the street building are identical, orthogonal and strictly adjacent, while the four units in the laneway building are varied, skewed and slightly overlapping by virtue of their need to solve more problems than the street building. The seventh unit seems vital. Without it, it would have been hard to resist repeating the street building on the laneway and creating a central courtyard, but with it, the courtyard fractures into small terraces adjoining particular units and overlooking various parts of Fitzroy and Melbourne. The seventh unit forces the composition to engage with the city, to be part of the city.
So what of its contribution to architecture? Number 32–34 Kerr Street is certainly no mute project thanks to its diaper brickwork, detailed metal gates and screens, patterned galvanized steel panels and folding pressed aluminium sunscreens on the north elevation of the street building. The exquisite craftsmanship of the cladding and metalwork should not assign this project to the pigeonhole of the bespoke; it is no fault of the architect that their client was a metalworker and eager to use his skills. This is no 4'33"; it is more Schoenberg.
The play of the relationship between the glazing and the balustrade location on the south elevation of the laneway building, the patterning of the north elevation of the street building as the sunscreens move, and the taut yet comfortable planning of the laneway units are less signs of focused ingenuity than high expression of architectural opportunity. Mere gratification has been elevated to pure delight.
And 32–34 Kerr Street is certainly highly disciplined, but with only seven units and at a density of approximately 107 dwellings per hectare, it can never match Le Corbusier at Marseille or Seidler at Elizabeth Bay. Despite these numeric lacks there is an abundance of architectural auto-pleasure in Kerr Street.
Typologically, 32–34 Kerr Street extends the themes of Brian Klopper's seminal Fremantle apartment buildings of the 1980s, such as Sadlier's Bond Store (34–36 Henry Street and 31 Pakenham Street), Fabrik (3–5 Ellen Street) and Primaries Woolstore Conversion (119 South Terrace). In these projects, 89cars and people enter the site together, arcades are created through sites to provide access and permeability, public space is created and amplified, and the experience of living in an urban environment is brought to the fore.
The greatest achievement of 32–34 Kerr Street, like the Klopper projects, is in their propositions for, and constructions of, a way of living in the contemporary city. Recent apartment buildings in Fitzroy and elsewhere in the world have tended to adopt very suburban or pastoral models of social life. Cars are separated from people, people are separated from each other so that privacy is absolute, residents of the apartment building are separated from the public at large, the residences themselves are separated from commercial activities. Architects such as NMBW and Klopper before them offer another way of life, where connectivity and mediation of social experience are proposed rather than separation and absolutism. The result is a form of truly urban architecture that I hope will flourish in this country and around the world.
Simon Anderson is the Winthrop Professor of Architecture at the University of Western Australia.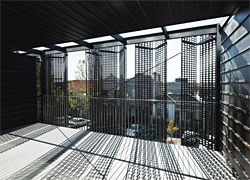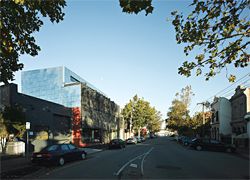 Credits
Architect

NMBW Architecture Studio
Melbourne, Vic, Australia
Project Team

Nigel Bertram, Lucinda McLean, Marika Neustupny, Laura Harper, Rowena Henry, Ralf Rehak, Brenton Weisert, Petra Mueller, Robert Gordon, Andreas Heierle, Nicholas Ashby, Samuel Hunter
Consultants

Acoustic engineer Arup Melbourne
Builder Galvin Construction
Building surveyor PLP Building Surveyors & Consultants
Environmental consultant Golder Associates
Geotechnical and environmental audit Golder Associates
Hydraulic engineer C. R. Knight & Associates
Mechanical and electrical engineer Hyder Consulting
Metalwork Monty Manufacturing
Planning consultant Collie Planning & Development
Structural engineer Aurecon

Site Details

Location 32-34 Kerr Street, Fitzroy, Melbourne, Vic, Australia

Project Details

Category Residential
Type Apartments

Source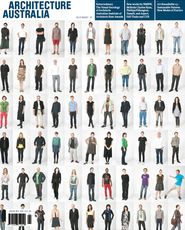 Issue
Architecture Australia, July 2010
Related topics