Chinese developer Dalian Wanda Group is seeking approval to amalgamate three key sites which together form a bookend to Sydney's Circular Quay, which would pave the way for a Kerry Hill Architects designed, competition-winning apartment tower to be scrapped and replaced with an "own brand" hotel.
The sites include the current land parcels for Gold Fields House (1 Alfred Street), Fairfax House (19-31 Pitt Street) and Rugby Club (31A Pitt Street), all located at the northern end of the Alfred, Pitt, Dalley and George (APDG) precinct.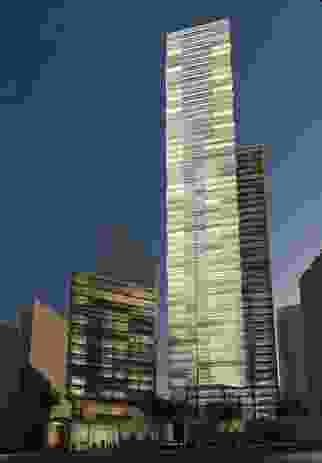 On the site of Gold Fields House, Kerry Hill Architects won an international competition to design two apartment towers in 2009. Planning approval for the towers was granted in 2010.
Dalian Wanda Group bought the site from previous owner Valad Property Group in January 2015 for $425 million. The developer has since also acquired the neighbouring sites of Fairfax House and Rugby Club.
In June 2015 Dalian Wanda Group, along with development consultant Urbis and architects Crone Partners, lodged a Stage 1 State Significant Development Application with the NSW Department of Planning.
The application seeks to consolidate the three separate land parcels into a single 4,042 square metre site. If approved, this would allow the developer to significantly increase the floor area across the site.
A separate Stage Two development application was submitted to the City of Sydney seeking to marginally increase the building envelope of the Kerry Hill Architects-designed "Tower A." While the overall height of the proposed 57-storey residential tower will remain the same (185 metres), the developer plans to increase the floor area by filling in voids and extending the building envelope two metres to the north, 0.9 metres to the east and 0.6 metres to the south. The ceiling heights in the penthouse and sub-penthouse apartments will be increased to 2.7 metres within the current proposed envelope.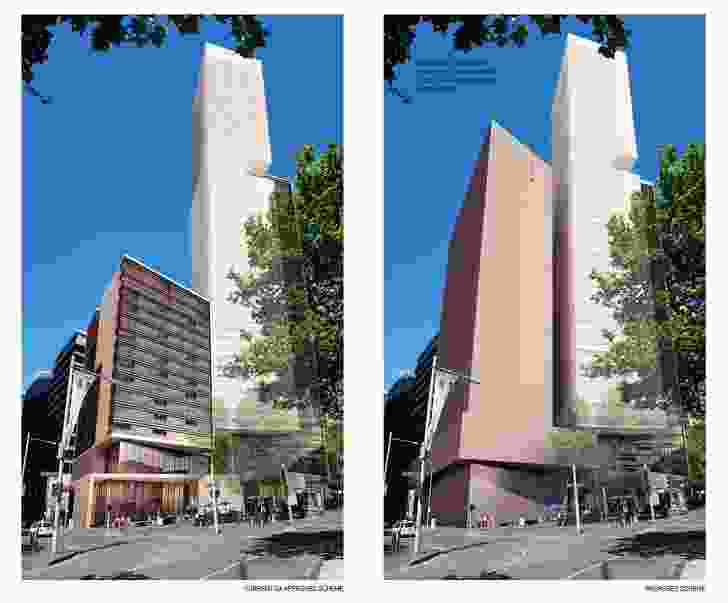 While Kerry Hill Architects have been retained to make minor changes to Tower A, the second 15-storey Tower B will be scrapped pending the site consolidation, along with an approved 25-storey residential tower on the site of Fairfax House.
The developer proposes to replace the residential towers with a new 25-storey 5-star hotel, that would increase the floor areas of the current proposals by 20 percent. The Wanda Vista hotel (Tower B) will be required to undergo a competitive design process, however, the City of Sydney has not yet determined if the competition will be open or invited.
The entire development is reportedly worth $1 billion and forms the western bookend of the Circular Quay strip with the 3XN-designed 47-storey AMP tower proposal at the eastern end. Other developments within the neighbourhood, including 174-176 George Street and 33-35 Pitt Street, both by Lend Lease, will also contribute to the multi-billion-dollar renewal of the CBD precinct.
Related topics