The suburban town hall at Broadmeadows, in Melbourne's north, has re-opened to the public, revealing a sensitive alteration and addition by Kerstin Thompson Architects.
First opened in 1964, the distinctive hall, known as Town Hall Broadmeadows, has been updated to the tune of $25 million, and now includes a new functions and events space, an art gallery, and co-working spaces.
Hume council had, in 2002, proposed demolishing the hall, but reversed its decision following pushback from the community. KTA's design has aimed to retain the "strengths and clarity" of the building – particularly its "scale, symmetry, civic grandeur and ceremonial organization."
As part of the transformation, a new building, in the form of a glass box, has been introduced to the south of the hall, providing additional floor area as required by the brief. This annex was designed as a "quiet, calm counterpart to the punctuated brick hall," making a clear distinction between the heritage fabric and the new addition. At night, this annex lights up with "an unexpected rainbow light show."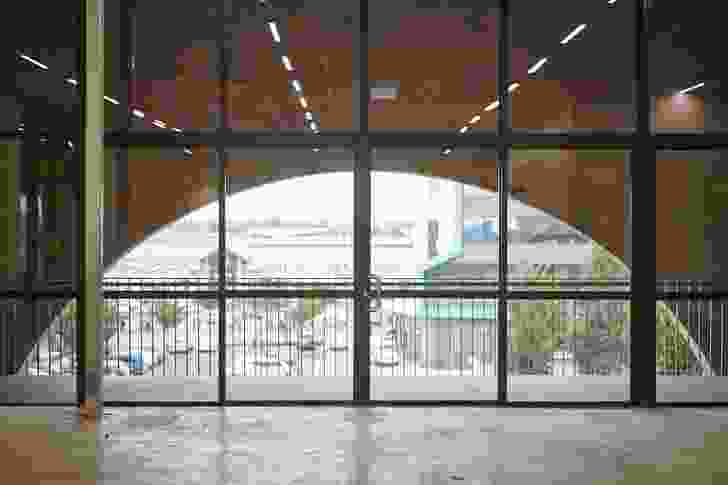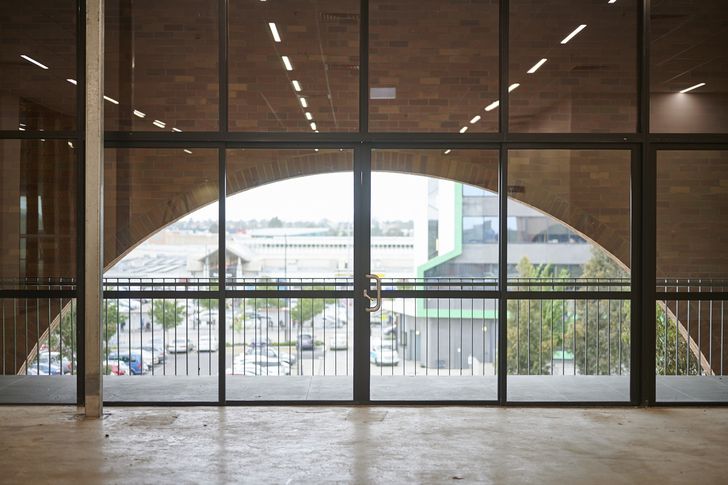 Speaking at the official opening, Kerstin Thompson discussed the importance of celebrating the history of the building.
"When we first saw the photo of the main facade on the cover of invitation to tender I was struck by the handsome beast it was, the suburban civic grandeur; [but] yes, a bit lost in a sea of car park," she said.
"The gravitas, the weight and thickness of its walls, the generous proportions of its interiors and distinctive brick palette was worth saving. Not just for its proven resilience as a structure but also as a repository of the local community's memories."
KTA's strategy for addressing the hall's context in the car park was to open the hall up to the community, "physically and culturally, commercially…via a series of cuts that reveal the life and new uses inside." The adjacent outdoor spaces establish entry forecourts and define more intimate squares and gardens.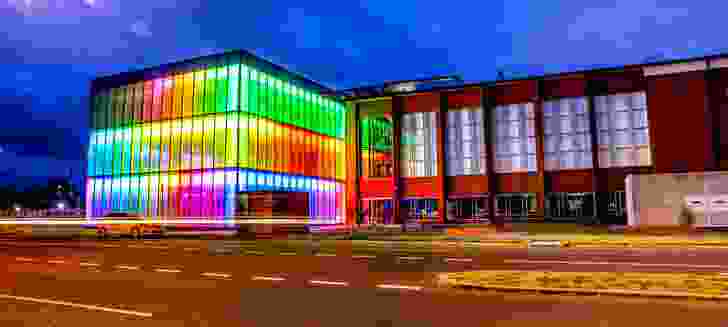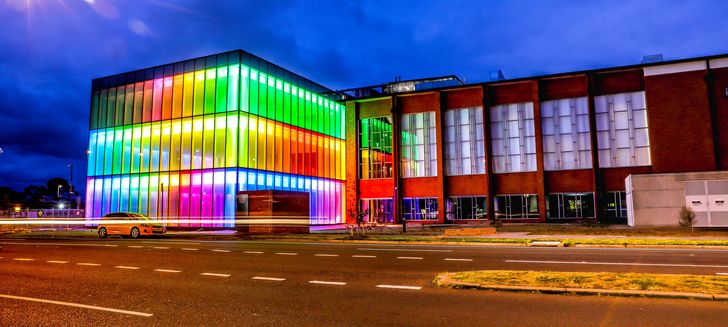 In addition to the "ceremonial" route through the building via the existing foyer, KTA added a new lateral one running north-south. This runs through all floors within one of the structural bays connecting commercial and community spaces.
KTA collaborated with artist Robbie Rowlands on the redevelopment, who contributed the Crossing the Floor sculpture, hanging above the stairway.
Hume council is celebrating the reopening with an exhibition, which will show the work of Rowlands and KTA, as well as photographs of the hall before its transformation by John Gollings. Singing Bowl Media has also made a film about the history of the hall.
"We were so proud to be able to re-open the doors to one of the icons of Melbourne's North last month and its state-of-the art gallery will support the Hume Arts community for years to come," said Carly Moore, Hume mayor.
Inaugural Exhibition is running until 6 December.
Related topics