Kesho Leo, meaning "today, tomorrow" in Kiswahili, is a home and community centre with educational, social and health facilities for eighty women, children and orphans and the wider remote rural community of Sinon in Tanzania. The extremely limited budget and the site configuration required the building footprint and surface area to be contained, retaining as much agricultural land as possible. Other major factors were the challenging tropical climate and the high expense and poor availability of often inferior materials. As is often the case with good architecture, adversity inspired innovation throughout the project – in planning arrangements, systems such as the unique "kanga" roof system and site precast concrete walkway elements, and processes.
The site had no services at all so the whole complex is totally self-supporting. The building is surrounded by a permaculture farm. Energy is generated on site – electricity from solar, methane gas from an in-ground biodigester. Harvested rainwater is stored in tanks under the building, the surplus going to an artificial aquifer built from old truck tyres.
The local community was involved in construction, volunteer builders imparting building knowledge to local subsistence farmers. The architects and the whole team have shown generosity (their work was gratis), vision and ingenuity in intelligently addressing real social problems. Although attractive architecture, this was most certainly not a superficial aesthetic exercise. This was a project literally conceived and built from the ground up, created from absolutely minimal means in almost impossible conditions. Australian architects have created in Kesho Leo an architecture of great meaning and an international beacon for social and ecological responsibility.
– Jury citation
Credits
Architect

Watson Architecture + Design
East Melbourne, Melbourne, Vic, Australia
Project Team

Robert Watson, Dale Simpson
Consultants

Electrical and ESD consultants Mark Cummins and team, Advanced Environmental Concepts, Lincolne Scott
Structural and civil consultant Perrett Simpson

Site Details

Location Sinon, Tanzania, United Republic of
Site type Rural
Category Education, Health, Public / commercial

Project Details

Status Built

Source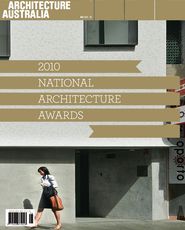 Issue
Architecture Australia, November 2010
Related topics