Eoghan Lewis: On considering your work, words like economy, invention, logic and heart come to mind. It's also playful.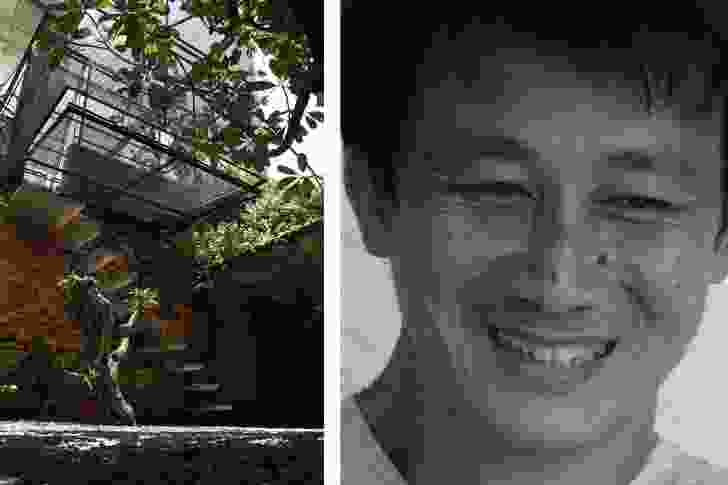 Kevin Low: I try to do things as cheaply as I can manage. It doesn't work all the time, but it's something that I try to make evident in the things I do. I want to focus on issues of content, and the moment you touch on issues of content you have to deal with the word economy. We've gotten so used to getting everything we want over the past fifty years that we haven't really asked questions about what we really need, which has to do with issues of economy.
EL: You say in your book that "the final appearance of a work … is only as vital as its state of evolution and the process which birthed it: the product might be important, but only as far as its production is important." Talk to me about how you work; your studio, your collaborations and your design process.
KL: I work alone, and when you work alone everything becomes a lot more internalized. I don't have staff to bounce ideas off of. When I speak process, I don't mean the design process as much as I mean the making of architecture requires lots of people, whether its a welder or a mechanical and electrical contractor, and its important to me that I understand how they process their work. What allows a welder, say, to realize a design if it's designed slightly differently and can be fabricated with greater ease; understanding how services are routed so that when I design them I can design aesthetics into it – but not an aesthetic that makes it more difficult to fabricate or produce, but one that enables the subcontractor to feel a bit more joy and have a bit more ease.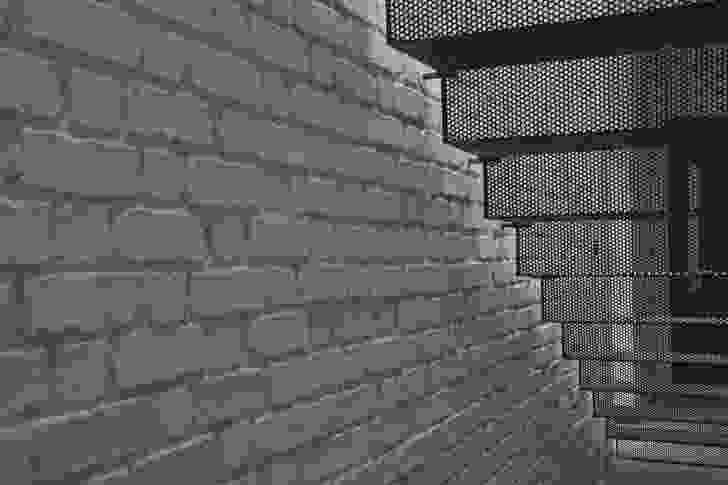 It's not just about the fabrication process, it's also about how a building is maintained. It's important to me that all those issues are considered and those people are taken into account. So it's that whole issue of its production that for me has to be poetic. If the product ends up poetic too then that's great, but if not, then at least its production was.
EL: Congratulations on the book [Small Projects, Oro Editions, 2010]. It's exquisite. How did it come about?
KL: It came at a time when I was a bit depressed and was extremely bored with the work I was doing. When you work in just one place, it's like you have figured out all the questions to ask and so you keep arriving at the same answers. There are only so many types of materials you find in any one country and only so many ways of putting them together. The book was intended to be a break from architecture, but I didn't want to be distant from design. So when it started it was not meant to be a book about work, it was meant to be a work itself, and as a work I felt it was important I was involved not just with the writing of it – it was not a vanity project as such – I wanted to be involved in the design of a whole book. And if you've not designed a book or considered how typography works then there is an enormous learning curve. Whether its three columns or two columns; why all the productions from Europe and the United States read so differently from other productions today. And this birth of the coffee table book; what makes a coffee table book feel or look like a coffee table book? All those questions were important to me. And the type[ography] – how many pages it had to be and how small the type was, which fonts read best for people with poor eyesight – which is a category I am beginning to fall into. So the smallest issue became a whole new world to discover. I didn't want it to be something someone goes through with photographs taken by someone hired. It wasn't intended to be a brochure. It was intended to be a project to help me get through that time.
EL: How much did you do yourself?
KL: All of it. Parts of it – the way the chapters were organized and the layout graphically were partly inspired by Swiss graphic designer Nadine Rinderer. She designed a remarkable book for Swiss structural engineers Jürg Conzett and Partners (Structure as Space: Engineering and Architecture in the Works of Jürg Conzett and his Partners) and there were some bits of it that were fantastic, though you almost had to look at the back page before you understood where you were. I took this book as a base from which to make certain adjustments that I thought would work better for me.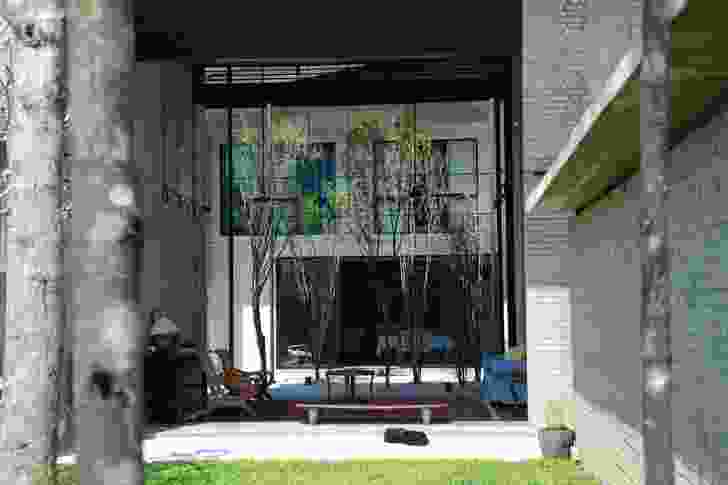 EL: You write that good architecture establishes "the garden at the beginning of its spatial theory." What role do gardens play in your work?
KL: I often tell clients that if they have a five-star house and an awful garden then they will have a shitty property for the rest of their lives. They could have a two-star house on the other hand, or something that's run down, but all they need are a couple of french doors to an absolutely exquisite garden and suddenly the whole house takes on a new lease of life. This demonstrates the impact that a garden has on a dwelling. Architecture doesn't end with your front door or your window. Architecture is about space and space is a continuum. We have doors and windows to keep in the heat or keep out the cold, but really, when you think about what space is really about, it's a continuum.
When you're depressed you think about nature as a getaway. Well, some of us think of food, or movies, but really I feel most relaxed when I'm away in nature because nature doesn't project any gestalt. It is what it is. So your mind wanders less. It's no wonder that most forms of insanity or depression occur in urban environments, because there are so many things that become gestalts that project; that you can become preoccupied with.
Nature doesn't do that, and because of that, "garden" implies "part of nature." And when I say that, I don't just mean leaves and boulders and trees, I mean any place that sunlight is invited into or wind blows, or any place that leaves can fall on. So it becomes imperative that architecture begins with that and grows from that, as opposed to being the sum of geometries and theories of architecture and style.
EL: Your work feels ancient and contemporary at the same time. Its international, yet very much of its place. Tell me about the influence of the Malayan vernacular on your work and on lessons learnt.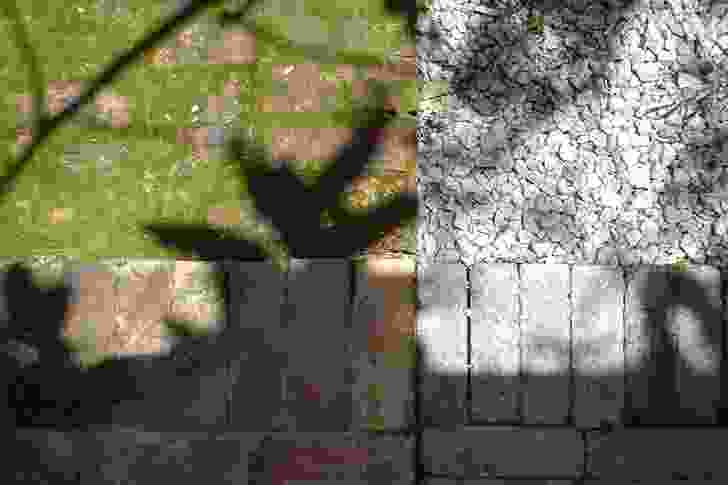 KL: The specific context of Malaysia is a difficult one to deal with. It's a lot of everything and a whole lot of not one thing in particular. There is such a mixture of different cultures that it's hard to point to one thing specifically that's Malaysian. Its architecture has started taking on the mantle of having the tallest buildings in the world and we try to build up this architectural heritage when our most gracious form of architecture is the simple Malay kampong village house or the Chinese Shophouse which are two completely powerful examples of work in our country. As such, my inspirations are not drawn from anything that we see in contemporary architecture in Malaysia. Rather, it's driven by my response to East and West, to the driving rains, that sun which creates this remarkable rate of growth and decay that cakes everything. If you don't clean a building it begins to look ancient.
I just believe in the gardens taking to the buildings as unselfconsciously and as passionately as the garden takes to a ruin. And I find that there is something absolutely remarkable in ruins that are completely lovely yet don't require much maintenance or cleaning, and that's basically what I feel most compelled by when I start a project.
EL: You talk about the "less than perfect construction culture that typifies Malaysia," and how construction mistakes become "friends," left as traces of "construction biography."
KL: Sometimes imperfections look bad when they are next to other imperfections. When you group a whole bunch of imperfections together they look homogenous in their untidiness. But when you gauge that imperfection to be suitably contrasted with something which is a little bit more finished, then sometimes that imperfection doesn't need to be corrected and it gains value by being next to something else and actually gives value to the rest of its context. At the end of the day, it's all about relationships and context and if you see a relationship in the right way it can give you a whole lot of payback without the pain of trying to have our buildings look like a Swiss Army Watch or a Rolex.
Architecture is not a product, it's a process of expertise. That's why it's called the practice of architecture and not the production of architecture, because anything that is a practice is something that you're still practicing and not something that you're perfect at.
EL: You talk about the 3 per cent of people who can afford architecture but also the 97 per cent who cannot. What are you doing that addresses the 97 per cent?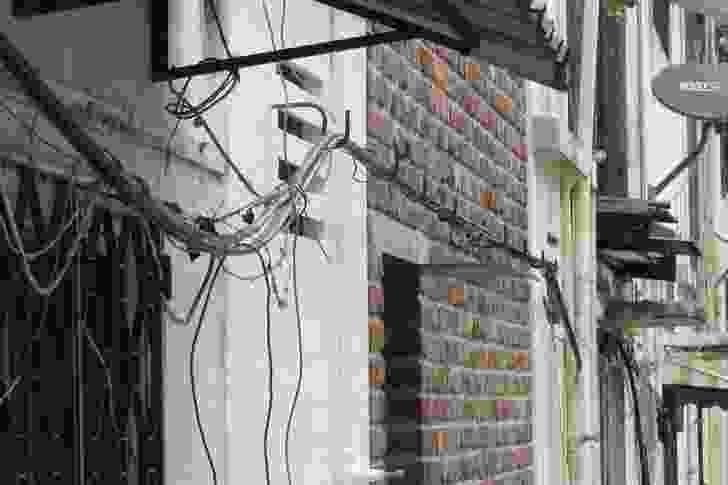 KL: There were a series of projects I took on for the Police Department in Malaysia. I went in to make a police report eight years ago and I was shocked by the state of the toilet I visited. The seats weren't working. The urinals were all broken. The sinks were completely filthy – one was filled with vomit. So what I did was pull together some contractors and brought them in to fix that one police station toilet which led to a few others. Then someone upstairs got wind of it, and didn't like the idea of someone fixing their toilets because it implied some kind of undercurrent that they didn't know about, so that ended there.
I'm involved on the side with a friend who trades building materials in Malaysia, and he involves me in rural clinics as well as a low-cost rural housing module – a proposal for a house that the East Malaysia government is considering. But I don't talk about it much, simply because work like that never ends up with any really decent grace of architecture. When it comes to low-cost housing, everything is hard-lined to the square inch of, say, the ventilation or the light that the dwellings need by law, so that the grace of architecture is barely able to be accomplished unless you do something incredibly radical. The only thing I think I'm doing in terms of being radical is a low-cost housing module, but everything else is ugly. Hopefully there are small changes to space that allow the inhabitants that bit more measure of the grace of living. I'm not sure that it makes much of a difference, so I don't talk much about it. It's embarrassing. Like my elevations. I do horrible elevations. I'm not very good from the outside in.
EL: One of the charming aspects of the book are the sketches; the studies and the communication of the nuts and bolts of a building. They have the quality of some of Scarpa's working drawings. Tell me about scale and the thinking behind things big and small.
KL: Wow. That's too much for me to handle (Scarpa). Sometimes I can't figure out what to do for an elevation – maybe that's why they're so bad. If I don't have a handle on the detail of how that hand railing is made to work, or a light fixture say; door handles are also really important to me as they are those parts of a building that you actually come in physical contact with. You know, floors, door handles, toilets that flush and all that, and to have an idea of that so that when everything comes together there's that thread of continuity you feel, you know, as a kind of mood that's carried throughout the whole project. So it becomes really important for me to deal with these things at different scales. At any one time I'm working on one particular aspect of a project, that change of scale is very important. Not working on a computer helps a lot, because when you work on a computer that change of scale happens as soon as you magnify or reduce which you can't do when you're working on a drawing, and knowing that when you're drawing puts it in a whole different context. So I find design works best for me when I'm actually with pen or pencil and working directly on paper.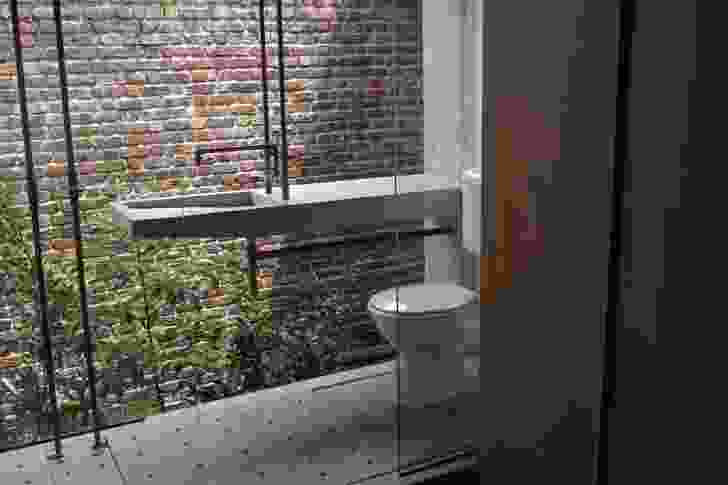 EL: Your work is precious but you don't appear to be precious about your work. It's exquisite but not not in a way that relies on polish.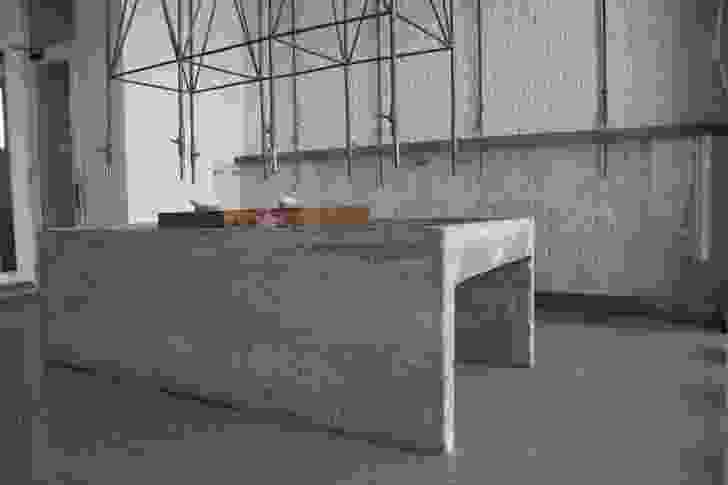 KL: Well that's really nice. Thanks for saying that. There was this architect from China who visited once, and he put it really well. He said something along the lines of "your materials and the ways in which they are fabricated are very raw and very rough, but the way in which they are designed together is refined."
Maybe that touches on those issues. Materials are like friends in a way. And as a friend, you want to know exactly what it is and what it can do. So it's all about the relationships between one and the other, and how they all come together in a more merry fashion. The way a welder puts steel together can be pretty awful, but if you have a kind of narrative for it, which enables you, which guides you to arrange other materials of greater refinement in contrast with it, then suddenly you've not hidden that lack of refinement but showcased it in a way that makes it feel like a friend rather than something that's too precious or too ugly.
Kevin Mark Low was a guest of the Australian Institute of Architects International Speaker Series in 2013, and a keynote speaker at the inaugural Regional Architecture Conference (Spirit of Place) in Cairns.
Related topics