In 1994 British architects Alison and Peter Smithson published a series of annotated drawings titled Small Pleasures of Life in their book Changing the Art of Inhabitation. The sketchbook excerpt depicts ten vignettes illustrating how delight can be nurtured through design. The experiences outlined in the notes appear modest and uncomplicated: "to work or write at a creeper bordered window," "to see the sunlight spread across the floor" or to simply enjoy a view to "vegetation/the trees." However, the prior deliberation involved in enabling these commonplace experiences is revealed by the drawings, which portray a specific architectural gesture behind each instance of domestic bliss.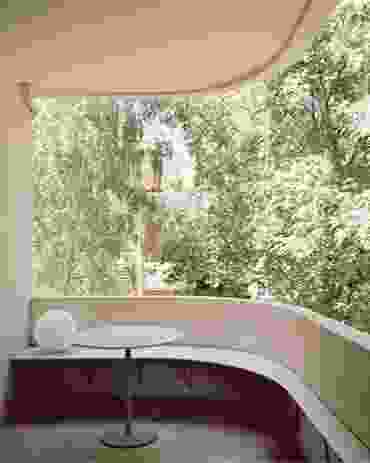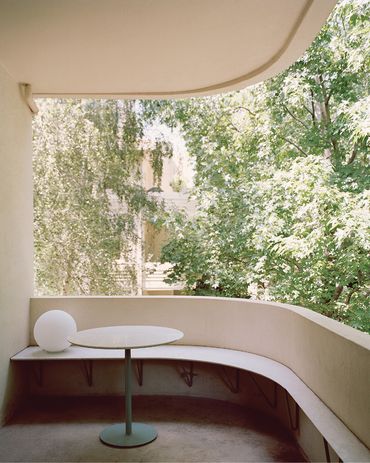 This collection of sketches forms an uncanny portrait of life at Kia Ora, a bijou apartment in Melbourne that was recently revived by Baracco and Wright Architects. In response to the existing Art Deco interior, directors Louise Wright and Mauro Baracco with project architect Jonathan Ware, have cultivated a meticulously detailed overlay of furniture and finishes that shape the way the home is inhabited. A number of the architectural elements described in the Smithsons' diagrams were already present in the existing apartment. A bright green view to foliage, for example, is framed by well-positioned windows in almost every room. The rest is the work of the architects, who have instilled the home with the comforts necessary to enjoy the "small pleasures of life": "to have easy access to possessions without sensing their presence all the time," "to sit comfortably and read or talk of an evening," to feel "doubly enclosed" while bathing and to simply "stand and look out without glare."
The apartment is a striking departure from the familiar image of Australian homes as open, sundrenched and highly saturated. Instead, Louise and Mauro have composed an atmosphere of calm through sophisticated manipulation of light and material. Translucent glass shutters in the kitchen and bathroom transform the glare of summer sun into a gentle wash of light that softens the edges of objects and surfaces. In the lounge room and bedrooms, custom brushed-steel curtain rods carry layers of velvet drapery, as well as sheer linen that mitigates afternoon sun. These swathes of white fabric permit a verdant glow and leafy play of shadows into each room. A restrained materials palette limited to muted grey walls, deep-green floor coverings and cloudy Carrara marble enhances the mood. Describing the ambience, Louise remarks that "it's kind of like being in an Edward Hopper painting" – an early-twentieth-century artist whose canvases frequently depicted sparely decorated interiors awash with light.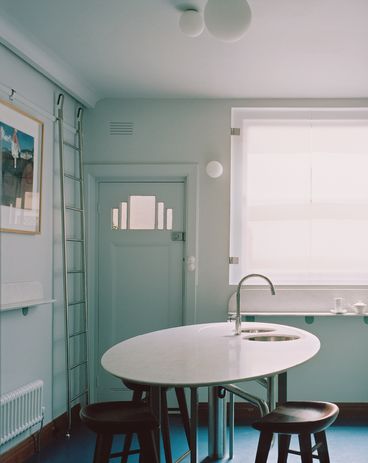 Despite the relatively small scale of the home, the new interior is replete with subtle aesthetic references. As is typical of work by Baracco and Wright Architects, Kia Ora embodies the functionality and precision of International Style modernism tempered by a youthful Italianate spirit. Inspired by time spent working in Venice and Milan, Louise and Mauro embrace the Italian tradition of architects also working in furniture and industrial design. At Kia Ora this manifests in a suite of bespoke furniture items that once again fulfil the Smithsons' criteria for a life well lived. In the lounge room, sitting opposite a new stone hearth whose exaggerated proportion Louise explains is "a mechanism that registers the length of the room," a curvaceous mint-green sofa is a place to sit comfortably at the end of the day. The sofa's cantilevered backrest doubles as a writing desk or, better yet, a convenient ledge on which to rest a glass of wine. In the bedroom, a custom bed and wall-hung side tables sit beneath three milky-white wall lights, providing all the comforts necessary for reading in bed.
Architect-designed furnishings are continued in the kitchen, where a fine-edged dining-table-cum-bench carved from Carrara marble is central in the space. The surrounding joinery provides the small pleasure of having "easy access to possessions without sensing their presence all the time." Cleverly designed cabinetry conceals the stovetop and additional prep area, and a steel ladder and guide rail enable easy access to the full-height cupboards above. Louise, who is trained in interior design as well as architecture, explains that every added element "had the potential to overwhelm the room." This includes their own additions, which they have treated as a series of insertions, articulated by chamfered edges and dimensions that leave a fine, shadowed breathing space between new elements and the original walls.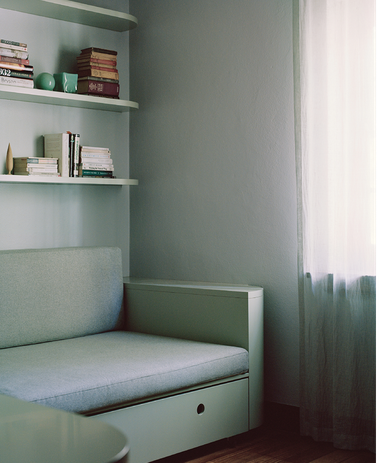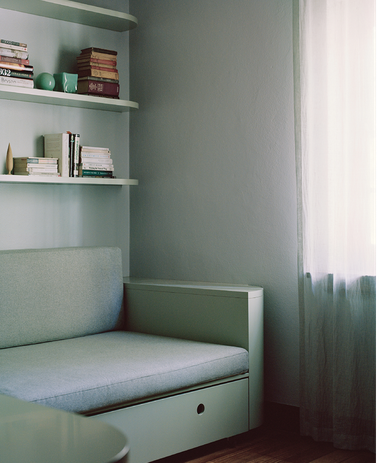 This subtle technique is meticulously executed in the bathroom, where dove-grey wall tiles are packed out from the existing masonry, creating a second skin that "doubly encloses" the space. A bathing alcove, in keeping with the fashion of Art Deco bathrooms, further enhances this comforting sense of enclosure. Details such as this allow the existing built fabric and the new architecture to hang together seamlessly in a way that resists periodization; so much so that at times it can be difficult to discern which elements are contemporary additions. "There's a tension when you're working within a strong existing condition, but still adding a layer of architecture that's in the tradition of your practice," says Louise. "Anything new is designed to have a conversation with what's there in a way that isn't jarring."
At Kia Ora, this conversation takes place between architectural geometries. The rectilinear Art Deco detailing, present in the original architraves, skirting, cornices, doors and door handles, sits in contrast to new curved forms. The sweeping arc of the balcony has been rescaled to develop a motif that serves as a subtle signifier of each element that Baracco and Wright Architects has layered throughout – a mechanism that makes the found condition legible. The pleasure that Louise and Mauro take in their work is expressed in this rigorous yet playful interior. In so thoughtfully facilitating the most intimate expressions of domesticity – bathing, sleeping, eating and the safe storage of treasured objects – Baracco and Wright Architects has made the Smithsons' drawings tangible, culminating in a home that must truly be a pleasure to live in.
Products and materials
Internal walls

Custom paint colour from Aalto Paint
Flooring

Dalsouple Dalrollo rubber flooring in 'Blue Canard'; Tretford carpet in 'Autumn Fern'
Lighting

Artemide Dioscuri wall lights
Kitchen

Honed Carrara marble shelves and island benchtop; 2-pac joinery fronts in Dulux Traditional 'Grey Green'
Bathroom

Agape Bucatini bathroom accessories, Dtile tiles in 'Pigeon'
Windows

Viridian Décor Satin frameless glass panels
Other

Custom furnishings designed by architect
Credits
Architect

Louise Wright, Mauro Baracco, Jonathan Ware, Baracco + Wright Architects
Architect

Baracco + Wright Architects
Northcote, Melbourne, Vic, Australia
Consultants

Builder Atma Builders
Heating Nissl Eichert Heating
Joiner G. C. and B. S. Koumas

Site Details

Site type Urban

Project Details

Status Built
Category Interiors, Residential
Type Alts and adds, Apartments

Related topics