Young children learn through the many sensory pathways that connect them to the physical environment, to others and to themselves. Through playful interactions with the animate and inanimate, children encounter, explore, experiment, identify, negotiate, take risks and develop understandings of their physical, social and cultural environments.1 These are whole-body interactions where vision and hearing provide spatial and temporal information, and where the haptic system provides information about surface and environment; its texture and thermal qualities, distance, scale, balance and positional awareness.2 Play-based learning is actively experienced; motivated by curiosity and memories, it promotes physical and cognitive development and is central to the Early Years Learning Framework. Early childhood environments therefore need to be sensory and to promote play, however they should equally be safe and healthy environments.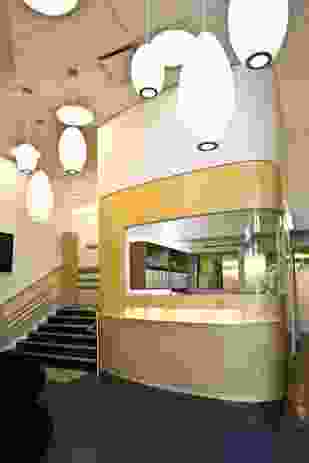 In recognition of this important and vulnerable stage of life, a complex array of regulations and standards has been legislated for early childhood environments. Federal, state and local government bodies all have regulations that relate to floor space and outdoor play space per child, age groupings, maximum group sizes, ratios of children to staff, sightline requirements, number and type of amenities, security, materiality and fabrication systems. Negotiating these at times conflicting regulations as they relate to each unique site is a balancing act and comes down to best practice. The Zenith Kids Inc Childcare Centre, by Futurespace, is no exception.
The original space was inefficient, multi-level and did not flow. Access to services was limited due to the Zenith Theatre below. The challenge was to remediate the spatial relationships to ensure an easy flow of daily routines and activities and easy access to and between indoor and outdoor spaces, staff spaces and utility spaces. Through the creation of a central service block, a number of issues were overcome. Access to services was achieved with minimal disruption to the theatre below. The necessary division between the prescribed age groups was created with dual access to the entrance, amenities and the outdoor spaces. The efficiency of the layout achieved the desired number of places for the centre, provided good sightlines and resulted in an economic solution.
Alongside efficiency, a sense of space and scale was required. High, open spaces were "scaled" by creating "child-sized" activity zones. These afford flexible opportunities for play-based learning while maintaining a sense of structure, order and familiarity; quiet areas for reading, nooks for retreat, group spaces and spaces for "messy stuff," for example. The zones are defined spatially through a series of material transitions representing shifts in colour, form, texture and sound, with a range of sensory elements located at relational heights for the different age groups. The zoned approach extended to the exterior, designed by Daniel Baffsky of 360º Landscape Architects, which incorporates areas for free play, play equipment and a living, edible and sensory garden.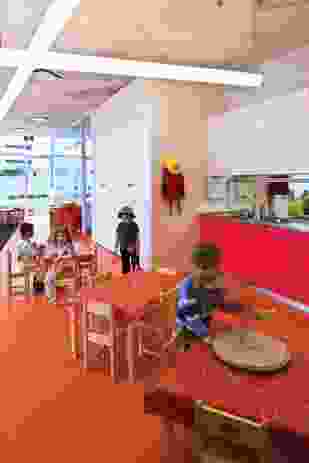 The design intention was to create "an easy environment" that was inviting, easily read, sensorial, safe, secure and healthy. For this, the design takes on touches of home, touches of health care, and a sustainable approach to create a welcoming yet hygienic environment that is durable, easy to maintain and environmentally sensitive. Such environments help children feel they belong and promote curiosity to explore and motivation to participate. Clarity of space, ease of viewing and information touch points also promote a sense of confidence and comfort for parents when leaving children at the centre.
The success of the project can be attributed to a number of key factors include developing a strong collaborative project team, understanding the needs of the operator and staff to create a facility that makes it easy for teachers to plan their program, creating spatial relations that reflect the flow of activities and structure of the day, and providing an environment that follows the Early Learning Years Framework of play-based learning that creates a sense of belonging, being and becoming.
1. G. Moore, "Designed Environments for Young Children: Empirical Findings and Implications for Planning and Design, Children and Young People's Environments," M. Gallop & J. McCormack (eds.), Chapter 5, 53–63 (Dunedin: University of Otago, Children's Issues Centre, 2002).
2. S.J. Lederman & R.L. Klatzky, "Haptic Perception, Attention, Perception, & Psychophysics," 71 (7), 1439–1459, (2009).
Products and materials
Walls

Knoll fabric and EchoPanel from Woven Image.
Flooring

Vinyl flooring from Forbo.
Lighting

Saucer from Spence & Lyda.
Furniture

Chairs, tables and lounges from Corporate Culture.
Credits
Design practice

Futurespace
Sydney, NSW, Australia
Project Team

Angela Ferguson, Lisa Dinham, Karen Garrett
Consultants

Builder FDC Building Services
Engineer Medland Metropolis Sydney
Graphic design Penny Bowring
Landscaping 360 Degrees Landscape Architects
Lighting Medland Metropolis Sydney
Project manager APP Corporation

Site Details

Location Cnr Railway Street & Day Street, Chatswood, Sydney, NSW, Australia

Project Details

Status Built
Design, documentation 10 months
Category Education, Interiors

Client

Client name Kids Inc Childcare, The Zenith
Website Kids Inc

Source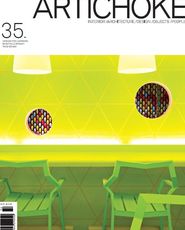 Issue
Artichoke, June 2011
Related topics