Kieron Gait Architects was established in Brisbane in 2008. The co-directors, architect Kieron Gait and interior designer Wei Shun Lee, set up a home office in suburban Balmoral just before the birth of their first child. The couple had cut their teeth on large commercial projects in Woods Bagot's Brisbane office and, in Kieron's case, on significant residential work for Kirk (formerly Richard Kirk Architect).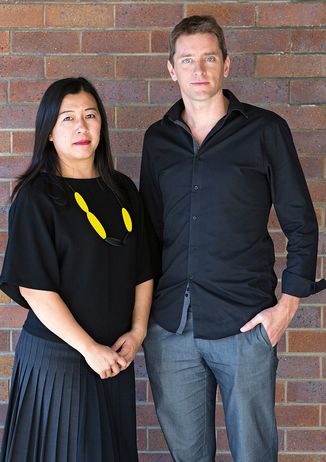 Their humble weatherboard house-cum-office, circa 1961, was used as a laboratory for a suite of architectural notions that have since been further unravelled and elaborated on in an ever-growing portfolio of delightful residential projects. In the past seven years, the practice has moved to a commercial office and expanded to a studio of six. While residential work is still a focus, commercial, public and community projects are also on the table.
Family and humble suburbia are important to both Kieron and Wei Shun. Their work responds to the rhythms of everyday life, seeking and providing the small moments of ritual discovery and comfort that make up our days.
"We have a lot of clients with young families, like our own," says Kieron, referring to the couple's two children Xi-an, six, and Kai-Xin, four. "We really understand and consider the enormous responsibility the design of a house has in shaping kids, in how they grow up in a space. We ask our clients to think about their important rituals, and then we consider ways to amplify them."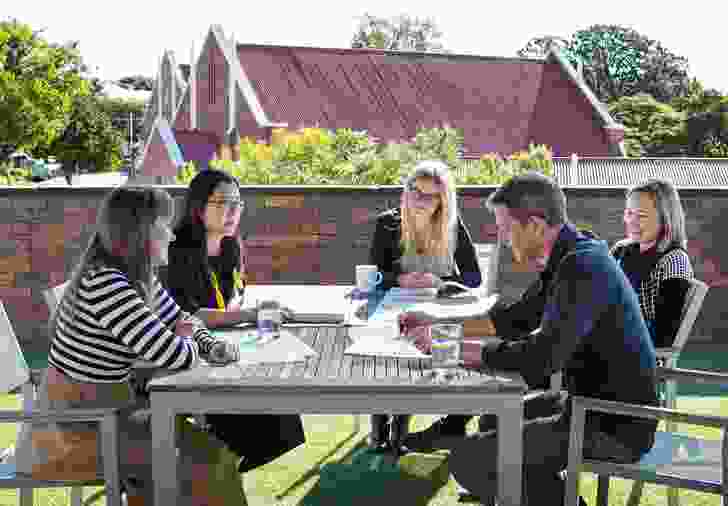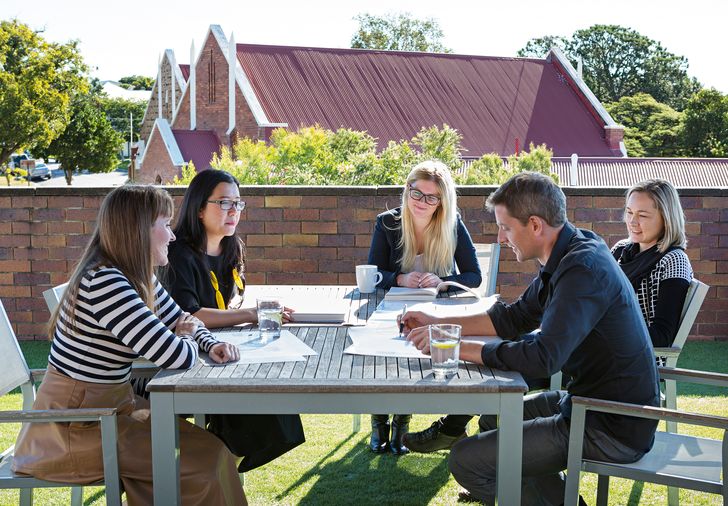 Returning to what Kieron calls "humble values" is part of the design trajectory and first conversations with clients usually start with an emotive brief: "We ask people to consider what was important to them as children."
Another driving force in the design proposition is preservation. Many of the residential works comprise alterations and additions to existing homes. Salvaging and responsibly re-using the spaces and materials is part of the ambit. As Kieron notes, "We make the money work hard – it's where our values come in at our stage of life and how we want to project these onto others."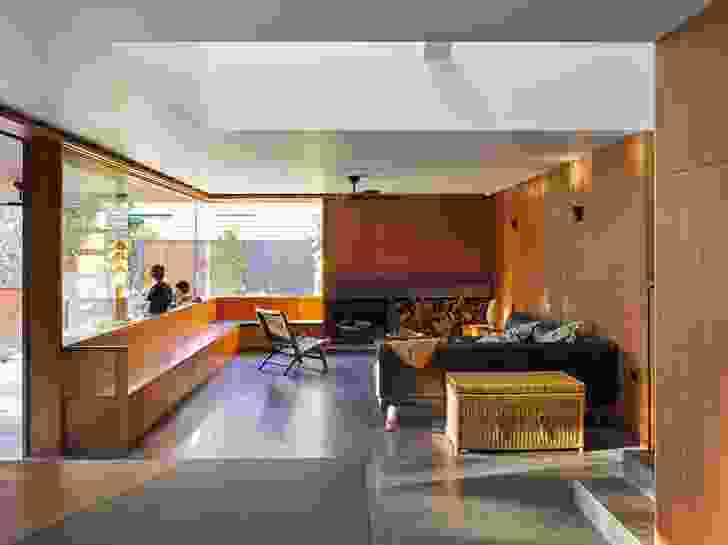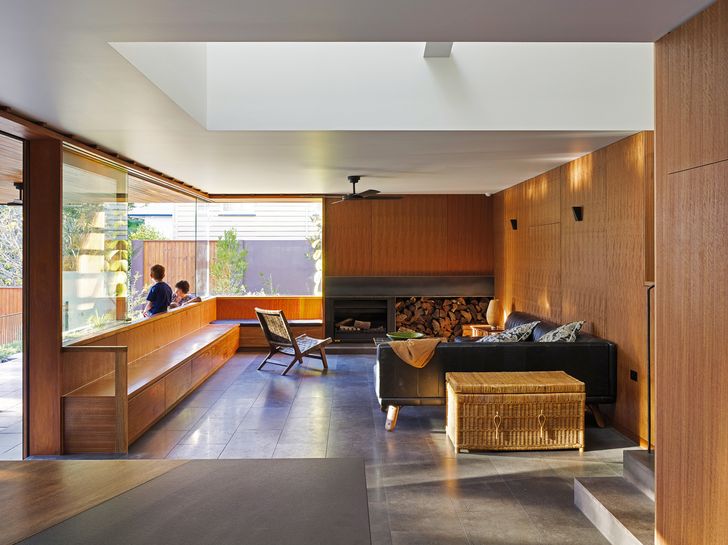 The Bardon Residence, completed in 2015, began life as a typical "colonial" or "Queenslander" in the real estate parlance common among Brisbane's older suburbs. The tin-and-timber home rests on stilts, partially encircled by a verandah, and runs to a symmetrical four-room plan with a central hallway. The dwelling was disconnected from its backyard, forcing the daily rituals to be carried out upstairs instead of down near the delightfully large and mature garden at the rear. Kieron Gait Architects relocated the family living and kitchen spaces to the ground level, connecting it to the older, upper floor (now preserved for bedrooms and secondary living) through a vaulting void. Folding planes of white plaster form an origami-like crown to the space, punctured by deep light shafts that playfully weave sunlight (or moonlight) into the lower areas. Letterbox views of the garden are established through walls of glazing that take the occupants right to the edges of the space. Playful pulley-operated casement shutters allow the young children of the house to crawl in and out as if it is a cubbyhouse.
While here and in other projects there is an underlying emphasis on play, the spaces are clean and highly sophisticated. There is a beautiful restraint to the work and a clarity to the planning that ultimately create a soothing experience. The context of the garden and outdoors is addressed in each home by the practice, with its springboard the Balmoral Residence. "It was a case of reduction of one big idea," recalls Kieron. "We wanted to connect the house to the back garden, to the lovely shared vistas of back gardens, and every other decision reinforced that." The house was developed as an apartment-like plan that incorporates a series of deliberate spaces, which can each have its own presence and clarity. A series of ledges and platforms unfolds from inside to out, from home to garden.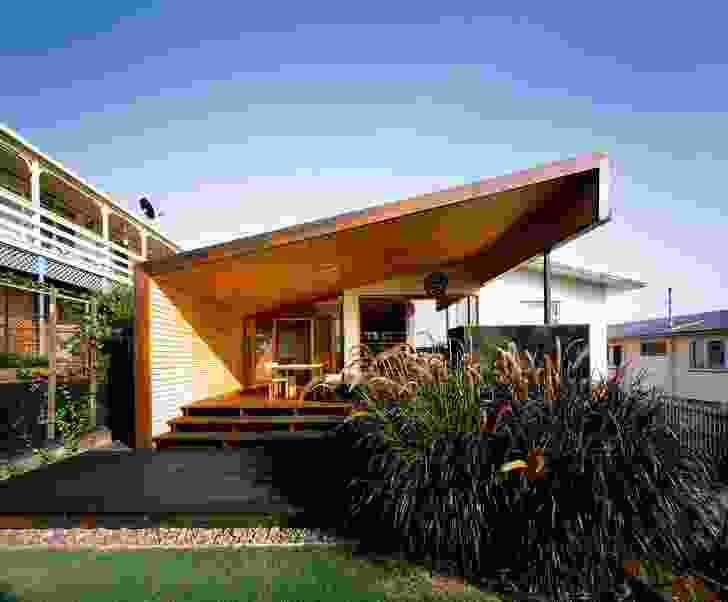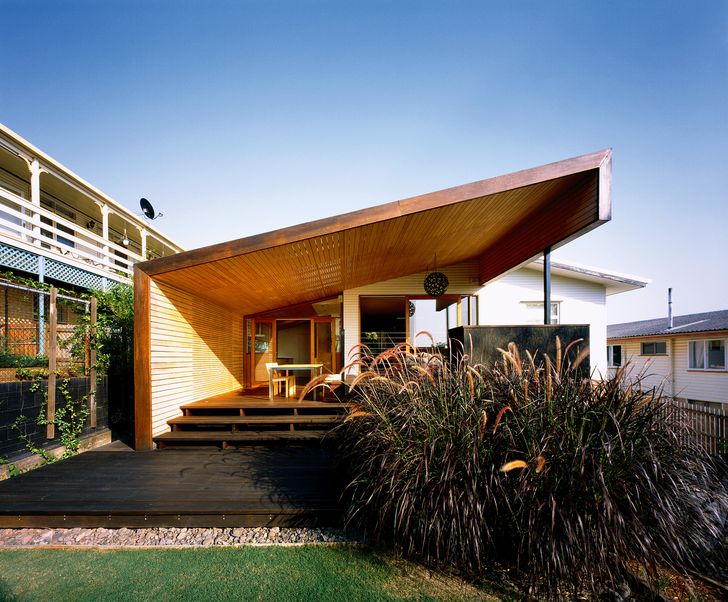 The response to nature and the integration of the garden, an embracing of subtropical architectural ideals, was not engendered by Kieron's early days and education. He grew up in Worcestershire, the UK, in a sixteenth-century farmhouse in the Severn Valley. He attended university in Manchester, then completed a master's degree in Edinburgh – his post-pomo education focused on deconstructivist heroes such as Frank Gehry and Daniel Libeskind. But, as he notes, "my work comes about despite that," and Edinburgh offered much richness in history and detail, with its distinct architectures, as well as exposure to the work of local architects such as Richard Murphy. "We're interested in how humans engage – it's a phenomenological process." Before coming to Australia on a working holiday with the intention of a summer's stay, Kieron worked on barn conversions and village halls. "I arrived in Brisbane in a building frenzy," he recalls. "You could do what you wanted. Now we all feel more and more hamstrung by the regulations in a risk-averse culture."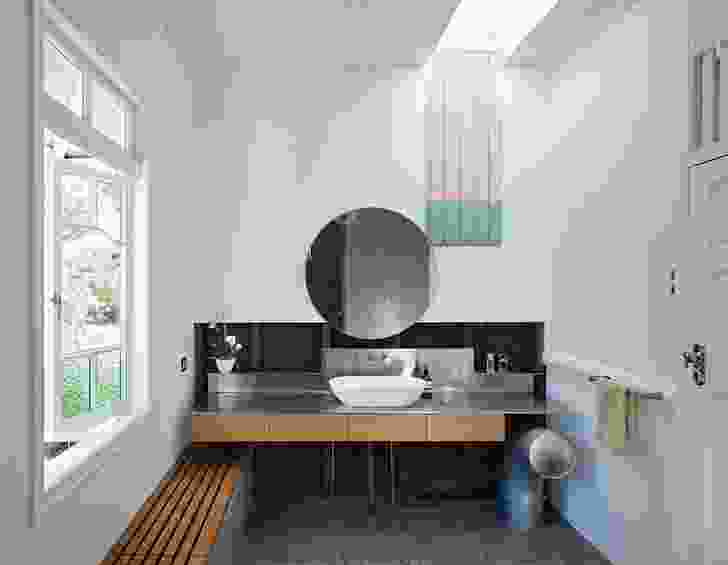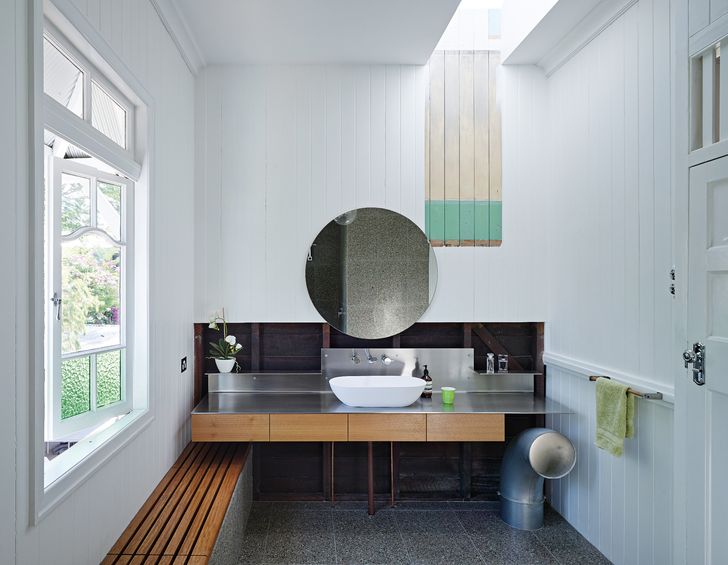 Perhaps a deep understanding of the language of re-use and adaptation is derived from his early experiences in the UK. With the Morningside Residence, Kieron records a turning point in the practice, where his team used existing conditions to tell a story. As the builders unpicked the existing 1920s house, the archaeology was revealed and then left exposed. "It became clear that the structure, volume and detail of the house itself were the heroes. Everything we would add would be a delicate insertion into the existing structure."
While Kieron Gait Architects's interiors have a delicate intricacy and texture, a robust boldness characterizes structural gestures. Indooroopilly Residence was built to survive the ravages of young boys growing into men. The concrete portals, walls and floor wrap up the kitchen and living volume in rough, unfinished surfaces. The use of structural steel is thoroughly explored in Herston Residence, where a small, deep plot has released roof gardens and threaded moments through the garden with a masculine arrangement of steel plates manufactured in association with its engineer owner, who joined in the play. These strong envelopes are both intriguing and daring. Importantly, they allow the forms of the original homes to not only be celebrated, but also be made legible.
Source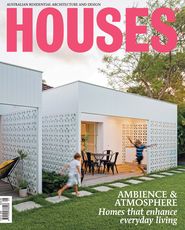 Issue
Houses, October 2015
Related topics