Robin Boyd's King House and Studios in Warrandyte, designed for sculptor Inge King and artist Grahame King, was completed in three stages in 1952, 1955 and 1964. The plan for the first stage of this house is an almost-square rectangle, four bays by three, about 120 square metres. The plan is a little confusing at first glance; it does not have a particularly recognizable figure or clear hierarchy of zones. It seems a bit loose and even empty, like an industrial building. There is one main room, with a small bathroom, porch and "bedroom" (which isn't used as such). The kitchen, raised platform and bathroom each take up one structural bay in an offset, abstract arrangement, which gently partitions the singular space into implied zones. The plan is structurally determined, blunt and logical. It does not easily imply domesticity – making us question, in fact, what a "house" is.
As Inge King explains, after the plans were first submitted to council the "bedroom" was added because the authorities would not permit a dwelling of only one room. The raised bay to the north of the main space is labelled as "painting platform" but was apparently most useful as a dance floor for the Kings' infamous parties. The underfloor space, which increases in height under this platform, is labelled "food store" but has been used as a workspace and studio – a space entered each morning and left sometime in the afternoon, a true home office. Here the ceiling joists in the main area are barely 1.8 metres above the floor. The exposed structure serves as racks for tools and welding clamps, or places to hang work in progress. Adjoining underfloor space up the slope has been fitted out with watertight cupboards and flyscreened cross-ventilation panels. Large plate glass windows to the north, salvaged from shopfronts, unite the lower workspace with its corresponding raised platform living space above. This underfloor workspace, which extends to a level gravel terrace outside, appears to function as the heart of the house – the engine room.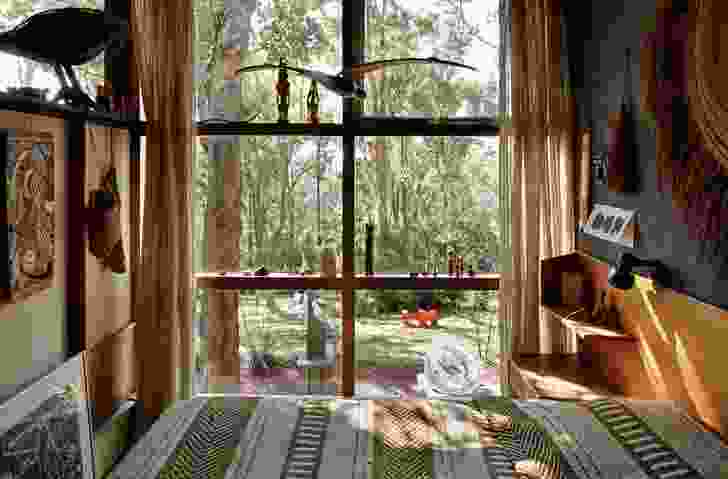 Visiting the house after more than fifty years of inhabitation, it is abundantly clear that the art of dwelling matures and becomes richer over time. The house as initially drawn is only a type of skeleton – an infrastructure for living rather than a finished masterwork. First, such a framework is adjusted and interpreted according to the pragmatics and necessary contingencies of construction. Once the act of making shelter has taken place, it is then over to the inhabitants to interpret and inhabit this shelter through their own work: furniture, objects, decorations and actions, fixed and moveable, experimenting and changing over time.
This somewhat laissez-faire architectural attitude is also evident in the detailing and expression. Boyd's primary (only?) details are those which establish the difference between primary column structure and infill stumps and framing. Just enough. According to Inge King, this didactic framework was built by a "C-grade" builder only to lock-up. The fitout and joinery were designed and made by Grahame King, articulating and revealing the potential of the single-room space as he went. The spirit of this house, notwithstanding its abstract structural origins, is immersed in DIY improvisation and it's a bit rough around the edges.
So why is all this worth discussing? Apart from the obvious delight of the productive and artistic lives of the King household, which are almost overwhelming in their strength of presence, authenticity and beauty, this building provides both architects and clients with a lesson in the art of living. The architecture of this house is flexible, affordable and inherently sustainable due to its longevity and adaptability. From the beginning provision was made for extensions to be added as the family grew, forming a courtyard in stages around pre-existing eucalypts. The family did grow, and then as children moved out the space could be reorganized as studio workspace or storage for the fruits of a long and productive life.
This house exemplifies the much discussed notions of "working from home" and "ageing in place" as self-evident, simple facts. It shows up the flaws in the contemporary property system of house as investment or object of desire for buying and selling, in which architects, clients and real estate agents alike are now fully enmeshed participants. Here, there is no way in particular of knowing how many bedrooms there are, or even where the front door is. The whole house can be understood as a living room, a workspace, an entertainment space or a warehouse for the keeping of relics. The design is not especially prescriptive, expressive or predetermined; rather, it suggests and allows interpretations and uses to evolve over time. The building fabric is simple and low-tech, not even fully worked out. It is lived in, playing a facilitating or background role to life.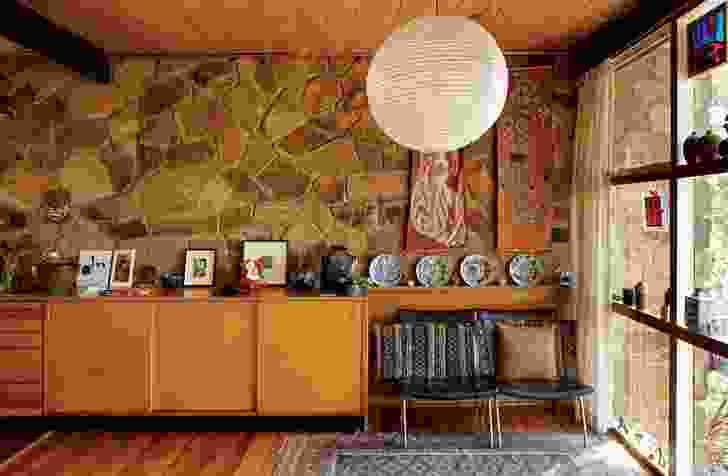 Even so, there are many technical and spatial innovations and material efficiencies that point to the care and strategic allowance for replication with which Boyd employed construction techniques and architectural detailing. Diagonal tongue-and-groove ceiling boards provide efficient lateral bracing to the whole frame, covered by insulation and originally a flat aluminium sheet roof membrane (subsequently covered by tray deck roofing due to leaks). A twelve-inch-thick wall of rough local stone faces the western wall of the frame, simultaneously providing thermal mass and a dramatic kitchen backdrop and street elevation. The northern window frames are glazed-in, semi-structural rebated frames. These became the renowned Stegbar window wall. Tony Lee from the Robin Boyd Foundation points out that the raised platform living bay could be seen as a precursor to the floating platforms in the much later and more dramatic Featherston House of 1967–69.
This simple dwelling is not iconic. It is not easy to walk away with a singular or clear formal understanding – partly owing to the many alterations which have taken place, the native landscape which has grown up, and the sculptures (finished and unfinished), objects and treasures which inhabit every ledge. Here the external spaces and fixtures are just as important as the internal; the furniture and assembled bits and pieces are as important as the building itself; the additions over time are as important as the original structure. After visiting the house I am left with a feeling rather than an image – an intangible but intense feeling of what it means to really live.
The King House and Studios opened to the public for the Robin Boyd Foundation's Open House Program in 2010. Renowned Victorian architect Robin Boyd CBE (1919-1971) was an author, critic and public educator in the 1950s and 60s, a leader of Melbourne's Modern Architecture movement, a visionary in urban design and outspoken on the "Australian Identity." The Robin Boyd foundation continues his work and spirit through its ongoing series of public education programs. See more on the program.
This review is part of the Houses magazine Revisited series.
Credits
Architect

Robin Boyd

Site Details

Location Warrandyte, Melbourne, Vic, Australia

Project Details

Status Built
Category Residential
Type New houses

Source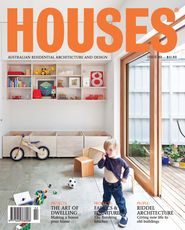 Related topics