Anna McCooe: What is pushing kitchen design forward?
Mark Elmore: The user drives innovation. We do a lot of ethnographic research. Spending time with customers, watching the way they cook and clean, even sitting down and sharing a meal with them. The idea is to get underneath what they tell us they require to deeply understand their needs and to look for insights through that process.
AM: What does the kitchen user truly and deeply need?
ME: What the research is telling us is that the kitchen is not a static space. During the week, the kitchen is a hive of activity. It's about convenience, getting meals out quickly and easy cleaning, whereas on the weekend a busy household has more time to slow down and make a great meal. Then the question is, "how do I bring my friends into the kitchen space?" The social kitchen is central to all those patterns of use.
AM: What does that mean for kitchen design?
ME: The kitchen is becoming a warmer, more personal space. The monolithic kitchen is being deconstructed to bring out the user's personality. There are places to have your favourite things around, more open shelving and a softer combination of materials but with state-of-the-art appliances. The interior designers and architects we talk to strive to design something that's beautiful and easy to live with. Appliances need to be easily integrated, with consistent materials and design details, so that no matter how a kitchen is designed the appliances all sit together.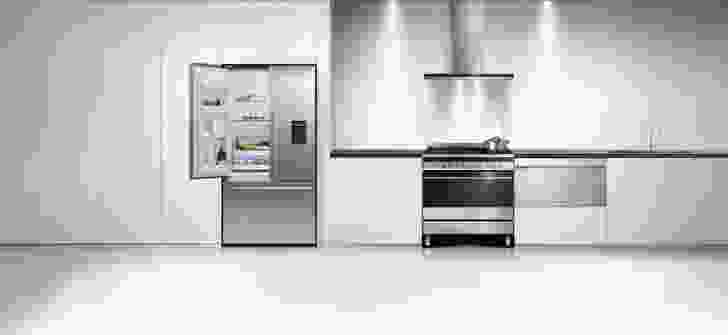 AM: How is food culture shaping kitchen appliances?
ME: There is a real love of food out there at the moment and people are increasingly bringing that into the home. It's a creative outlet for people; to source great ingredients and then to store and use them well, which is where we come in. That might be modular gas and induction cooktops designed to match, or a separate cool drawer set at a temperature just for wine.
AM: What are your thoughts on so-called "smart" technology?
ME: We're investing in the technology. We think it has its place but only to supplement the way we live. It might just be an oven that automatically changes to Daylight Savings time, to make life a little simpler. People lead busy lives they don't want complicated. They don't want to have to get out the manual every time they cook. Great design is easy to use.
AM: What will kitchens look like ten years from now?
ME: The kitchen will be a versatile shared space, so seamlessly integrated into the living space that it may not even seem like a kitchen. Our goal is to provide the tools that allow such expression. Our recipe website Our Kitchen is an important platform for us to understand food culture. It's about building a community around food but also ensuring the people who design our products understand food culture and techniques. It has a humanity and warmth to it, its not corporate.
AM: You also have a design site, Kitchen Tools. How does that relate to the design process?
ME: Building a community and having a platform for live feedback from the users is how we stay relevant. And we've been lucky, the architects and designers we've case studied have been very generous with sharing information about how they might have recessed a certain handle or installed a dish drawer.
AM: What are your thoughts on the island bench trend – is it a fashion or an evolution?
ME: It's here to stay. If there is space available, an island is the best way to have a multi-use space, whereas an L or U-shaped bench takes a user away from the rest of the room.
Related topics